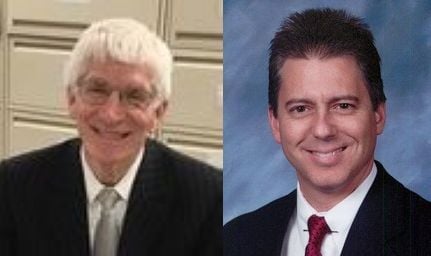 VALPARAISO — Attorney Gary Germann said he was blowing off some steam on the basketball court around noon Friday when he learned he had defeated incumbent Porter County Prosecutor Brian Gensel in this week's general election.
The news came as a relief in what was one of the most anticipated local races, made even more suspenseful by the three-day delay in the local vote count.
Gensel said in a short prepared statement: "It has been a privilege serving the citizens of Porter County for the last 30 years. I trust that Mr. Germann will continue to build upon the foundation I have laid to keep Porter County a great, safe place to live."
Germann thanked Gensel for his years of community service.
"I just wish him nothing but the best," Germann said.
The victory amounts to a return to the prosecutor's office for Germann, 70. While he has been in private practice in Portage for the past 36 years, he began working at the prosecutor's office in 1973 and headed up the office between 1978 and 1982. He also worked as a county public defender for more than 20 years and had held the certification needed to represent defendants in 13 death penalty cases around the state.
Germann thanked his wife, Beth, who served as his campaign manager.
"I'm so glad she asked me out 48 years ago," he said.
Germann also gave thanks to the hundreds of volunteers who helped out his campaign.
"There were people working for me just all over this county," he said.
While running as a Democrat against Republican Gensel, Germann said it's time to drop the party label.
"If you want to put a letter after my name, put A," he said, referring to the word America.
German said he is anxious to get to work at addressing the problems confronting the county.
He said during his campaign, "The Porter County criminal justice system can be vastly improved to say the least. Lost now is the goal of seeking an appropriate sanction unique to each individual defendant and each individual case. Rather, the current approach is to punish nonviolent offenders with crippling felony convictions accompanied with periods of incarceration further debilitating an individual with job loss and loss of families.
"I will pursue a philosophy of evaluating each and every case in its merits and resolve each case in a meaningful and just way," Germann said.
Gensel, 57, who was seeking a fourth term, said, "My office has a reputation of being tough on crime. I make no apologies for this and Porter County citizens deserve no less."
Germann said it was too early Friday to talk specifics about his transition to the office.
But he had said during his campaign that his primary focus as prosecutor will be to help address the ongoing problem of heroin and other drug addictions, reducing recidivism among nonviolent offenders by taking advantage of the problem-solving courts and providing "a new style of hands-on leadership."
"This intense and varied legal experience has given me a unique advantage now to be an effective prosecuting attorney," Germann has said. "After all, who better to prosecute a case than an attorney who has defended the same kind of case?"