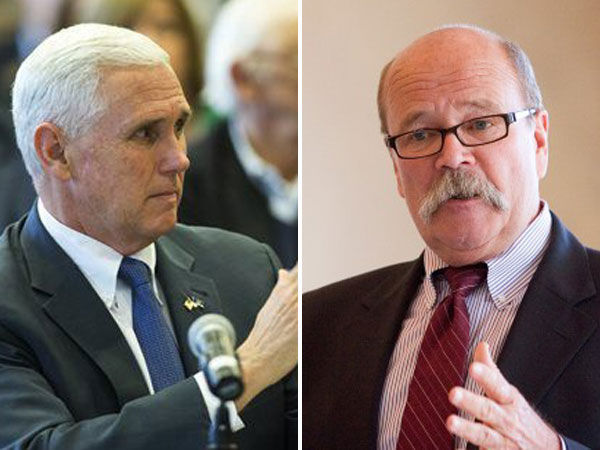 INDIANAPOLIS — A second statewide poll of Hoosier voters confirms that Republican Gov. Mike Pence is on dangerous ground heading into the November election against Democratic former House Speaker John Gregg.
The May 11-15 Bellwether Research survey of 600 registered Indiana voters found Pence leads Gregg 40 percent to 36 percent, which effectively is a tie since the difference is within the poll's 4 percent margin of error.
That result is in line with a Public Opinion Strategies poll of 500 likely Indiana voters during the April 18-21 period that found 49 percent support a second term for Pence while 45 percent favor Gregg, with a 4.3 percent margin of error.
Political scientists generally consider incumbents with less than 50 percent support to be at significant risk of losing re-election.
At the same time, no Indiana governor to serve a four-year term ever has lost his re-election bid.
According to the latest poll, Pence is most popular with men, senior citizens, Hoosiers lacking a college degree and Republicans — though 4 in 10 Republicans said they don't plan to vote for Pence in November.
Gregg is favored by women under age 45, political independents, college-educated voters and Democrats.
But Bellwether pollster Christine Matthews, whose past clients include former Republican Gov. Mitch Daniels, noted that much of Gregg's support comes from voters who are anti-Pence rather than pro-Gregg.
On specific issues, 41 percent said Pence will do a better job managing the state budget versus 35 percent for Gregg. The Democrat leads 42 percent to 32 percent on who will do more to improve education.
In addition, slightly more voters think Gregg (39 percent) will better represent Indiana nationally compared to Pence (37 percent). Pence leads Gregg by 1 point on attracting jobs to the state.
"This is another indication of what we already know... Hoosiers are tired of being embarrassed by this governor and his obsession with social issues," said Jeff Harris, Gregg's spokesman. "Hoosiers want a leader who will put their best interests first and focus on real issues. That's what John Gregg is doing and that's why this race is already so competitive."
Pence campaign executive director Marty Obst said he's happy to see another poll showing the governor ahead.
"As we've said all along, we expect a competitive race and are confident Hoosier voters will decide to keep Indiana's economy moving forward rather than going back to the failed policies of John Gregg," Obst said.
In the presidential race, the poll found Hoosiers favor Republican Donald Trump over Democrat Hillary Clinton, 40 percent to 31 percent.
Republican Mitt Romney won Indiana by 10 points over Democrat Barack Obama in the 2012 election.
U.S. Rep. Todd Young, R-Bloomington has a wide lead, 36 percent to 22 percent, over Democratic former U.S. Rep. Baron Hill in the U.S. Senate contest.
Though 30 percent said they still are undecided in that race.