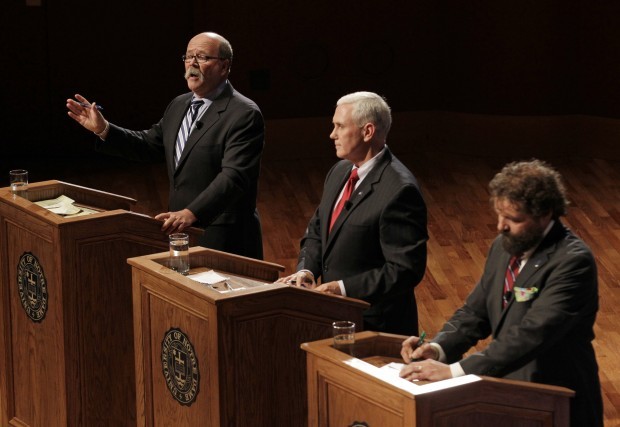 INDIANAPOLIS | Democrat John Gregg continued to paint Republican Mike Pence as an outsider and extremist during the second Indiana gubernatorial debate Wednesday, while repeatedly touting his experience as a legislative leader, university president and business executive.
"I've cut taxes, and I understand the state's budget, and I understand state agencies," Gregg said. "I'm the only one with a record of bipartisan, proven results."
Pence, as he has throughout his campaign, relied on familiar phrases to promise that if elected he'll improve on the achievements of Republican Gov. Mitch Daniels toward the goal of "making Indiana the state that works."
"I have a plan to take Indiana from good to great," Pence said, referring to his Roadmap for Indiana four times during the hourlong debate.
Gregg took issue with Pence's ability to follow through on his Roadmap, pointing out that during Pence's 12 years in Congress, no legislation he authored became law and noting that Pence missed 86 percent of his committee votes.
"This race is about needing a workhorse and not a show horse," Gregg said. "And to be candid, no more than you show up anymore, you wouldn't even be a show horse — you'd about be down to being a one-trick pony."
That line prompted Pence's only deviation from his well-rehearsed script. The six-term congressman said he's voted 95 percent of the time on the House floor and basically called Gregg mean. 
"We don't need negative personal attacks in a campaign for governor," Pence said. "We want a governor who will attack the issues and not his opponents."
But Gregg swung right back, and on the issues, responding to a question about state assistance for single mothers by criticizing Pence's "strong families" plan that declares best only those families headed by a father and mother.
"I'm a single parent, too, and I take great offense that kind of his family plan doesn't consider me and my boys a family," said Gregg, who is divorced. "Maybe he doesn't think you and your kids are a family either; that's a road we don't want to go down."
To some extent, Pence can afford to be stoic in the face of Gregg's attacks. Pence led in the most recent survey of likely voters and has a 3-1 campaign cash advantage heading into the final three weeks of the race.
But Gregg showed he's persistent, using his closing remarks to ask independent voters and "Lugar Republicans" to vote against "extremist" Pence and for him.
"I am the only person standing between you and Tea Party control of our Hoosier government," Gregg said.
Pence, Gregg and Libertarian Rupert Boneham, who seemed distracted for much of Wednesday's lightly attended but statewide broadcast debate in South Bend, will meet for a final debate Oct. 25 in Fort Wayne.