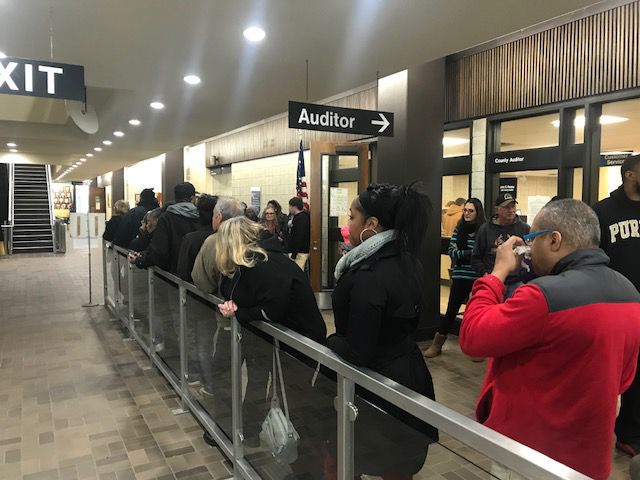 The early balloting period for the 2018 general election closed Monday with long lines and record-shattering numbers across Northwest Indiana.
Some 38,583 had voted in person at Lake County's 11 early voting sites in addition to more than 7,400 mail-in absentee ballots by late Saturday.
"We will probably get another 1,000 to 1,500 in-person voters (Monday) and another 500 to 1000 (mail-in) absentee ballots," Lake County Democratic Party Chairman Jim Wieser said.
Sundae Schoon, Republican director of the Porter County Voter Registration office, said 15,496 had cast early ballots this fall in her county.
Heather Stevens, co-director of the Voter Registration office in LaPorte County, said more than 9,500 had voted in her county, and more were still in a long line Monday morning.
Michelle Coulman, of Crown Point, and her husband stood in line about an hour mid-morning Monday inside the Lake County Government Center administration where six voting machines were set up in the county elections office.
One Highland resident and voter told The Times he declined to use the early voting site at Wicker Park Social Center Saturday because of the long line. He returned Monday morning and waited almost two hours before finally voting.
This fall's early balloting eclipsed totals set for midterm election in 2014, 2010 and 2006, according to the Indiana Secretary of State's voter turnout data.
Lake County's nearly 46,000 ballots in 2018 are more than three times the number who voted in 2014 and six times the number in 2010.
Porter and LaPorte County's voting this fall is more than double previous midterm tallies over the past dozen years. They fell just short of early voting experienced in the 2016 presidential election.
"We never anticipated this," Wieser said Monday. He said election officials committed more voting machines and election staff members to process voters, but there weren't enough electronic polling books to more quickly ensure those in line to vote were properly registered.
Wieser and Dan Dernulc, the Lake County Republican county chairman, said they both discussed requesting more electronic equipment in time for the 2020 presidential election.
"It's a new approach to voting. People like more accessibility and I think it's a great thing," Dernulc said.
"I think the gentleman who occupies the White House has a lot to do with it," Wieser said. "We have a lot of early voting from newly registered voters. I think there has been a significant uptick of women in the political process, voting as well as being candidates. I think all of that has raised the level of awareness and people are just understanding that a mid-term election is just as important as a presidential election."
"We may find the lines much shorter on Election Day Tuesday" as a consequence, Wieser said.
Dernulc, who is running for re-election as a Lake County councilman, said his campaign spent money on printed reminders to vote for him, known as pluggers, to be handed out by his campaign staff Tuesday at traditional precinct polling places.
"Candidates may have to find a way to get those out there earlier," he said.