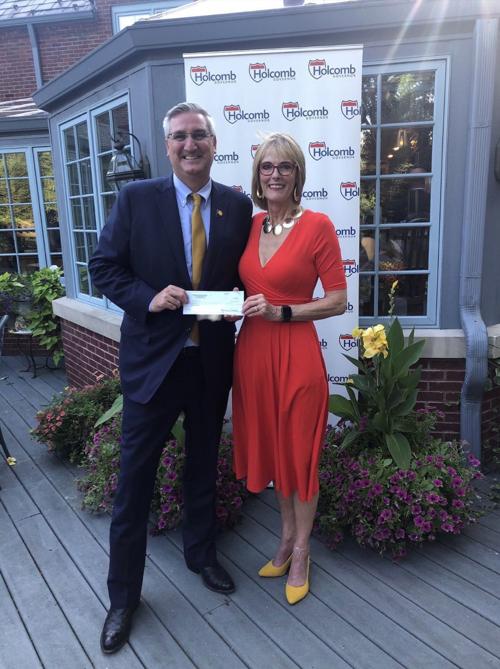 While several Hoosier Democrats continue weighing whether to run next year for Indiana governor, the Republican incumbent is building a potentially insurmountable campaign cash advantage.
Gov. Eric Holcomb's campaign team said Wednesday that this week it has added more than $2 million to the $4 million cash on hand that Holcomb reported having in the bank at the end of 2018.
A cool $1 million of his latest haul came from Lt. Gov. Suzanne Crouch, who appears to have cleaned out the money she's raised in her separate campaign account over the past three years in anticipation of running alongside Holcomb for a second, four-year term.
"As Indiana's lieutenant governor, I'm proud of the results Governor Holcomb and I are delivering for Hoosiers of all walks of life," Crouch said in a statement. "Our state's greatest challenges are our biggest focus. And with that focus in mind, I'm proud to have this historic outpouring of support from Hoosiers across the state for our efforts."
Holcomb's team said it separately raised another $1 million at a fundraising event Tuesday.
That likely puts Holcomb's re-election fundraising ahead of his gubernatorial predecessors at the same point in their first terms.
"Governor Holcomb and Lt. Governor Crouch are setting records for Hoosiers on every front, whether it's new job commitments, skilling-up our workforce or attacking the opioid crisis," said Kyle Hupfer, Indiana GOP chairman and treasurer of the Eric Holcomb for Indiana campaign.
Holcomb and Crouch are expected to officially announce their bid for a second term during a July 13 event at the Hoosier Gym in Knightstown that was the home court of the Hickory Huskers in the 1986 film, "Hoosiers."
Among Holcomb's potential challengers, state Sen. Eddie Melton, D-Gary, had approximately $7,000 cash on hand at the end of 2018, according to state campaign finance records.
State Rep. Karlee Macer, D-Indianapolis, reported nearly $30,000.