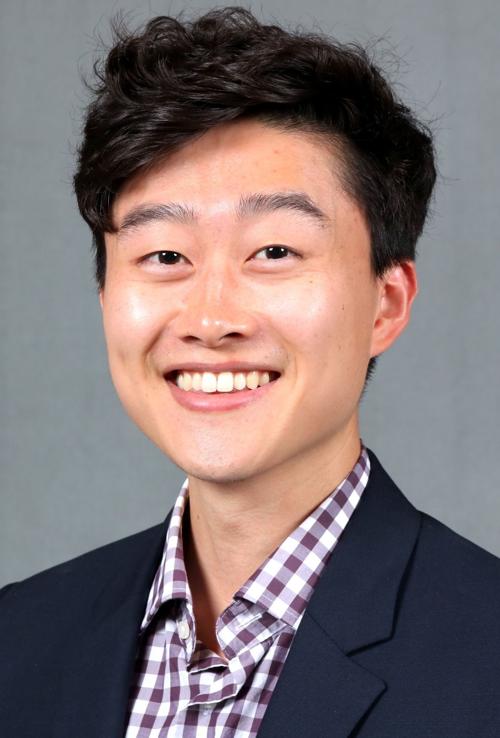 CROWN POINT — Political newcomer Chris Chyung rode a blue wave into the 15th House District Tuesday and captured it from incumbent Republican state Rep. Hal Slager.
Chyung, 25, of Dyer, posted "VICTORY! THANK YOU!" late Tuesday night on his Facebook page after having outpaced Slager by 86 votes. Chyung outpolled Slager 12,473 to 12,387, according to final, unofficial totals.
Slager said early Wednesday he is neither conceding nor sanguine about a successful recount as he and his advisers consider their options.
"It's a leap on a recount when there is that many (votes.) But there are a lot of issues they need to consider. It's a job I love doing. I'll miss it," Slager said.
Chyung attended a Democratic House caucus meeting in Indianapolis on Wednesday.
"It's an honor and such a privilege to serve the 65,000 constituents I have now. We hope we can make some good changes in educational funding," Chyung said. 
"We had luck on our side. We had a great team of young people and people I brought out of retirement and out of their jobs," Chyung said. "They sacrificed their free time for me and worked hard until the polls closed. We had a national tailwind too," he said of an energized Democratic base angered by President Donald Trump.
Jim Wieser, the Lake County Democratic chairman, said Tuesday night Chyung has gone from someone who never ran a political campaign before to one of the party's brightest prospects.
"Chris came to me well over a year ago. I didn't know him," Wieser said.
Chyung was a financial analyst for Pangea Real Estate in Chicago until 2017 and now owns his own real estate company, Koh Holdings, in Hammond.
"He said he really wanted to be involved in government and politics and was going to run for state representative. I explained the district to him. I said this is tough," Wieser said.
Slager, who served as a Schererville town councilman for a decade, first won election as state representative in 2012 after the Republican-dominated General Assembly recast the 15th House District into a more Republican-friendly district that encompassed Dyer, most of St. John and parts of Griffith.
Slager managed a slim 554 victory over Democrat Thomas O'Donnell that year, but went on to score solid wins against Wieser in 2014 and O'Donnell again in 2016.
Wieser said he has known Slager outside of politics too and recalls the hard work Slager put into his earlier campaigns.
"Hal didn't work this like he did the other ones," Wieser observed.
Chyung said his campaign was reaching out to voters across the district. He personally stood outside a Griffith fire station during that town's special election Sept. 25 to greet voters.
The campaign received more than $40,000 in large donations in the final two weeks from family and supporters, according to the Indiana Secretary of State's campaign finance website. He bought time on local cable television to bring home his progressive Democratic agenda.
"He made up his mind early and never stopped working at it. He put together a very solid group of supporters," Wieser said. "He forged an alliance for his campaign between our regular party organization and that element that is more progressive and brought us together.
"I didn't meet one person who didn't like Chris or didn't want to support him or work for him. He has a real grasp of people and how it all works. If you are going to run against a solid incumbent, like Hal Slager, you have got to pull out all the stops, and he did. There is no doubt in my mind he will become a leader in the party and this state."
Staff writers Dan Carden and Steve Garrison contributed to this story.
Election Day: Complete Region results
Federal results
| Candidate | Total | Lake County | Porter County | LaPorte County |
| --- | --- | --- | --- | --- |
| PRECINCTS REPORTING | 100% | 524 of 524 | 123 of 123 | 92 of 92 |
| U.S. SENATOR | | | | |
| Joe Donnelly (D) | 1,021,318 | 104,383 | 33,193 | 20,014 |
| Lucy M. Brenton (L) | 91,032 | 3,339 | 2,025 | 1,225 |
| Mike Braun (R) | 1,155,284 | 54,563 | 29,261 | 16,007 |
| Nathan Altman (I) | 9 | | | |
| Christopher Fischer (I) | 5 | | | |
| James L. Johnson Jr. (Other) | 1 | | | |
| SECRETARY OF STATE | | | | |
| Jim Harper (D) | 910,500 | 100,470 | 32,318 | 18,038 |
| Mark W. Rutherford (L) | 71,163 | 3,679 | 2,136 | 1,318 |
| Connie Lawson (R) | 1,260,935 | 57,145 | 29,378 | 17,466 |
| George William Wolfe (G) | 77 | | | |
| Jeremy Heath (P) | 9 | | | |
| AUDITOR OF STATE | | | | |
| Joselyn Whitticker (D) | 912,628 | 100,241 | 30,108 | 18,190 |
| John Schick (L) | 76,960 | 3,932 | 2,908 | 1,503 |
| Tera Klutz (R) | 1,234,001 | 56,104 | 30,035 | 16,908 |
| TREASURER OF STATE | | | | |
| John C. Aguilera (D) | 910,649 | 102,346 | 30,485 | 18,559 |
| Kelly Mitchell (R) | 1,299,304 | 58,134 | 32,229 | 17,978 |
| U.S. HOUSE DISTRICT 1 | | | | |
| Peter J. Visclosky (D) | 159,388 | 109,825 | 37,588 | 11,975 |
| Mark Leyva (R) | 85,493 | 51,861 | 26,590 | 7,042 |
| Johnathan S. Kleinman (I) | 0 | | | |
| U.S. HOUSE DISTRICT 2 | | | | |
| Mel Hall (D) | 103,216 | | | 8,846 |
| Jackie Walorski (R) | 125,230 | | | 9,069 |
| Richard Wolf (I) | 2 | | | |
State Results
| Candidate | Total | Lake County | Porter County | LaPorte County |
| --- | --- | --- | --- | --- |
| PRECINCTS REPORTING | 100% | 524 of 524 | 123 of 123 | 92 of 92 |
| INDIANA SENATE DISTRICT 1 | | | | |
| Frank Mrvan Jr. (D) | 29,569 | 29,569 | | |
| Charles B. Kallas (R) | 17,141 | 17,141 | | |
| INDIANA SENATE DISTRICT 4 | | | | |
| Karen Tallian (D) | 26,634 | | 18,981 | 7,653 |
| Cole Stultz (R) | 17,486 | | 13,121 | 4,365 |
| INDIANA SENATE DISTRICT 6 | | | | |
| Ryan Farrar (D) | 18,824 | 16,850 | | |
| Rick Niemeyer (R) | 32,357 | 26,825 | | |
| INDIANA HOUSE DISTRICT 1 | | | | |
| Carolyn B. Jackson (D) | 11,731 | 11,731 | | |
| Donna Dunn (L) | 1,882 | 1,882 | | |
| INDIANA HOUSE DISTRICT 2 | | | | |
| Earl L. Harris Jr. (D) | 14,840 | 14,840 | | |
| INDIANA HOUSE DISTRICT 3 | | | | |
| Ragen H. Hatcher (D) | 15,338 | 15,338 | | |
| INDIANA HOUSE DISTRICT 4 | | | | |
| Frank Szczepanski (D) | 12,812 | | 12,812 | |
| Ed Soliday (R) | 14,758 | | 14,758 | |
| INDIANA HOUSE DISTRICT 8 | | | | |
| Ryan M. Dvorak (D) | 16,136 | | | 1,369 |
| INDIANA HOUSE DISTRICT 9 | | | | |
| Patrica A. (Pat) Boy (D) | 13,074 | | | 10,512 |
| Dan Granquist (R) | 8,629 | | | 3,935 |
| INDIANA HOUSE DISTRICT 10 | | | | |
| Charles "Chuck" Moseley (D) | 15,022 | | 15,022 | |
| INDIANA HOUSE DISTRICT 11 | | | | |
| Delano Scaife (D) | 8,733 | 6,354 | 2,379 | |
| Michael Aylesworth (R) | 16,435 | 11,566 | 4,869 | |
| INDIANA HOUSE DISTRICT 12 | | | | |
| Mara Candelaria Reardon (D) | 16,931 | 16,931 | | |
| INDIANA HOUSE DISTRICT 14 | | | | |
| Vernon G. Smith | 16,636 | 16,636 | | |
| INDIANA HOUSE DISTRICT 15 | | | | |
| Chris Chyung (D) | 12,473 | 12,473 | | |
| Hal Slager (R) | 12,387 | 12,387 | | |
| INDIANA HOUSE DISTRICT 19 | | | | |
| Lisa Beck (D) | 13,241 | 12,368 | 873 | |
| Julie Olthoff (R) | 12,996 | 11,864 | 1,132 | |
| INDIANA HOUSE DISTRICT 20 | | | | |
| Karen Salzer (D) | 8,588 | | | 7,069 |
| Jim Pressel (R) | 13,629 | | | 10,842 |
Lake County results
| Candidate | Total |
| --- | --- |
| PRECINCTS REPORTING | 524 of 524 |
| PROSECUTING ATTORNEY | |
| Bernard Carter (D) | 116,390 |
| CIRCUIT COURT CLERK | |
| Lorenzo Arredondo (D) | 115,522 |
| AUDITOR | |
| John E. Petalas (D) | 115,501 |
| TREASURER | |
| Peggy Holinga-Katona (D) | 115,882 |
| LAKE COUNTY SHERIFF | |
| Oscar Martinez (D) | 107,011 |
| Dan Bursac (R) | 53,779 |
| ASSESSOR | |
| Jerome A. Prince (D) | 114,858 |
| LAKE COUNTY COMMISSIONER DISTRICT 1 | |
| Kyle Allen Sr. (D) | 40,331 |
| Douglas M. (Doug) Wright (R) | 9,557 |
| LAKE COUNTY COUNCIL - DISTRICT 1 | |
| David Hamm (D) | 14,405 |
| LAKE COUNTY COUNCIL - DISTRICT 2 | |
| Elsie Franklin (D) | 16,484 |
| LAKE COUNTY COUNCIL - DISTRICT 3 | |
| Charlie Brown (D) | 19,380 |
| LAKE COUNTY COUNCIL - DISTRICT 4 | |
| Barry Halgrimson (D) | 13,100 |
| Daniel E. Nernulc (R) | 15,782 |
| LAKE COUNTY COUNCIL - DISTRICT 5 | |
| Christine Cid (D) | 15,874 |
| LAKE COUNTY COUNCIL - DISTRICT 6 | |
| Ted F. Bilski (D) | 16,004 |
| LAKE COUNTY COUNCIL - DISTRICT 7 | |
| Phillip Kuiper (D) | 12,388 |
| Christian J. Jorgensen (R) | 16,715 |
| CALUMET TOWNSHIP ASSESSOR | |
| Jacquelyn (Jackie) Collins (D) | 26,519 |
| CALUMET TOWNSHIP TRUSTEE | |
| Kimberly K. (Kim) Robinson (D) | 26,319 |
| CALUMET TOWNSHIP BOARD (PICK 3) | |
| Jacqueline (Jackie) Holmes (D) | 15,477 |
| James Piggee (D) | 11,439 |
| Darren Washington (D) | 13,187 |
| CEDAR CREEK TOWNSHIP TRUSTEE | |
| Alice F. Dahl (R) | 3,041 |
| CEDAR CREEK TOWNSHIP BOARD (PICK 3) | |
| Judith Ann Mathias (R) | 1,666 |
| Dan L. Blankenship (R) | 2,070 |
| Randall Wietbrock (R) | 1,630 |
| CENTER TOWNSHIP ASSESSOR | |
| Joe Krnich (R) | 8,836 |
| CENTER TOWNSHIP TRUSTEE | |
| Cindy Olson (D) | 5,932 |
| Paul L. Bremer (R) | 7,366 |
| CENTER TOWNSHIP BOARD (PICK 3) | |
| Katharine Hadow (D) | 5,032 |
| Jose (Joe) Menchaca (D) | 4,064 |
| William Babjak (R) | 6,051 |
| Anthony D. Pampalone (R) | 5,220 |
| Kate Webster (R) | 6,556 |
| EAGLE CREEK TOWNSHIP TRUSTEE | |
| Rosemarie Morrow (R) | 356 |
| James A. (Jr) Mitsch Jr. (I) | 222 |
| EAGLE CREEK TOWNSHIP BOARD (PICK 3) | |
| John R. Jurs (R) | 230 |
| Wilbert Fitch (R) | 205 |
| Bruce McNeill (R) | 232 |
| David J. Austgen (I) | 223 |
| Tim Bult (I) | 220 |
| Erik Hildebrandt (I) | 234 |
| HANOVER TOWNSHIP TRUSTEE | |
| James W. Hunley (D) | 2,314 |
| Kevin Toth (R) | 3,381 |
| HANOVER TOWNSHIP BOARD (PICK 3) | |
| Tracy Lee Haskell (D) | 1,900 |
| Diane M. Jostes (D) | 1,857 |
| Norman Stick (D) | 1,361 |
| Richard H. Niemeyer (R) | 3,134 |
| Adam D. Wornhoff (R) | 2,602 |
| Maralynn Echterling (R) | 2,708 |
| HOBART TOWNSHIP ASSESSOR | |
| Randall J. Guernsey (D) | 8,234 |
| HOBART TOWNSHIP TRUSTEE | |
| Thomas D. Silich (D) | 8,389 |
| HOBART TOWNSHIP BOARD (PICK 3) | |
| Joe Clemmons (D) | 5,917 |
| Mike Hannigan (D) | 5,285 |
| Susan (Sue) Pelfrey (D) | 5,741 |
| Ken Wyrick (R) | 3,972 |
| NORTH TOWNSHIP TRUSTEE | |
| Frank J. Mrvan (D) | 37,664 |
| NORTH TOWNSHIP BOARD (PICK 3) | |
| Peter Katic (D) | 19,875 |
| Richard J. Novak (D) | 20,269 |
| Lisa Salinas-Matonovich (D) | 21,980 |
| ROSS TOWNSHIP ASSESSOR | |
| Angela M. Guernsey (D) | 13,355 |
| ROSS TOWNSHIP TRUSTEE | |
| Joe Shudick (D) | 13,370 |
| ROSS TOWNSHIP BOARD (PICK 3) | |
| Steven A. Minchuk (D) | 7,646 |
| Janice Orlich (D) | 7,566 |
| Curtis (CP) Pearson (D) | 6,496 |
| ST. JOHN TOWNSHIP ASSESSOR | |
| Deborah A. (Debbie) Walters (R) | 16,366 |
| ST. JOHN TOWNSHIP TRUSTEE | |
| George Baranowski (D) | 12,333 |
| Cathy J. Lareau (R) | 13,656 |
| ST. JOHN TOWNSHIP BOARD (PICK 3) | |
| Daniel Bielski (D) | 10,025 |
| Frances DuPey (D) | 9,271 |
| Fred (Freddy) Koegel (D) | 8,567 |
| Randall (Randy) Astor (R) | 9,504 |
| Mike Aurelio (R) | 10,499 |
| Lisa (Williams) Elder (R) | 10,495 |
| WEST CREEK TOWNSHIP TRUSTEE | |
| Heidi Goetz Laub (R) | 1,872 |
| WEST CREEK TOWNSHIP TRUSTEE | |
| Ronna Lukasik-Rosenbaum (D) | 844 |
| Harold Mussman Jr. (R) | 1,143 |
| Michael R. McIntire (R) | 1,180 |
| Charles Kopas | 1,059 |
| WINFIELD TOWNSHIP TRUSTEE | |
| Paulette Skinner (R) | 2,918 |
| WINFIELD TOWNSHIP BOARD (PICK 3) | |
| Zachary (Zack) Beaver (R) | 1,605 |
| Linda Eisenhauer (R) | 1,700 |
| Sherry J. Gasparovic (R) | 1,621 |
| CEDAR LAKE TOWN COUNCIL - WARD 1 | |
| Steven A. Hyatte (D) | 1,501 |
| Robert H. (Bob) Carnahan (R) | 2,450 |
| CEDAR LAKE TOWN COUNCIL - WARD 3 | |
| Julie Rivera (R) | 2,965 |
| CEDAR LAKE TOWN COUNCIL - WARD 5 | |
| Randy Niemeyer (R) | 2,257 |
| Charles L. (Charlie) Kortokrax (I) | 1,457 |
| DYER TOWN COUNCIL - WARD 2 | |
| Eric Schultz (D) | 3,278 |
| Joseph (Joe) Renz (R) | 3,009 |
| DYER TOWN COUNCIL - WARD 4 | |
| Kim Mettache (D) | 3,115 |
| Mary Tanis (R) | 3,180 |
| DYER TOWN COUNCIL - WARD 5 | |
| Steven (Steve) Kramer (D) | 3,184 |
| Debbie J. Astor (R) | 3,121 |
| LOWELL TOWN COUNCIL - WARD 2 | |
| Matthew R. Felder (R) | 2,226 |
| LOWELL TOWN COUNCIL - WARD 4 | |
| Leslie Ann Rightmire (D) | 1,275 |
| Christopher S. Salatas Jr. (R) | 1,804 |
| SCHERERVILLE TOWN COUNCIL - WARD 2 | |
| Kevin Connelly (R) | 6,598 |
| SCHERERVILLE TOWN COUNCIL - WARD 4 | |
| Tom Schmitt (D) | 7,257 |
| ST. JOHN TOWN COUNCIL - WARD 3 | |
| Nicholas (Nick) Georgiou (D) | 2,664 |
| Gerald Swets (R) | 4,713 |
| CROWN POINT COMMUNITY SCHOOL CORPORATION SCHOOL BOARD | |
| Thomas K. Hoffman | 11,110 |
| SCHOOL CITY OF EAST CHICAGO SCHOOL BOARD | |
| Joel Rodriguez | 1,453 |
| Princella Askew | 422 |
| Terence (Terry) Hill | 441 |
| Perry (PJ the Ref) Jackson | 164 |
| Stephanie D. Ramos | 630 |
| Anton (Coach Pete) Williams | 640 |
| Dangelo Coles | 277 |
| Jesse Gomez | 678 |
| Delbert Johnson Jr. | 36 |
| Anthony McGowan Sr. | 40 |
| Diane Smith | 775 |
| GRIFFITH PUBLIC SCHOOLS SCHOOL BOARD | |
| Jason A. Jaques | 2,290 |
| Richard C. Leber | 2,399 |
| Donald McCarter | 2,351 |
| Kathy Ruesken | 3,187 |
| SCHOOL CITY OF HAMMOND SCHOOL BOARD | |
| Carlotta Blake-King | 7,075 |
| Manuel Candelaria Jr. | 5,704 |
| George T. Janiec | 4,515 |
| Lucinda (Cindy) Murphy | 5,183 |
| Tiffany Ross | 4,621 |
| Mary Ellen Slazyk | 4,561 |
| Deborah White | 5,925 |
| HANOVER COMMUNITY SCHOOL CORPORATION SCHOOL BOARD | |
| Constance M. Sterkowitz | 3,467 |
| James Sakelaris | 3,426 |
| SCHOOL TOWN OF HIGHLAND SCHOOL BOARD | |
| Victor A. Garcia | 5,504 |
| Luanne Jurczak | 4,940 |
| Robert A. (Bob) Kuva | 4,667 |
| Richard (Rick) E. Volbrecht Jr. | 4,070 |
| SCHOOL CITY OF HOBART SCHOOL BOARD | |
| William D. Bigler | 3,637 |
| Rikki Guthrie | 4,005 |
| Sandra J. Hillan | 4,852 |
| Donald H. Rogers | 4,480 |
| Stuart Schultz | 3,656 |
| LAKE CENTRAL SCHOOL CORPORATION SCHOOL BOARD | |
| Joseph M. Kruzan Jr. | 7,944 |
| Sandy Clark Lessentine | 10,710 |
| Howard W. Marshall | 14,809 |
| LAKE RIDGE SCHOOL CORPORATION SCHOOL BOARD | |
| Kimberly L. Osteen | 1,242 |
| Jonathan Evans | 1,178 |
| LAKE STATION COMMUNITY SCHOOL CORPORATION SCHOOL BOARD | |
| Gregory M. Keehn | 514 |
| Greggory S. Tenorio | 404 |
| MERRILLVILLE COMMUNITY SCHOOL CORPORATION SCHOOL BOARD | |
| Linda Jonaitis | 9,767 |
| James Donohue | 8,148 |
| Mark S. Lucas | 8,028 |
| SCHOOL TOWN OF MUNSTER SCHOOL BOARD | |
| Melissa J. Higgason | 6,572 |
| Ron Ostojic | 5,544 |
| RIVER FOREST COMMUNITY SCHOOL CORPORATION SCHOOL BOARD | |
| H. Marshall Gilliana | 425 |
| Ricardo (Richard) Perez Jr. | 1,123 |
| Michelle Martin | 1,031 |
| TRI-CREEK SCHOOL CORPORATION SCHOOL BOARD | |
| Lon P. Childress | 4,019 |
| Diana Damm | 3,511 |
| SCHOOL CITY OF WHITING SCHOOL BOARD | |
| Kathleen A. Murzyn | 909 |
| Cecilia Peterson | 870 |
| JUSTICE INDIANA SUPREME COURT | |
| "Shall Justice Geoffrey G. Slaughter be retained in office?" | |
| Yes | 86,941 |
| No | 42,031 |
| JUDGE OF THE INDIANA COURT OF APPEALS - 2ND DISTRICT | |
| "Shall Judge Robert R. (Bob) Altice Jr. be retained in office?" | |
| Yes | 87,417 |
| No | 40,246 |
| LAKE SUPERIOR COURT - CRIMINAL DIVISION ROOM 1 | |
| "Shall Judge Salvador Vasquez of the superior court of Lake County be retained in office for an additional term?" | |
| Yes | 96,839 |
| No | 35,630 |
| STATEWIDE PUBLIC QUESTION 1 | |
| Yes | 88,949 |
| No | 35,845 |
| LAKE RIDGE SCHOOLS – PUBLIC QUESTION 1 | |
| Yes | 967 |
| No | 1,388 |
| LAKE RIDGE SCHOOLS – PUBLIC QUESTION 2 | |
| Yes | 859 |
| No | 1,468 |
| TOWN OF HIGHLAND PARK DISTRICT – PUBLIC QUESTION 1 | |
| Yes | 2,893 |
| No | 6,479 |
Porter County results
| Candidate | Total |
| --- | --- |
| PRECINCTS REPORTING | 123 of 123 |
| PORTER COUNTY CLERK | |
| Jessica A. Bailey (D) | 31,773 |
| Jon C. Miller (R) | 31,188 |
| PORTER COUNTY AUDITOR | |
| Vicki Urbanik (D) | 33,486 |
| Karen Martin (R) | 29,546 |
| PORTER COUNTY RECORDER | |
| Lily M. Schaefer (D) | 30,355 |
| Chuck Harris (R) | 32,366 |
| PORTER COUNTY SHERIFF | |
| David M. Reynolds (D) | 43,698 |
| PORTER COUNTY CORONER | |
| Randy Wilkening (D) | 30,027 |
| Cyndi Dykes (R) | 32,895 |
| PORTER COUNTY ASSESSOR | |
| Jon Snyder (R) | 39,957 |
| PORTER COUNTY COMMISSIONER - DISTRICT 2 | |
| Donna Perdue (D) | 30,312 |
| Jeff Good (R) | 32,622 |
| PORTER COUNTY COUNCIL - DISTRICT 1 | |
| Bob Poparad (D) | 9,032 |
| Andy Bozak (R) | 9,017 |
| PORTER COUNTY COUNCIL - DISTRICT 2 | |
| Jeremy Rivas (D) | 9,097 |
| PORTER COUNTY COUNCIL - DISTRICT 3 | |
| Greg Simms (D) | 8,501 |
| Mark "Coach" Hoffman (R) | 7,826 |
| PORTER COUNTY COUNCIL - DISTRICT 4 | |
| Susie Talevski (D) | 6,105 |
| Mike Jessen (R) | 9,777 |
| PROSECUTING ATTORNEY OF PORTER COUNTY, 67TH JUDICIAL CIRCUIT | |
| Gary Germann (D) | 34,398 |
| Brian T. Gensel (R) | 29,230 |
| PORTER COUNTY SUPERIOR COURT JUDGE 2 | |
| Clay M. Patton (D) | 30,159 |
| Jeffrey W. Clymer (R) | 33,200 |
| PORTER COUNTY SUPERIOR COURT JUDGE 6 | |
| Jeffrey L. Thode (R) | 40,083 |
| BOONE TOWNSHIP TRUSTEE | |
| Russell "Rusty" Franzman (R) | 1,612 |
| BOONE TOWNSHIP BOARD MEMBERS (VOTE FOR 3) | |
| Jim Martin (R) | 1,105 |
| Jeff Patz (R) | 972 |
| Dan Roeske (R) | 967 |
| CENTER TOWNSHIP TRUSTEE | |
| Jesse R. Harper (D) | 9,609 |
| Doug Miller (R) | 8,092 |
| CENTER TOWNSHIP BOARD MEMBERS (VOTE FOR 3) | |
| Todd A. Eltzer (D) | 6,837 |
| Debra E. Fray (D) | 7,558 |
| Erin Labovitz (D) | 6,618 |
| Stephen R. Buck (R) | 7,257 |
| Amy Daly (R) | 6,808 |
| Mark D. Ribordy (R) | 6,542 |
| JACKSON TOWNSHIP TRUSTEE | |
| Janice M. Meyers (D) | 1,635 |
| JACKSON TOWNSHIP BOARD MEMBERS (VOTE FOR 3) | |
| C. Diane Bates (D) | 953 |
| Judith L. Guernsey (R) | 1,068 |
| Mark J. Jaeger (R) | 855 |
| LIBERTY TOWNSHIP TRUSTEE | |
| Matt Keiser (R) | 2,703 |
| LIBERTY TOWNSHIP BOARD MEMBERS (VOTE FOR 3) | |
| Tim Cole (R) | 1,578 |
| Terry E. Dunn (R) | 1,252 |
| Jacquelyn M. Sterling (R) | 1,509 |
| MORGAN TOWNSHIP TRUSTEE | |
| Rodney King (R) | 1,338 |
| MORGAN TOWNSHIP BOARD MEMEBERS (VOTE FOR 3) | |
| Andrew Blastick (R) | 991 |
| Lee Kleist (R) | 660 |
| Richard Schultz (R) | 704 |
| PINE TOWNSHIP TRUSTEE | |
| Andrew P. Himan Jr. (D) | 565 |
| Tammy Marie Watkins (R) | 581 |
| PINE TOWNSHIP BOARD MEMEBERS (VOTE FOR 3) | |
| Matthew Smith (D) | 444 |
| Joe Wagner (D) | 518 |
| Tom Carlson (R) | 387 |
| Tom Lipinski (R) | 381 |
| Margaret (Peggy) Richardson (R) | 421 |
| PLEASANT TOWNSHIP TRUSTEE | |
| Karyl Vandyke (R) | 1,400 |
| PLEASANT TOWNSHIP BOARD MEMBERS (VOTE FOR 3) | |
| Joshua M. Birky (R) | 988 |
| Melissa (Wise) Birky (R) | 830 |
| David Overholt (R) | 810 |
| PORTAGE TOWNSHIP ASSESSOR | |
| Alta Neri (D) | 10,477 |
| PORTAGE TOWNSHIP TRUSTEE | |
| Brendan Clancy (D) | 11,014 |
| PORTAGE TOWNSHIP BOARD MEMBERS (VOTE FOR 3) | |
| Nikita A. Momola (D) | 5,758 |
| Terry L. Whitten (D) | 6,580 |
| Lori J. Wilkie (D) | 6,548 |
| Antonio C. Gutierrez (R) | 4,831 |
| Joyce Webster (R) | 4,578 |
| PORTER TOWNSHIP TRUSTEE | |
| Edward K. Morales (R) | 2,676 |
| PORTER TOWNSHIP BOARD MEMBERS (VOTE FOR 3) | |
| William H. Casbon (R) | 1,727 |
| Chris Hendron (R) | 1,332 |
| Albert J. Webster (R) | 1,090 |
| UNION TOWNSHIP TRUSTEE | |
| George H. Topoll (R) | 2,757 |
| UNION TOWNSHIP BOARD MEMBERS (VOTE FOR 3) | |
| Robert "Bob" D. Emery (R) | 1,764 |
| Stan Major (R) | 1,226 |
| Bryan Waisanen (R) | 1,143 |
| WASHINGTON TOWNSHIP TRUSTEE | |
| Lynn Ross (R) | 1,538 |
| WASHINGTON TOWNSHIP BOARD MEMBERS (VOTE FOR 3) | |
| J. Ryan Anderson (D) | 647 |
| Linda Armstrong (D) | 1,012 |
| Andrew Funk (R) | 948 |
| Jean Martin (R) | 968 |
| WESTCHESTER TOWNSHIP TRUSTEE | |
| Suzanne Philbrick (D) | 5,503 |
| WESTCHESTER TOWNSHIP BOARD MEMBERS (VOTE FOR 3) | |
| Robin E. Chubb (D) | 3,753 |
| Cheryl M. Evans (R) | 2,666 |
| Barbara J. Stroud (R) | 2,332 |
| TOWN OF KOUTS COUNCIL MEMBER - DISTRICT 2 | |
| Kevin M. Salyer (R) | 575 |
| TOWN OF KOUTS COUNCIL MEMBER - DISTRICT 4 | |
| Timothy L. Jones (R) | 574 |
| TOWN OF OGDEN DUNES CLERK TREASURER | |
| Jean Manna (I) | 494 |
| TOWN OF OGDEN DUNES TOWN COUNCIL MEMBER - DISTRICT 5 | |
| Douglas Cannon (D) | 522 |
| DUNELAND SCHOOL BOARD | |
| Robert (Bob) Filipek | 3,078 |
| Alayna Lightfoot Pol | 5,256 |
| Stephen A. Rohe | 1,384 |
| Rhonda "Rho" Turner Day | 1,871 |
| Brian Nicholas Custy | 4,155 |
| Ronald (Red) Stone | 6,711 |
| Brandon Kroft | 8,580 |
| EAST PORTER COUNTY SCHOOL BOARD | |
| Richard McSparin | 3,178 |
| Elizabeth A. McFalls | 3,079 |
| Robert P. Martin | 3,100 |
| METROPOLITAN DISTRICT OF BOONE SCHOOL BOARD | |
| Keith Buchanan | 1,130 |
| Richard Edward Milcarek Jr. | 475 |
| Gerald "Jerry" Michalak | 1,079 |
| Tim Riese | 508 |
| Stephanie B. Mathews | 884 |
| John (Jeff) Nilsen | 719 |
| MICHIGAN CITY AREA SCHOOL BOARD | |
| Peggy Rose | 466 |
| Thomas R. Dombkowski | 317 |
| Theresa C. Edwards | 322 |
| Agnes Meer | 287 |
| Joanne Tedesco | 323 |
| PORTAGE TOWNSHIP SCHOOL BOARD | |
| Andrew Maletta | 9,062 |
| Joan L. Machuca | 5,112 |
| Troy J. Williams | 7,212 |
| Mary Clancy | 5,766 |
| Scott A. Falk | 3,364 |
| Rhonda A. Nelson | 2,557 |
| PORTER TOWNSHIP SCHOOL BOARD | |
| Johanna Williams | 2,090 |
| Laura Chavez | 1,977 |
| UNION TOWNSHIP SCHOOL BOARD | |
| Keith Wade Anderson | 800 |
| Stacey Buehler | 1,868 |
| Michael J. Simatovich | 2,388 |
| Julie L. Giorgi | 2,306 |
| JUSTICE OF THE SUPREME COURT | |
| Yes | 32,918 |
| No | 15,726 |
| JUDGE OF THE COURT OF APPEALS - DISTRICT 2 | |
| Yes | 33,423 |
| No | 14,972 |
LaPorte County results
| Candidate | Total |
| --- | --- |
| PRECINCTS REPORTING | 92 of 92 |
| JUDGE OF THE CIRCUIT COURT | |
| Thomas J. Alvizos (D) | 25,494 |
| PROSECUTING ATTORNEY | |
| John Lake (D) | 20,065 |
| Christina M. Espar (R) | 16,730 |
| LAPORTE COUNTY SHERIFF | |
| John T. Boyd (R) | 25,802 |
| LAPORTE COUNTY ASSESSOR | |
| Michael R. (Mike) Schultz (D) | 25,341 |
| LAPORTE COUNTY COMMISSIONER - DISTRICT 1 | |
| Sheila Brillson (D) | 18,797 |
| Connie Gramarossa (R) | 17,999 |
| LAPORTE COUNTY COUNCIL - DISTRICT 1 | |
| Terry L. Garner (R) | 6,546 |
| LAPORTE COUNTY COUNCIL - DISTRICT 2 | |
| Randy Novak (D) | 6,439 |
| Jim Rice (R) | 4,328 |
| LAPORTE COUNTY COUNCIL - DISTRICT 3 | |
| Mark S. Yagelski (D) | 5,457 |
| Christopher Jackson (R) | 2,769 |
| LAPORTE COUNTY COUNCIL - DISTRICT 4 | |
| Steve Holifield (D) | 4,000 |
| Michael Rosenbaum (R) | 5,134 |
| MICHIGAN TOWNSHIP ASSESSOR | |
| Scott Bell (D) | 6,571 |
| CASS TOWNSHIP TRUSTEE | |
| Dara Lee Guse (R) | 565 |
| CASS TOWNSHIP BOARD MEMBER | |
| James Irwin (D) | 317 |
| Jeffrey Mitzner (R) | 313 |
| Brian L. Pressel (R) | 454 |
| Jacqueline "Treece" Tharp (R) | 360 |
| CENTER TOWNSHIP TRUSTEE | |
| Greg Wallen (D) | 3,413 |
| Lisa M. Pierzakowski (R) | 4,657 |
| CENTER TOWNSHIP BOARD MEMBER | |
| Scott "Scotty" Ford (D) | 3,618 |
| Sean L. Quinn (D) | 2,976 |
| Amy E. Burris (R) | 4,094 |
| Paul Vincent (R) | 3,057 |
| Robert Wellinski (R) | 4,328 |
| CLINTON TOWNSHIP TRUSTEE | |
| Carissa (Niksch) Stevens (R) | 502 |
| CLINTON TOWNSHIP BOARD MEMBER | |
| Jerard Land (R) | 334 |
| Michael Niksch (R) | 328 |
| COOLSPRING TOWNSHIP TRUSTEE | |
| Jackline "Jackie" Atwater (D) | 3,401 |
| Sharon Metheny (R) | 1,992 |
| COOLSPRING TOWNSHIP BOARD MEMBER | |
| Lula B. Lewis (D) | 2,478 |
| Laura M. Peo (D) | 2,560 |
| Monica Prosser (D) | 2,538 |
| DEWEY TOWNSHIP TRUSTEE | |
| Dick "Uncle Nippy" Bucher (R) | 278 |
| DEWEY TOWNSHIP BOARD MEMBER | |
| Paul "Mailman" Malecki (R) | 223 |
| Brian McMahan (R) | 211 |
| Larry L. Rust (R) | 215 |
| GALENA TOWNSHIP TRUSTEE | |
| Edward Hynek (D) | 604 |
| GALENA TOWNSHIP BOARD MEMBER | |
| Thomas Conway (D) | 389 |
| Kim Sauers (D) | 464 |
| Mary Jane Thomas (D) | 367 |
| HANNA TOWNSHIP TRUSTEE | |
| Glenn A. Wallace (R) | 363 |
| HANNA TOWNSHIP BOARD MEMBER | |
| Brian Garner (R) | 266 |
| Dave Urschel (R) | 241 |
| Tony Wallace (R) | 244 |
| HUDSON TOWNSHIP TRUSTEE | |
| Joyce E. Forbes (D) | 237 |
| Thomas Euler (R) | 443 |
| HUDSON TOWNSHIP BOARD MEMBER | |
| Jack DeGroote (D) | 343 |
| Diane M. Richardson (D) | 310 |
| Michele Rizzo (D) | 290 |
| KANKAKEE TOWNSHIP TRUSTEE | |
| Steve Lestinsky Jr. (R) | 1,355 |
| KANKAKEE TOWNSHIP BOARD MEMBER | |
| Thomas J. Thode (R) | 1,004 |
| Kevin Wheatbrook (R) | 982 |
| Thomas A. Wheatbrook (R) | 905 |
| LINCOLN TOWNSHIP TRUSTEE | |
| Dennis Christensen (D) | 399 |
| LINCOLN TOWNSHIP BOARD MEMBER | |
| Mark Emerick (D) | 344 |
| John G. McDaniel (D) | 314 |
| Yolanda Spence (D) | 339 |
| MICHIGAN TOWNSHIP TRUSTEE | |
| Rodney Washington (D) | 5,068 |
| Keith A. Harris (R) | 3,333 |
| MICHIGAN TOWNSHIP BOARD MEMBER | |
| Melody E. Farmer (D) | 4,780 |
| George J. Kazmierczak (D) | 4,039 |
| Susan H. Webster (D) | 3,932 |
| NEW DURHAM TOWNSHIP TRUSTEE | |
| Phillip J. Hannon (D) | 1,204 |
| NEW DURHAM TOWNSHIP BOARD MEMBER | |
| Suzanne K. Burns (D) | 783 |
| Michael Coulter (D) | 961 |
| James Ingram (R) | 1,031 |
| Warren P. Smith (R) | 728 |
| NOBLE TOWNSHIP TRUSTEE | |
| David Doepping (R) | 546 |
| NOBLE TOWNSHIP BOARD MEMBER | |
| Glenn A. Schlundt (R) | 413 |
| Wayne Schoof (R) | 390 |
| PLEASANT TOWNSHIP TRUSTEE | |
| Susan Cable (R) | 1,021 |
| PLEASANT TOWNSHIP BOARD MEMBER | |
| Edward Burek (D) | 732 |
| Bette L. Conroy (D) | 610 |
| Susan M. McLain (R) | 769 |
| PRAIRIE TOWNSHIP TRUSTEE | |
| Robert Younggreen (R) | 88 |
| PRAIRIE TOWNSHIP BOARD MEMBER | |
| Phyllis Gorski (D) | 66 |
| Dan Meder (R) | 60 |
| Sherry Younggreen (R) | 68 |
| SCIPIO TOWNSHIP TRUSTEE | |
| Patricia Kimmel (D) | 675 |
| Kaelynn D. (Ludlow) Deckard (R) | 1,250 |
| SCIPIO TOWNSHIP BOARD MEMBER | |
| Walt Conlin Jr. (R) | 1,192 |
| Paul D. Linderman (R) | 1,263 |
| Richard Rutz (R) | 1,159 |
| SPRINGFIELD TOWNSHIP TRUSTEE | |
| Howard Conley (R) | 979 |
| SPRINGFIELD TOWNSHIP BOARD MEMBER | |
| Jerry P. Cooley (D) | 625 |
| Linda M. Greybar (D) | 571 |
| Matthew Sikorski (D) | 574 |
| Daniel Kilgore (R) | 608 |
| UNION TOWNSHIP TRUSTEE | |
| Sherian (Sherry) J. Morris (D) | 462 |
| UNION TOWNSHIP BOARD MEMBER | |
| Dorothea "Dot" Decker (D) | 310 |
| Bettye Evans (D) | 339 |
| Versie Jeffries (D) | 300 |
| Cassie Lipscomb (R) | 345 |
| WASHINGTON TOWNSHIP TRUSTEE | |
| Loretta Rudolph (D) | 318 |
| WASHINGTON TOWNSHIP BOARD MEMBER | |
| Tracey K. Cummins (D) | 270 |
| Bruce Vermilyer (D) | 218 |
| Harold Barr (R) | 351 |
| WILLS TOWNSHIP TRUSTEE | |
| Margaret Joan Cuson (D) | 590 |
| WILLS TOWNSHIP BOARD MEMBER | |
| David Conely (D) | 464 |
| POTTAWATTOMIE PARK TOWN BOARD MEMBER | |
| Janet Beck (D) | 79 |
| Mary Kosek (D) | 62 |
| Linda Pompeii (R) | 68 |
| Robert J. Wisthoff (R) | 61 |
| JOHN GLENN SCHOOL CORPORATION SCHOOL BOARD | |
| William S. Groves | 59 |
| Daniel R. Drotar | 60 |
| Dennis D. Holland | 70 |
| LAPORTE COMMUNITY SCHOOL CORPORATION SCHOOL BOARD | |
| Shannon Hannon | 8,031 |
| Shari Ott-Large | 7,226 |
| Jan Ribordy | 7,584 |
| METROPOLITAN SCHOOL DISTRICT OF NEW DURHAM TOWNSHIP SCHOOL BOARD | |
| Wayne R. Hodge | 777 |
| Joshua A. Krickhahn | 546 |
| Mark D. Parkman | 846 |
| Dominic J. Riffett | 457 |
| Lynn Marie Wilson | 948 |
| MICHIGAN CITY AREA SCHOOLS SCHOOL BOARD | |
| Peggy Rose | 10,058 |
| Thomas R. Dombkowski | 7,806 |
| Theresa C. Edwards | 8,089 |
| Agnes Meer | 5,913 |
| Joanne Tedesco | 6,448 |
| NEW PRAIRIE UNITED SCHOOL CORP SCHOOL BOARD | |
| Allen Williamson | 2,718 |
| Raymond M. Borkowski Jr. | 1,074 |
| Jason DeMeyer | 1,969 |
| SOUTH CENTRAL COMMUNITY SCHOOL SCHOOL BOARD | |
| Dominic A. Notaro | 1,011 |
| Deborah Allen | 1,027 |
| Jacob Wade | 444 |
| TRI-TOWNSHIP CONSOLIDATED SCHOOLS SCHOOL BOARD | |
| Tim Guse | 562 |
| Daron R. Bruder | 285 |
| Melanie Ann Mills | 51 |
| Shawnda Nelson | 41 |
| STATEWIDE PUBLIC QUESTION 1 | |
| Yes | 21,618 |
| No | 9,665 |