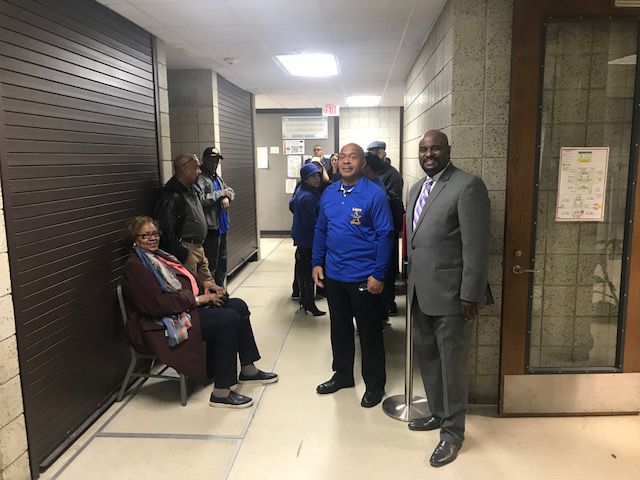 The earliest candidates pierced the midwinter gloom Wednesday with the warmth of their eagerness to get on the 2018 spring primary ballot.
Democrats Richard Ligon, of Gary, and outgoing Lake County Clerk Michael A. Brown were at the front of the line outside the Lake County election board office in Crown Point to file their names for what is expected to be a crowded race for the Democratic nomination for Lake County sheriff.
Brown said although he had no police experience, he has much administrative experience. Ligon, a federal government investigator for 23 years, is making a third run at the office.
They will challenge Sheriff Oscar Martinez Jr., who took over the department after a U.S. District Court jury removed former Sheriff John Buncich from office by convicting him of taking bribes from towing firms.
Martinez, a Democrat and a 24-year county police veteran who has been running the department for the last four months, filed for a full four-year term Wednesday morning. Schererville Police Chief David Dowling, who has been a law enforcement officer for 33 years and a Democrat, became the fourth Democratic candidate for sheriff.
Retired Lake Circuit Court Judge Lorenzo Arredondo, a Democrat, filed for county clerk, a job he said he is best suited for because of his experience on the bench. "I know all 17 Lake County judges," he said.
Democrats County Treasurer Peggy Katona, County Auditor John Petalas and County Assessor Jerome Prince filed for re-election.
County Councilwoman Elsie Franklin, a Democrat, filed for re-election to her 2nd District seat. She has two Democratic challengers — Jeremy Yancey and Clorius Lay.
Christian Jorgensen, a Republican, will challenge 7th District County Councilman Eldon Strong.
Filing for re-election in township office included Democrats Ross Township Trustee Joe Shudick, Ross Township Assessor Angela Guernsey, Hobart Township Trustee Thomas Silich, as well as Republicans St. John Township Assessor Deborah "Debbie" Walters, Eagle Creek Township Trustee Rosemarie Morrow, Winfield Township Trustee Paulette Skinner and Cedar Creek Township Trustee Alice Dahl.
Gary City Councilwoman Lavetta Sparks-Wade, a Democrat, filed for Calumet Township trustee. Heidi Goetz Laub, a Republican, filed for West Creek Township trustee. George Baranowski, a Democrat, and John Breckins, a Republican, filed as candidates for St. John Township trustee.
Schererville Town Councilmen Kevin Connelly, a Republican, and Tom Schmitt, a Democrat, filed for re-election as did Cedar Lake Town Councilman Randy Niemeyer, a Republican, and Lowell Councilman Christopher Salatas, a Republican.
In Valparaiso, outgoing Porter County Coroner Chuck Harris and the man who hopes to succeed him in that post were the first ones in line Wednesday morning at the Porter County Voters Registration office waiting to file their declaration of candidacy for the May 8 primary.
Both Republicans, Harris, who served two terms as coroner is seeking the Porter County Recorder seat. Thomas Ampeliotis, a Republican, is seeking to replace Harris as coroner along with Democrats Dale Bagnall and Randy Wilkening.
"I just wanted to get it over with. I was already in the building, so I wanted to get the paperwork filed and get back to business as usual," said Harris, who had earlier announced his intention to run for recorder.
"I want to continue on with the education and prevention programs that our current coroner began," Ampeliotis said about seeking Harris' seat.
Ampeliotis, a security manager for a global steel manufacturing company who owns a security firm, said he is a medicological death investigator and a deputy coroner.
Third in line waiting for the office to open was Mike Jessen, Republican, seeking re-election to the Porter County Council District 4 seat.
"Over the last three years I've been involved with the council, we've made progress, but we have much to do," said Jessen, adding during that time the council and Porter County Commission has acted collaboratively to move the county forward. "We have accomplished more with the council and commission working together than we have in a long time."
Pleasant Township Trustee Jean Oehlman, a Republican, was also an early bird Wednesday, arriving shortly after the office opened. She has served as township trustee since 1997.
Other first-day filers include: Democrats County Auditor Vicki Urbanik and 2nd District County Councilman Jeremy Rivas and Republican County Assessor Jon Snyder. Lily Schaefer, a Democrat, filed for county recorder.
Two incumbents filed for re-election on Wednesday: Republican Terry L. Garner, of Hanna, County Council District 1, and Democrat Mark S. Yagelski, of Michigan City, County Council District 3.
The 2018 spring primary is expected to attract scores of incumbent officials and challengers seeking election to federal, state, county, township and municipal public offices.
U.S. Rep. Pete Visclosky, D-Merrillville, filed for a new term in the U.S. House on Wednesday.
That also includes races for all nine of Indiana's representatives in the U.S. House, all 100 seats in the Indiana House, including the 13 representatives serving Northwest Indiana, and 25 of the 50 seats in the Indiana Senate, including incumbent state Sen. Frank Mrvan, D-Hammond; state Sen. Karen Tallian, D-Ogden Dunes; and state Sen. Rick Niemeyer, R-Lowell.
There will also be a question on the general election ballot in November about whether to ratify a proposed balanced budget amendment to the Indiana Constitution.
In Lake County, voters this spring will vote for prosecutor, clerk, auditor, treasurer, sheriff, assessor, 1st District county commissioner, all seven county council members, officials in 11 townships and selected town council seats in Cedar Lake, Dyer, Lowell, Schererville and St. John.
Porter voters this spring will choose county clerk, auditor, recorder, sheriff, coroner, assessor, 2nd District commissioner, 1st, 2nd, 3rd and 4th District county county members, all township trustees and their board members, 2nd and 4th District Kouts town council seats and school board members throughout the county.
LaPorte County voters this spring will vote for Circuit Court judge, prosecutor, sheriff, assessor, 1st District commissioner, 1st, 2nd, 3rd and 4th District county council members as well as officials in 14 townships.