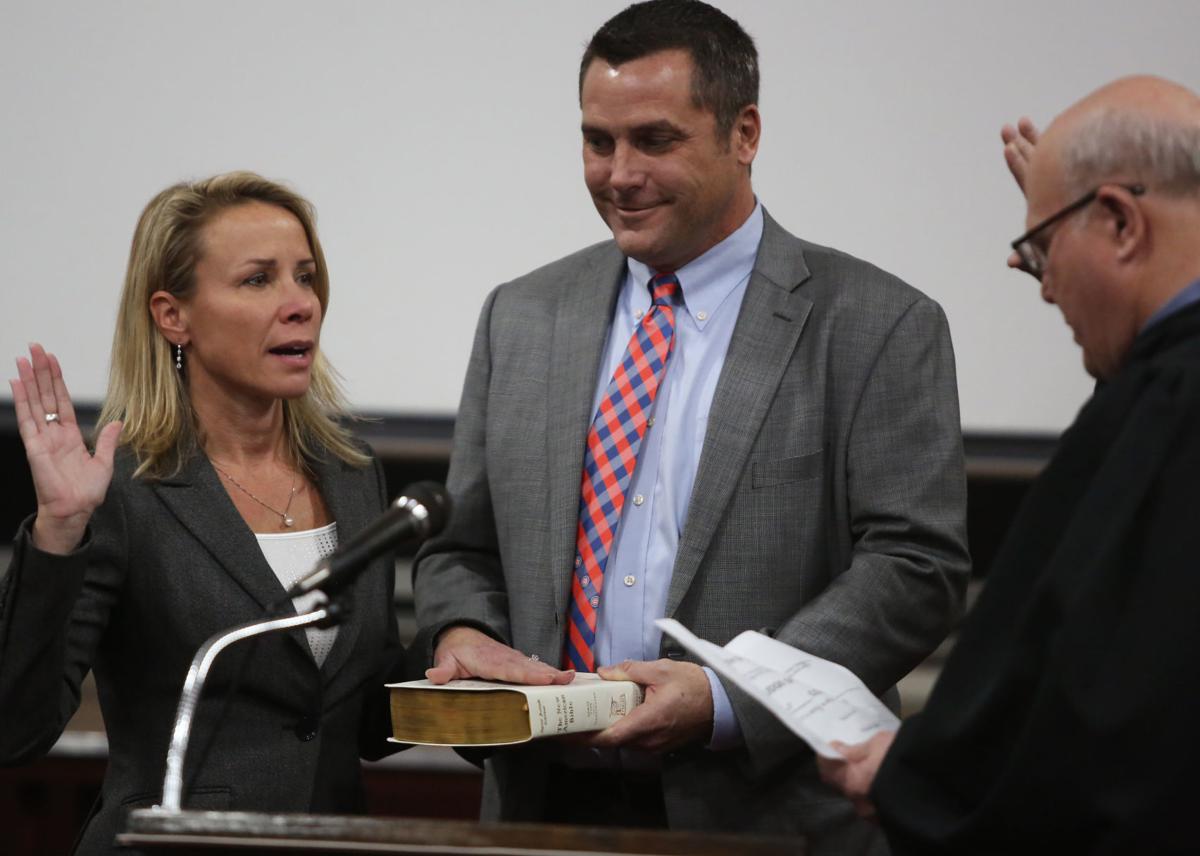 HAMMOND — Hammond's mayor and his wife, a judge, are preparing to repay $50,000 in campaign contributions originally paid to her judicial campaign fund from his mayoral fund after state officials deemed the amount excessive, the mayor confirmed.
In confirming the agreement with state judicial officials, Mayor Thomas McDermott Jr. is clarifying past public statements about a $50,000 "fine" connected to his wife's 2016 judicial election.
The clearing of the air is coming as the Democratic Hammond leader begins his campaign to succeed retiring U.S. Rep. Pete Visclosky, D-Gary, in Congress.
In an exclusive interview with The Times, McDermott said he "misspoke" on a Region radio program in February when he said he had "been fined $50,000 by the state of Indiana."
McDermott said the $50,000 payment, in fact, was part of an agreed settlement between Lake Circuit Judge Marissa McDermott and the Indiana Commission on Judicial Qualifications to resolve a complaint about a loan from the mayor's campaign account to his wife's.
The loan, which totaled $94,225 prior to partial repayment and later forgiveness, was included, as required, on the campaign finance reports for both the mayor and the judge.
There also are no legal limits on campaign donations or loans between a husband and wife in Indiana so long as they're reported.
"There was never an issue with campaign finance," McDermott said. "Everything that we're talking about was disclosed in our campaign records."
However, McDermott said the judicial qualifications commission viewed the loan as a potential violation of the Indiana Code of Judicial Conduct, which directs judicial candidates "to solicit and accept only such campaign contributions as are reasonable."
"The (commission) took exception to the amount of money she accepted from an attorney, licensed to practice law in the state of Indiana, named Tom McDermott," he said. "They thought that it appeared improper, and it may violate the judicial canons.
"It didn't even occur to us that this could be viewed as a conflict of interest because I can't practice in circuit court if Marissa is judge."
Rather than contest the allegation, which would have made the issue public and potentially opened Judge McDermott to sanctions, Mayor McDermott said he and his wife agreed to personally repay $50,000 to the mayor's campaign committee from her campaign fund to resolve it.
He said that repayment should occur in the coming months.
"Marissa is an excellent judge, and I didn't want her to go through that. And she didn't want to go through it either. So we figured the best way to handle the situation was to settle," McDermott said.
"I misspoke when I called it a fine. That was my mistake. I own it. It's an agreement that we made with the (commission) to pay back the money.
"I screwed up. I should have never said anything about this, and when I did, my wife, Judge Marissa, was not a happy camper with Mayor McDermott."
McDermott said he and his wife have not yet paid the $50,000 to the mayor's campaign committee because "Marissa and I aren't wealthy, and $50,000 is a lot of money," he said. "We've been saving up, and we're going to pay it back according to the agreement that Judge Marissa signed."
McDermott explained once the money is back in the McDermott for Mayor account, it will be disbursed in accordance with the law, which prohibits paying it back to himself or using it for his congressional campaign.
"Everything you spend campaign money on has to be reasonably related to campaign activity. But I could donate it to candidates or something like that," he said.
The mayor said he decided to speak about the issue — which otherwise would have remained confidential under judicial qualifications commission rules — "in the interest of transparency, and to clear up misconceptions about a stupid statement that I made...
"I'm running for Congress, and there's a lot of people that are talking about this alleged fine against me and my campaign committee, which is completely not true," McDermott said. "We haven't corrected them because, out of respect for my wife, I didn't want to talk about this publicly." 
But McDermott said since his political foes repeatedly have "spun up yarns and stories about this that have no basis in the truth," he wants "everybody to know what happened, and why we made the agreement we did, so I can march forward and not have to worry about questions about this any more."
The four-term Hammond mayor, who won an unprecedented fifth term leading Lake County's most populous city on Nov. 5, is among three candidates to so far announce campaigns for the U.S. House seat representing Lake, Porter and western LaPorte counties.
McDermott, 50, said he's running to change Congress and the hyper-partisanship that he said is causing the national legislature to be "dysfunctional," "ineffective" and "not good for America."
"We're the best country in the world, and we better start acting like it," McDermott said. "Washington D.C. is broken. They need people like me because I'll go in there and try to fix it."