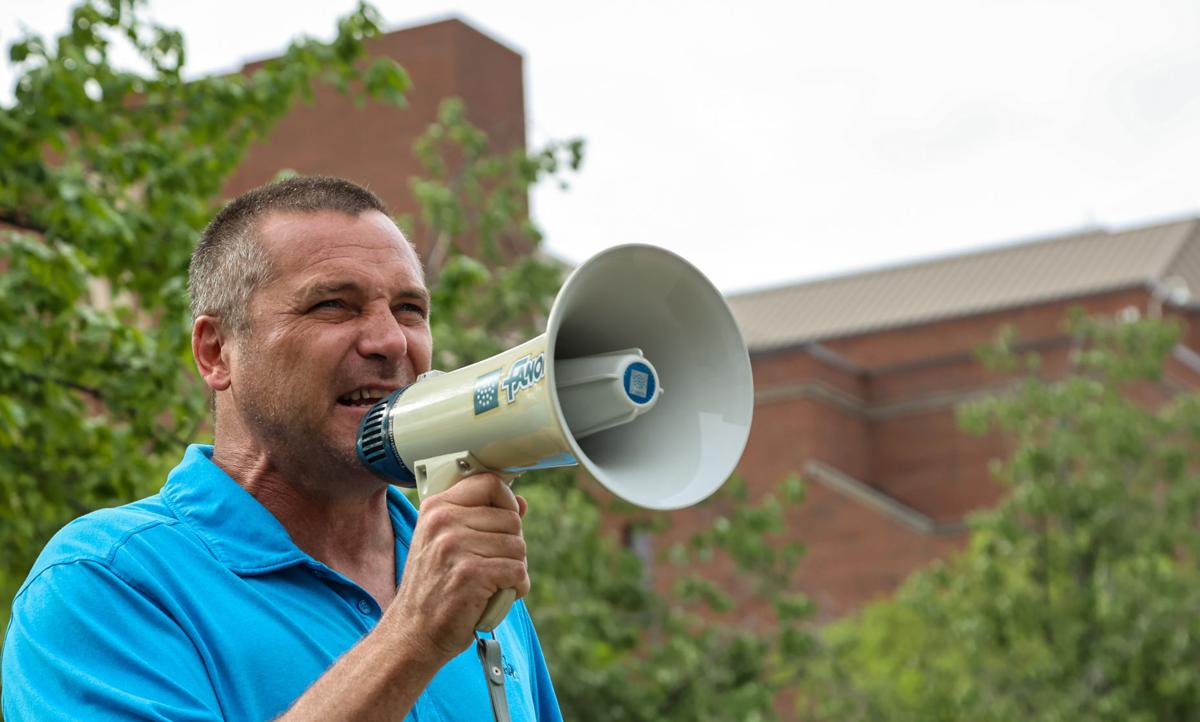 HAMMOND — Could losing last year's Democratic primary election to represent Northwest Indiana in the U.S. House actually end up propelling Mayor Thomas McDermott Jr. to an even higher office?
The five-term Hammond chief executive admitted Friday on his "Left of Center" podcast he's considering running statewide in 2022 for a six-year term serving Hoosiers in the U.S. Senate.
McDermott avoided using the so-called "magic words" that would trigger Federal Election Commission oversight of his potential Senate campaign. He said his most immediate focus is training to compete in the Chicago triathlon in late August.
But McDermott also acknowledged he's "always been interested in furthering my career," and he did not hesitate to criticize the incumbent, U.S. Sen. Todd Young, R-Ind., for voting against both investigating the Jan. 6 Capitol insurrection and the American Rescue Plan.
"To me, when we are attacked, our nation's capital is attacked — it was — and the Republican Party is refusing to even open an investigation into it, it's a disgrace," McDermott said. "It's about loyalty to our country, and I think that's missing right now in America."
The U.S. Navy veteran said Young, a graduate of the U.S Naval Academy, seems to have forgotten about the patriotism and loyalty that's instilled alongside the education midshipmen receive at the Annapolis, Maryland, university.
"I'm troubled by where we are in America. I think that people like Todd Young should have been pulling people together and trying to work across the aisle, and I don't really see that," McDermott said.
"And Sen. Young knows better. He knows what the right thing to do about the Jan. 6 insurrection is. He knows what the right thing to do is, he knows what the political thing to do is, and he chose political. And it's not a patriotic vote."
Likewise, McDermott said he doesn't understand Young's opposition to the American Rescue Plan that will deliver $3 billion in federal funds to the state of Indiana, and another $2.6 billion to Indiana cities, towns and school corporations, to speed recovery from the COVID-19 pandemic.
Every Republican member of Indiana's congressional delegation voted against the measure. Only U.S. Rep. Frank J. Mrvan, D-Highland, and U.S. Rep. Andre Carson, D-Indianapolis, backed the plan that McDermott described as a "game-changer for Indiana."
"The fact that only two of our 11 representatives voted for it is disgraceful — in the middle of a pandemic," McDermott said. "You know, Hammond lost millions of dollars during the pandemic, and this is trying to make us whole again.
"So, I see things in Washington that bug me a lot, and I think I'm the kind of person that could work across the aisle."
McDermott acknowledged winning a statewide race in Indiana, which currently has zero Democrats holding statewide office, won't be easy.
"Todd Young, honestly, in my opinion, is the toughest candidate in the Republican Party for a Democrat to consider taking on," he said.
But McDermott believes his slightly left-of-center positions could help him attract support from many traditional GOP Hoosier voters who don't like the continuing influence of former President Donald Trump on the Republican Party.
"My politics are different. I could appeal to Republicans and Democrats, and if you're going to be successful as a Democrat in Indiana you've got to be in the middle and you've got to be appealing to both sides — and I think I'm the kind of candidate who could be successful in Indiana," he said.
McDermott also suggested Young is more focused on responding to the needs of big-time campaign donors instead of listening to Hoosiers, pointing to a recent Young statement that he may need to raise $150 million to $200 million for his reelection bid.
"I really think Todd Young has completely lost touch with reality," McDermott said. "He's talking about a job that pays $180,000 a year, and he wants to spend $200 million on it. You want to know what's wrong with Washington, D.C.? That's what's wrong with Washington, D.C."
A spokesman for the Young campaign declined the opportunity to comment on McDermott's claims.
McDermott made similar noises about running for the 2016 Democratic nomination for U.S. Senate. But he opted against a Senate bid, and a potential campaign for Indiana governor, after being reelected Nov. 3, 2015, to a fourth term as Hammond mayor.
He also campaigned unsuccessfully in 2010 to replace U.S. Sen. Evan Bayh, D-Ind., as the Democratic U.S. Senate nominee after Bayh unexpectedly quit the race after the primary election filing deadline.
At the same time, McDermott said a snap poll of his podcast listeners Friday found 92% support him running next year against Young.