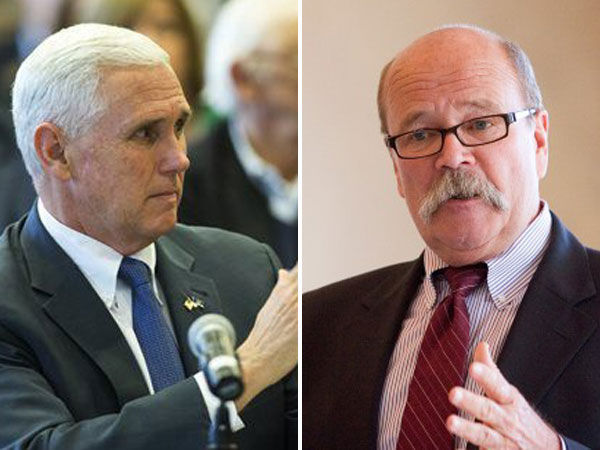 INDIANAPOLIS — Three years and three months as Indiana's chief executive, and lately near-daily ribbon-cuttings, ceremonial bill signings and other feel-good events, have done nothing to improve Republican Gov. Mike Pence's standing among Hoosiers.
A Public Opinion Strategies survey from April 18 through Thursday of 500 likely Indiana voters found 49 percent support Pence for re-election, 45 percent favor Democrat John Gregg and 6 percent remain undecided. The poll had a margin of error of plus or minus 4.3 percent.
In 2012, Pence was elected with 49.6 percent of the vote to Gregg's 46.4 percent. Libertarian Rupert Boneham claimed 4 percent.
The survey, sponsored by WTHR-TV and Howey Politics Indiana, found Pence's overall job approval rating stands at 44 percent, while 41 percent of voters disapprove of him.
However, women prefer Gregg over Pence, 52 percent to 41 percent.
Just 44 percent of respondents said Indiana is on the right track under Pence, with 45 percent believing the state is headed in the wrong direction.
Even 29 percent of Republicans said Pence is leading Indiana astray, according to the poll.
The survey also found Pence is out of step with voters on two key social issues: civil rights for lesbian, gay, bisexual and transgender Hoosiers and controversial new abortion restrictions.
Nearly six in 10 Hoosiers said state law should provide LGBT anti-discrimination protections, which Pence opposes.
Fifty-six percent are against a Pence-enacted law barring abortion to pregnant women who learn their babies will be born with a genetic or physical anomaly.
At the same time, the poll found voters are not supporting Gregg based on anything he's done or stands for — just 46 percent of respondents said they even know who Gregg is.
Indeed, the former Indiana House speaker and Vincennes University president has been keeping a relatively low profile while raising money to campaign over the next six months.
Gregg substantially outraised Pence during the first quarter of 2016, but Pence still has more cash on hand: $7.7 million to $5 million.
Jeff Harris, Gregg's spokesman, said the poll results are not surprising.
"It's clear that Gov. Pence remains deeply unpopular and after four years of mismanagement and failed leadership Hoosiers are ready for a change," Harris said.
"We've not spent a dime yet and are already neck and neck — that's a great sign for us."
State Republican Party Chairman Jeff Cardwell insisted Hoosiers are satisfied with Pence's leadership.
"We have always expected a vigorous campaign, and we look forward to sharing with Hoosiers Mike Pence's record of job growth, lower taxes and his plans for an even brighter future," Cardwell said.