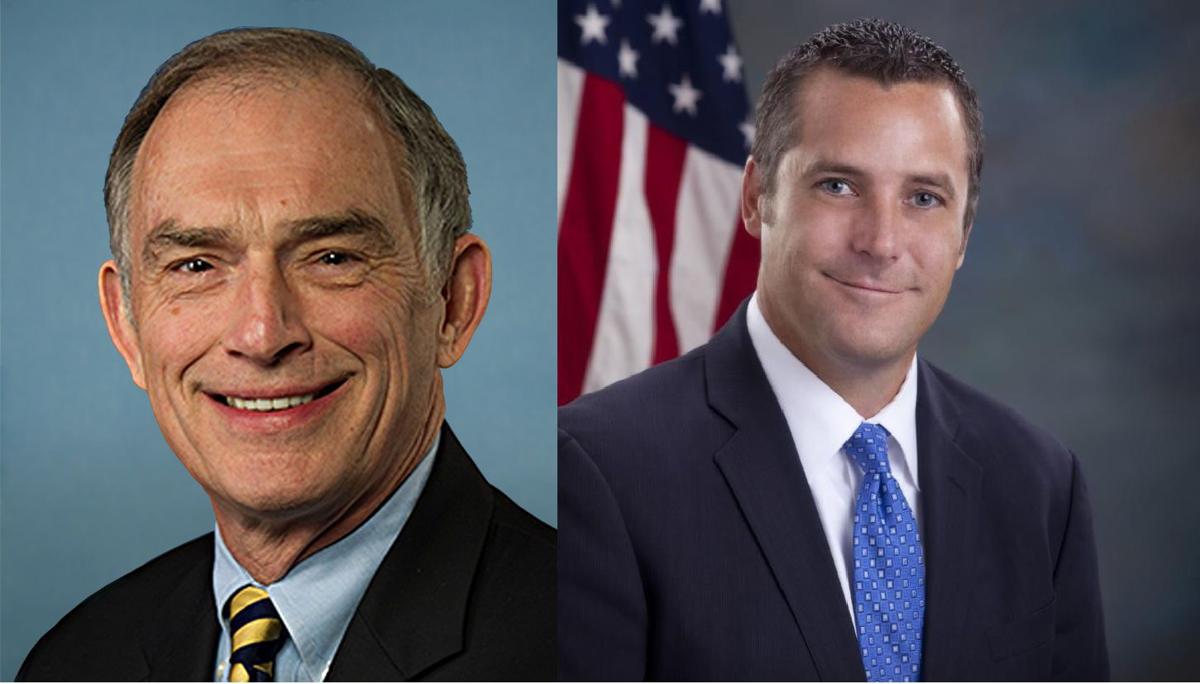 Northwest Indiana's long-serving congressman, U.S. Rep. Pete Visclosky, D-Gary, appears to be anticipating a Democratic primary election challenge by the long-serving mayor of Lake County's most populous city.
And it appears the congressman's office already is doing opposition research.
Hammond Mayor Thomas McDermott Jr. announced Tuesday on social media outlets that the Hammond mayor's and controller's offices each received extensive requests from the Visclosky campaign for public records covering McDermott's 15-year tenure as mayor.
Specifically, the records request to the mayor's office seeks documents pertaining to McDermott's salary as mayor, the mayor's travel reimbursements, health insurance and other city benefits paid to McDermott, the mayor's use of city-owned vehicles and telephones, and McDermott's personal finance disclosures.
Hammond City Controller Heather Garay was not immediately available to detail the scope of the records request submitted to her office. But McDermott said it included an accounting of how Hammond has spent all its gaming revenue since 2015.
An additional request for McDermott campaign finance records separately was submitted to the Lake County Board of Elections and Voter Registration, according to Michelle Fajman, director of the voter registration office.
McDermott told The Times that the requests were delivered to Hammond City Hall by Visclosky Campaign Director Cindy Wagner, also known as Cindy Lopez, in a white envelope prominently featuring the Visclosky campaign logo.
The person officially requesting the documents is Hayley Rumback, of South Portland, Maine, whose political consulting firm was paid $5,750 by Visclosky's campaign on March 31 for a "research project," according to federal campaign finance records.
In response to inquiries by The Times, Visclosky said: "I appreciate the mayor's prompt and thorough attention to this normal request, which was sent via certified mail on Oct. 11, 2019, and also hand-delivered by my campaign director this morning."
It's not unusual for political campaigns to seek public records associated with actual or potential opposition candidates, a process known as opposition research.
In this case, however, McDermott has not announced that he's planning to run against Visclosky, nor has he established a federal campaign committee.
In fact, McDermott will be on the ballot Nov. 5 seeking a fifth, four-year term as Hammond's mayor.
McDermott said he believes the requests are an attempt to intimidate him into no longer criticizing Visclosky, particularly the congressman's support for the House Democrats' impeachment inquiry of President Donald Trump.
The mayor wants the House to instead censure Trump for his alleged misdeeds in connection with Ukraine, arguing there's no way Trump foes in the Republican-controlled Senate will achieve the two-thirds supermajority required to remove the Republican president from office.
"Maybe they want me to toe the line better so that I say only nice things about our congressman? I don't know," McDermott said. "I wonder if Congressman Pete treats all of his mayors that way, or if I'm just special?
"I have a great relationship with almost every elected official in Northwest Indiana — Republican and Democrat. I've made it a priority of mine to have a good relationship with all of the elected officials, and the only one that I really haven't gotten a chance to know in the 15 years I've been mayor is Pete Visclosky. For some reason he wants nothing to do with me or my city."
In any case, McDermott insisted that no matter what Visclosky does it won't silence him.
"If I don't think the congressman is doing something that's in the best interests of the Region, I'm going to say it, out loud. And if that means I get (open records) requests filed against me by my congressman, then so be it. But it is definitely intimidation," McDermott said.
"I have nothing to be worried about. I get (open records) requests regularly. I've been under a microscope since day one when I walked into the office. This is nothing new for me."
McDermott pledged that the city will fulfill Visclosky's requests in accordance with state law, even though it likely will require employees in the mayor's and controller's offices to spend several full days gathering and copying all the records.
"There's going to be a lot of documentation. We're talking thousands of pages, easily, of data that we're going to have to get to them — and we will. It's going to take a while, obviously. But we have to follow the Indiana Code, and we will," McDermott said.
Visclosky is the state's longest-serving congressman after continuously representing Northwest Indiana in the U.S. House since 1985.
He's largely run unopposed in most primary elections and overwhelmingly defeated his Republican opposition every two years in the general election for House District 1.
If Visclosky is reelected in 2020, and serves one day of his new term, he will pass former U.S. Sen. Dick Lugar, R-Ind., to become the longest-serving member of the U.S. House or Senate in Indiana history.