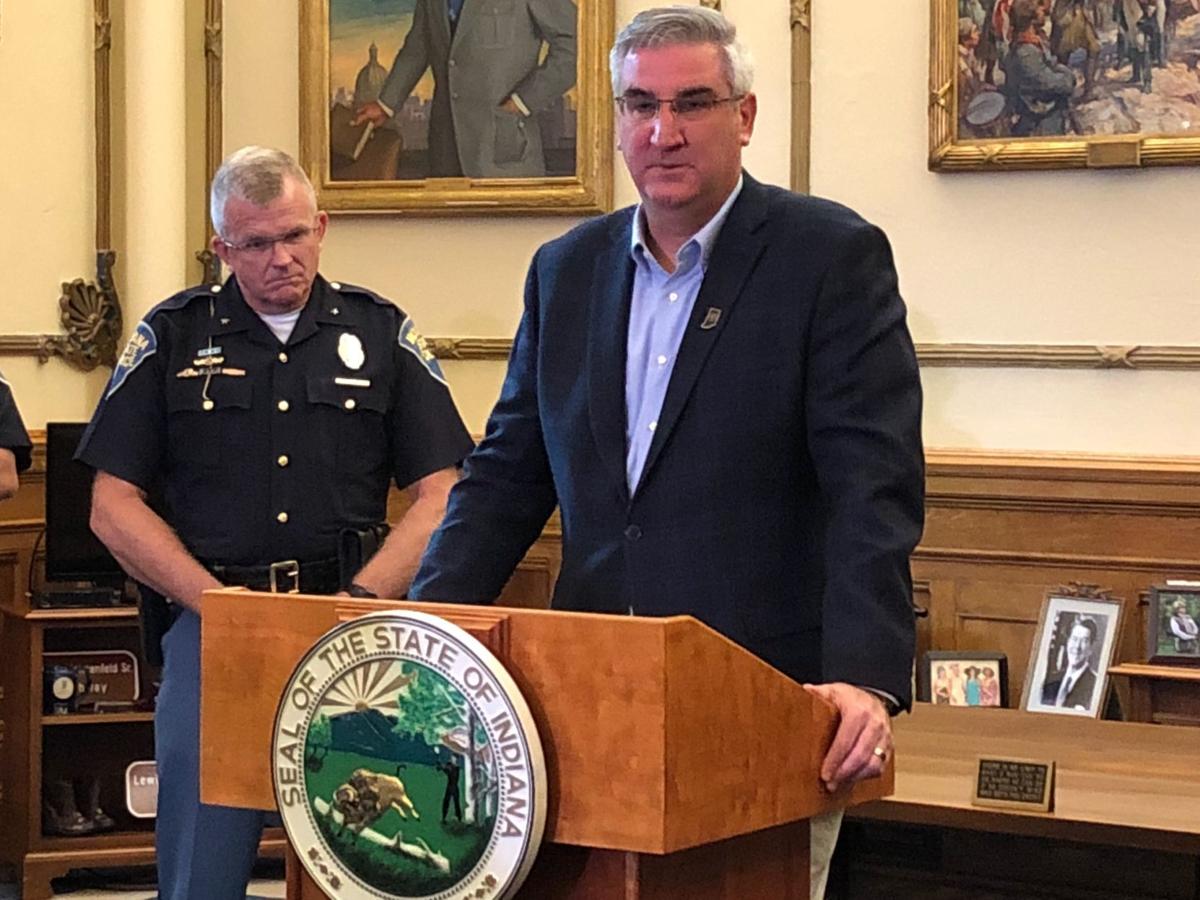 INDIANAPOLIS — Gov. Eric Holcomb is reviewing the policy recommendations he received Wednesday from his school safety task force that's been meeting since April to help the Republican devise legislation for the 2019 General Assembly to consider adopting.
"I think it's both a near-term and long-term document that I've been champing at the bit to get," Holcomb said. "I will digest it, word for word, and then circle up with all the folks who had a hand in it."
The governor would not say precisely what changes were recommended to improve school safety. He also declined to immediately release a copy of the proposals endorsed by his task force.
"We will, obviously, sooner rather than later, be sharing it with the rest of Indiana," he said.
Holcomb hinted that some new school safety measures might be implemented soon, without waiting for legislative action.
Others, however, likely only can take effect with support from state lawmakers and funding in the two-year state budget that the Republican-controlled General Assembly is due to approve by April 30, 2019.
Holcomb said Indiana already is considered a national leader in school safety training and funding. But he also cautioned, "You should never assume that you're doing everything."
Later this month, nearly all public school corporations, as well as many public charter and private schools, will receive one state-funded handheld metal detector wand for every 250 students in their schools.
Holcomb authorized the purchase and distribution of the metal detectors through the Indiana Department of Administration following the nonfatal May 25 shooting of a student and a teacher at a suburban Indianapolis middle school.
The Indiana Department of Education, led by Republican State Superintendent of Public Instruction Jennifer McCormick, is urging school leaders and school boards to work with their attorneys and local law enforcement to promptly develop policies as to how, where and when the metal detectors will be used.
DOE notes that indiscriminate use might run afoul of constitutional protections against illegal searches.
It also recommends that schools adopt staff training procedures for metal detector screenings and protocols for what to do if a weapon is found.
Holcomb believes it is entirely appropriate for each school district to decide for itself how to make use of the metal detectors.
"Different schools have a different opinion on how they want to ensure that their school is safe, and I respect that," Holcomb said. "It's a partnership, and we lean heavily into local control."
Get Government & Politics updates in your inbox!
Stay up-to-date on the latest in local and national government and political topics with our newsletter.