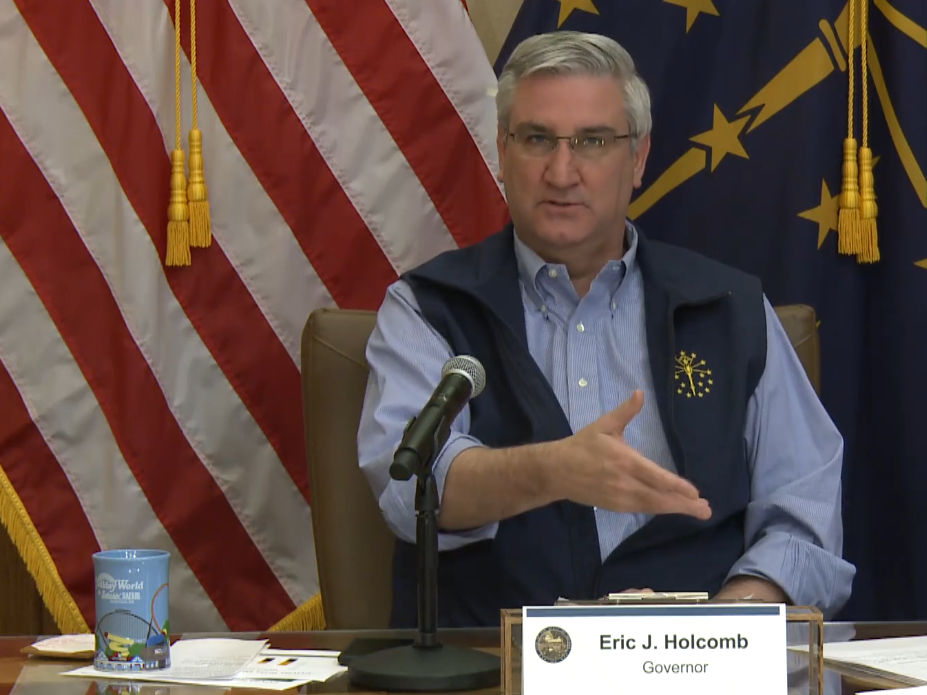 Gov. Eric Holcomb appears ready to begin loosening the chains on Indiana's locked-down economy.
The Republican chief executive announced Friday he will renew his stay-at-home order at least one more time when the current directive expires Monday.
But he only plans to extend the full order, with its myriad restrictions on businesses and personal liberty, until May 1 — instead of issuing another two-week renewal, as he's done since his first stay-at-home order took effect March 23.
The governor told reporters his administration is confident by next month Indiana will have a sufficient number of available hospital beds and ventilators, coronavirus testing, and personal protective equipment to consider "a safe reopen concerning different sectors of our economy."
"That's not to say we're going to pull up immediately after that," Holcomb said. "It just means it's going to allow us to make some changes, or some tweaks, some accommodations, as we see appropriate around the state of Indiana."
Holcomb said the state recently reached out to dozens of industry groups, as well as local government officials, asking them to submit by Wednesday their plans and recommendations for resuming operations in the "new normal" of the ongoing coronavirus pandemic.
The governor declined to say which businesses might get the initial go-ahead, or when restaurants might reopen for table service, though he said all that is under review with a focus on ensuring the safety of both employees and customers.
"We're going to be responsible, very methodical," Holcomb said. "What we don't want to do, one of the worst things that could happen, is that we get this resurgence. So you have to prevent putting yourself in a position where there is a resurgence of COVID-19."
As an example, Holcomb said hospitals might be allowed to resume, in stages, by region, elective medical procedures, since he said the coronavirus surge appears to have plateaued in several areas of the state.
"There is a lot of work that needs to be done between now and April 22 and then May 1, and then there will be after that as well," Holcomb said. "But this is going to allow us to make sure we're all on the same page, as a state, in this together, one Indiana."
He said credit for the potential reopening goes to the 99.99% of Hoosiers who he said consistently are following his stay-at-home order, and not leaving home except to obtain "essential" supplies or work at an "essential" job.
Holcomb said Hoosiers should continue following the COVID-19 containment guidelines through May 1, and beyond, to protect not only themselves and their families, but anyone they may meet who is not in a condition to survive the coronavirus if they catch it.
"We're making progress because of it," Holcomb said. "We don't want to prematurely change what we're doing just to hope for a different result. It is working."