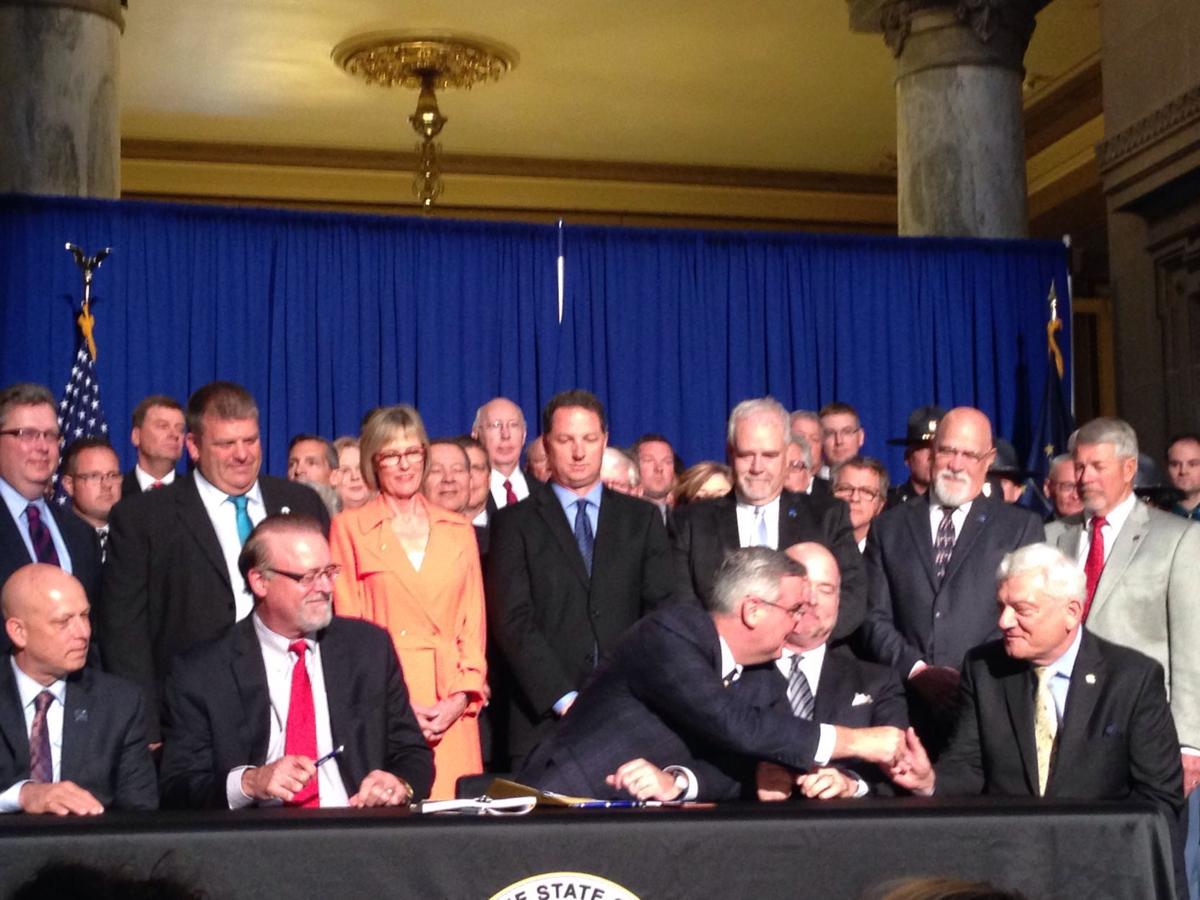 INDIANAPOLIS — "You are going to smell asphalt morning, noon and night."
That's the promise Republican Gov. Eric Holcomb made to Hoosiers Thursday as he signed into law a road funding package that spends nearly $5 billion over the next seven years to reconstruct Indiana's highways, bridges and local streets.
"It will be the largest, nonstop, sustained building program that this state has ever seen, and one of the largest in the nation," Holcomb said. "It's going to truly connect Indiana to the world and help bring the world back here to Hoosier soil."
House Enrolled Act 1002, sponsored by state Rep. Ed Soliday, R-Valparaiso, and overwhelmingly approved by the Republican-controlled General Assembly, hikes a variety of taxes and fees to pay for the state's forthcoming road construction spree.
Likely the most noticeable will be a 10 cents per gallon fuel tax increase that takes effect July 1.
The tax also will grow by up to 1 cent per gallon in each of the next seven years to ensure inflation does not eat into the buying power of the new rate.
Beginning in 2018, Hoosiers will pay a new $15 vehicle registration fee to specifically support local road projects. Electric ($150) and hybrid ($50) owners must pay an additional annual fee since their vehicles use comparatively less gasoline.
In addition, Indiana will seek federal approval to toll its interstate highways in an effort to capture revenue from out-of-state drivers traveling through the "Crossroads of America" who otherwise pay nothing to Indiana if they don't stop to buy anything in the state.
Altogether, the average Hoosier motorist will pay about $63 a year in higher fuel taxes and new vehicle registration fees, according to legislative estimates.
More importantly, Holcomb said, the money will "transform our state" and take Indiana "to where we want to be 5, 10, 20 years from now."
"Just think about all that we're going to have the ability to accomplish," he said.
Soliday admitted that it is unusual for Republicans to celebrate tax hikes, but he said their surveys show that Hoosiers are willing to pay a little bit more if they know the money will be spent only for roads.
"It's the right thing to do and we're not leaving a lot of debt for our kids," Soliday said. "All in all, it's an investment that is going to pay off for everybody who travels."