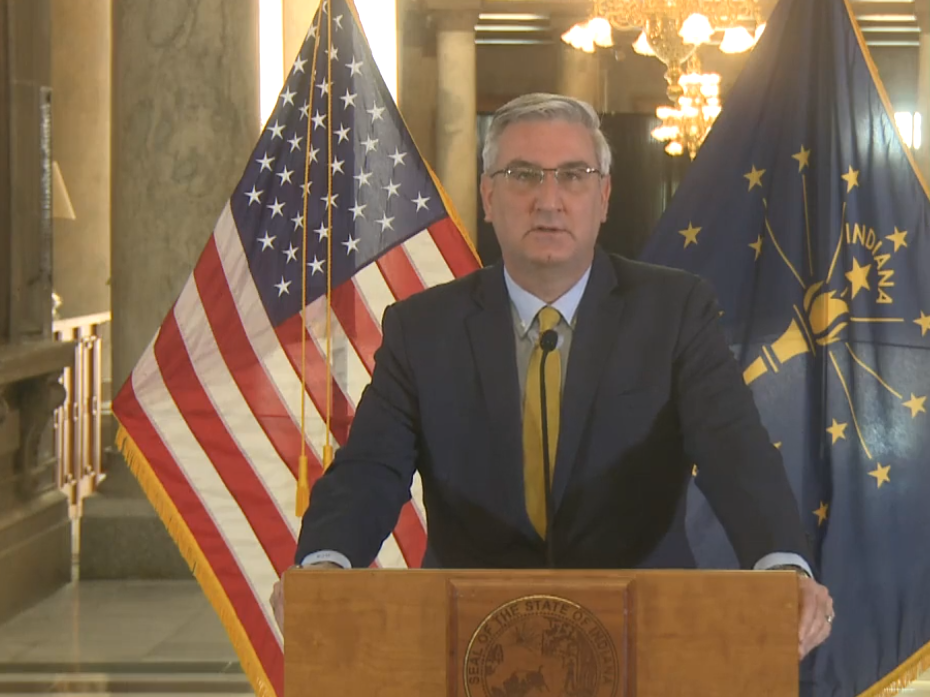 Gov. Eric Holcomb is condemning the violent destruction of portions of some Indiana cities this weekend as "domestic terrorism in the extreme," and vowed to deploy every state resource, including the National Guard, when peaceful protests cross the line.
"Make no mistake about it: No citizen has a right to destroy, vandalize or threaten another Hoosiers' safety or property," Holcomb said. "Coordinated efforts to unlawfully break and enter, shooting at law enforcement officials and setting fires has taken on a tone of organized crime, and will be responded to accordingly."
Holcomb said the state stands ready to assist local communities to enforce the rule of law and protect lives and property, as state police officers did Sunday in Hobart and Michigan City, where protests led to vandalism, and LaPorte, which was spared violence.
"Our state police and National Guard personnel will occupy positions that defend all law-abiding citizen rights," Holcomb said. "Only then, can we as a state, and a nation, make systemic progress on topics that have, for too long, eluded our true and aspired-to national identity."
The Republican chief executive said he welcomed President Donald Trump's message in a Monday afternoon telephone call urging governors to be, as Holcomb described it, "properly staged and positioned to meet this moment."
"They are tracking, as are we, a very organized effort," Holcomb said. "And no state, no community is immune. When the sun goes down, it's been said, bad things happen — and we're seeing that.
"We're seeing peaceful protests that start out with a noble cause in mind. Those seeking to right wrongs of the past, to get us on a better path. We welcome that. We want to be part of that. We want to build that into our agenda going forward. And we can do this.
"But we are seeing those peaceful demonstrations get hijacked by those who have only one goal in mind, and that is to create chaos and destruction in their path. They will move on town to town, city to city, state to state, and we have to be ready — and we are."
At the same time, Holcomb expressed a firm commitment in the months ahead, and a potential second term, to enact policies aimed at correcting inequality and racial disparities at the city, state and national level.
"We must harness, not squander, the energy generated in the aftermath of the (George) Floyd injustice by creating a to-do list, and prescribe those action steps that address better health care access, affordable housing, educational opportunity, job training and placement, urban economic development, access to capital, and yes, criminal justice reform, as well as policing standards and race relations," he said.
"This will take all of us — we the people — activists, public and private sectors, clergy and wise civil rights leaders forming a statewide coalition that calls for nothing less."
Holcomb acknowledged similar calls for such policies by the Democratic-led Indiana Black Legislative Caucus often have gone nowhere in the Republican-dominated Statehouse with notable exceptions, including the 2019 bias crime statute.
As a result, he said he's now working with legislative leaders to find more ways "where we can make advancement," and do a better job communicating about programs and resources available to all Hoosiers.
"It's part of why I ran for this job because I wanted to get things done. So it's not daunting to me to make a list and get it done. It's what we do," Holcomb said. "But our first order of business is to make sure that our citizens and our property are safe and protected."
State Rep. Robin Shackleford, D-Indianapolis, chairwoman of the Indiana Black Legislative Caucus, said African Americans are risking their lives to demand change during a global pandemic and can't afford to simply continue waiting for progress.
"Malcolm X said it best when he stated, 'If you stick a knife 9 inches into my back and pull it out 3 inches, that is not progress. Even if you pull it all the way out, that is not progress,'" Shackleford said. "Progress is healing the wound, and America hasn't even begun to pull out the knife."
Gallery: Recent arrests booked into Lake County Jail