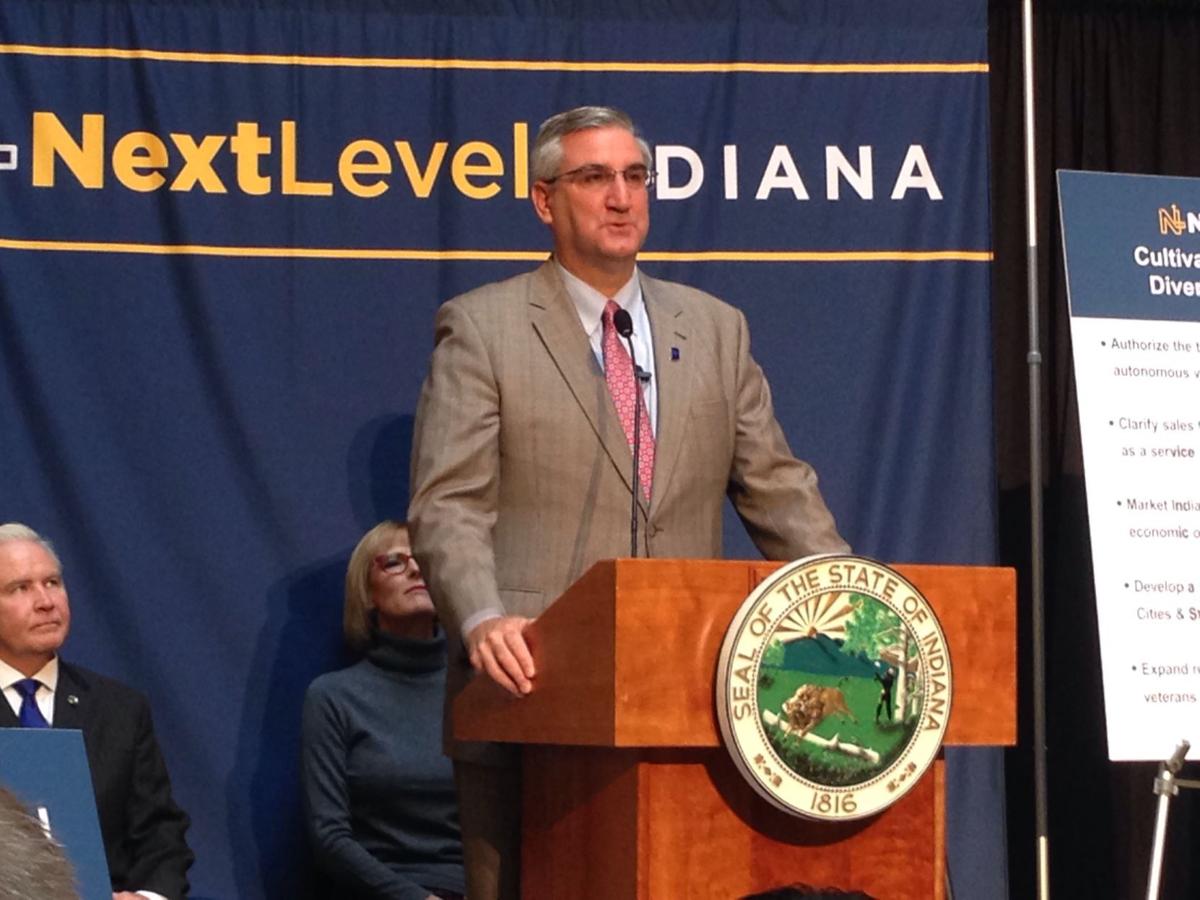 INDIANAPOLIS — Gov. Eric Holcomb is not taking a public position on three key issues almost certain to roil the 2018 legislative session that begins in January.
The first-term Republican last week told reporters that he will defer to state lawmakers on whether Indiana should legalize Sunday retail alcohol sales, permit cold beer sales at locations other than package liquor stores and allow Hoosiers to carry handguns in public without obtaining a state license.
"I'll see what actually comes to fruition and makes its way through the General Assembly," Holcomb said. "(Those issues are) not part of my agenda."
Holcomb did, however, rule out signing into law any measure that legalizes marijuana for medicinal or recreational use in Indiana, despite support for the policy change from typically favored groups such as the American Legion.
"The FDA (U.S. Food and Drug Administration) is the organization that approves drugs in this country and they've not yet, and so we're not there in this state," Holcomb said. "I'm trying to get drugs off the street and not add more into the mix."
Indeed, tackling the state's opioid abuse crisis through tougher criminal penalties in some cases, and increased drug treatment opportunities in others, is one of the top items on Holcomb's legislative wish list.
He's asking lawmakers to give county prosecutors explicit authority to file murder charges against individuals who illicitly manufacture drugs that cause a user's death.
Holcomb also plans to work with coroners to broaden the drug screen applied to overdose victims, so the state can obtain more consistent and specific data on the size and scope of Indiana's drug problem.
Hoosiers ready to kick their drug habits will have more treatment options available if Holcomb succeeds in persuading lawmakers to set a standard that no person should have to drive more than one hour to reach a treatment facility.
In addition, he's working to establish a twice daily "open beds" tracking system for drug treatment centers, enabling individuals to call the 211 helpline and find out immediately if there is a treatment spot available for them.
"It's all about access to treatment," Holcomb said. "We need to do more, and we need more access for those who are in the dark and they're scratching and reaching out for help."
Rail and water infrastructure
Holcomb plans to seek assistance next year to finally secure federal funding for the double-tracking of the South Shore Line between Gary and Michigan City, and to build the West Lake extension between Hammond and Dyer.
Indiana lawmakers last session approved the state contribution necessary to qualify those long-sought projects for federal matching funds, which Holcomb said the state strongly will advocate be included in next year's federal spending legislation.
The governor said he believes speeding transit to Chicago on the commuter rail line is key to growing the population of Northwest Indiana.
Holcomb also is planning to get involved in another infrastructure realm of concern to the Region generally, and state Sen. Ed Charbonneau, R-Valparaiso, in particular — water.
His agenda calls for creating a multiagency working group to devise strategies to manage the state's water resources and infrastructure, as well as developing asset management plans for high-need water and wastewater utilities.
Charbonneau said he's grateful Holcomb recognizes that the water infrastructure issues he's been working on for five years in the Senate warrant special attention from Indiana's chief executive.
"This is going to take everybody," Charbonneau said. "I look forward to working with the governor to protect our water asset, which is so critical to the state's economic development efforts and the quality of life for every Hoosier."
Other items on Holcomb's legislative agenda, in addition to the previously reported workforce development plan, run the gamut from futuristic to firefly-tastic.
For example, the governor is working with state Rep. Ed Soliday, R-Valparaiso, chairman of the House Roads and Transportation Committee, to authorize the testing and operation of autonomous vehicles on Indiana's roads.
Holcomb also is calling for more direct flights to popular destinations from airports throughout the state, incentives to expand affordable broadband access to currently underserved communities and taking steps to ensure computer software is considered a service exempt from sales tax.
State employees are likely to soon get paid time off following the birth or adoption of a child, and a new state task force will oversee large government technology purchases to guarantee they are delivered on-time and on-budget.
Finally, Holcomb enthusiastically declared that he supports the repeatedly thwarted efforts of the students at West Lafayette's Cumberland Elementary School to convince the General Assembly to make Say's firefly the official state insect of Indiana.