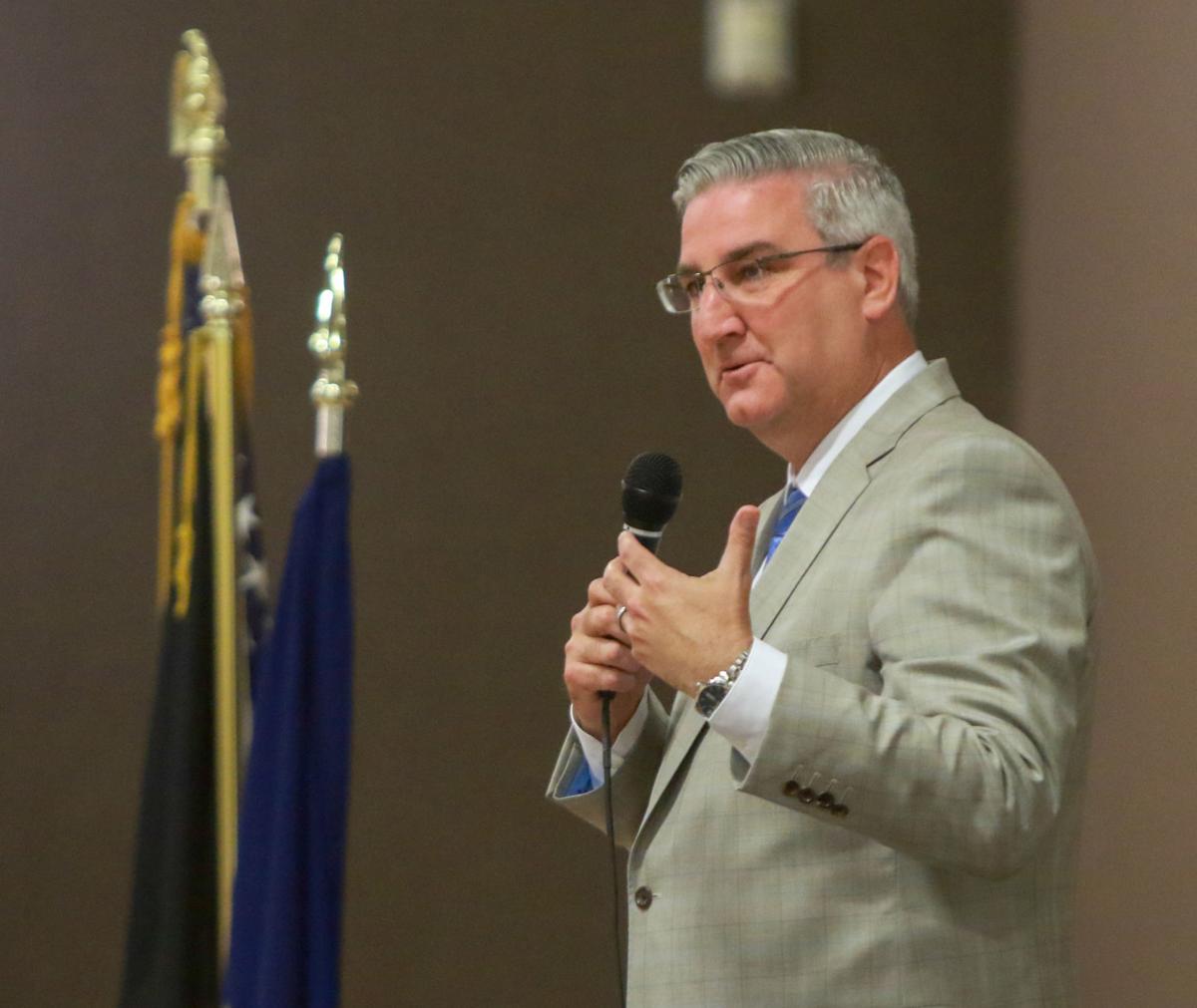 INDIANAPOLIS — Gov. Eric Holcomb is immediately implementing four of the 18 recommendations of his school safety task force, while leaving to the General Assembly decisions about proposals to expand youth mental health services and increase school safety funding.
The Republican chief executive on Friday released the 134-page assessment of Indiana school safety needs that he ordered following the Feb. 14 school shooting in Parkland, Florida, that killed 14 students and 3 staff members.
"Ensuring every one of our students has a safe place to learn and grow is of the utmost importance," Holcomb said. "This assessment is an important step toward helping our schools be better prepared for the unknown."
In accordance with the recommendations, Holcomb has directed the Indiana State Police to develop a "See Something, Say Something" anonymous telephone tip line for students, parents, teachers and others to report any situation that could threaten school safety.
Likewise, the Department of Homeland Security has been instructed to create an Indiana School Safety Hub that's intended to be a kind of "one stop shop" for school safety resources, programs and contacts.
At the governor's direction, the Integrated Public Safety Commission is crafting a self-evaluation tool for schools to determine how effectively their communications equipment, procedures and systems operate together during an emergency.
Finally, the State Fire Marshal is working with schools to minimize the risk that a shooter will be able to pull a fire alarm to lure students and teachers out of their classrooms and into danger when there is no fire.
As to the 14 other recommendations, many of which are likely to have hefty price tags, Holcomb assigned the State Budget Agency to tally their predicted implementation costs, and identify whether new or existing federal, state or local funds are available to cover them.
Six of the recommendations focus on mental health, including developing a student mental health screening tool, increased educator mental health awareness training, statewide availability of mental health services and programming, and adopting nationally recognized student risk behavior and mental health emergency plans.
The report also calls for regular active shooter drills in all schools, sustainable school safety grant funding, spending flexibility for school safety grants, completing threat assessments for all schools by 2021 and requiring improved data sharing between agencies.
The task force did not address issues relating to gun purchases, use, ownership or training, because the panel concluded it was outside its mandate and the topic can be better addressed by state legislators and other policymakers.
Both House Speaker Brian Bosma, R-Indianapolis, and Senate President-designate Rod Bray, R-Martinsville, said they plan to carefully review the task force recommendations and consider how to go about implementing them.
"Though Indiana has demonstrated leadership on school safety in the past, it's important for us to continue to look forward and identify ways to keep our schools safe, and I commend Gov. Holcomb for his leadership on this issue," Bray said.
"In addition to improving physical safety, it is clear that our efforts to increase school safety need to include more mental health services and training for our students, teachers and staff."
House Democratic Leader Terry Goodin, D-Austin, who also is superintendent at Crothersville Community Schools, said that while few of the recommendations are groundbreaking, in many cases they've not yet been enacted in Hoosier schools.
"We welcome the governor's strong commitment to this issue and its prioritization," Goodin said. "We, as Democratic state representatives, stand ready to work with him and our Republican colleagues to ensure the safety of every school child in the state of Indiana."
The full task force report is available online at nwi.com.
Get Government & Politics updates in your inbox!
Stay up-to-date on the latest in local and national government and political topics with our newsletter.