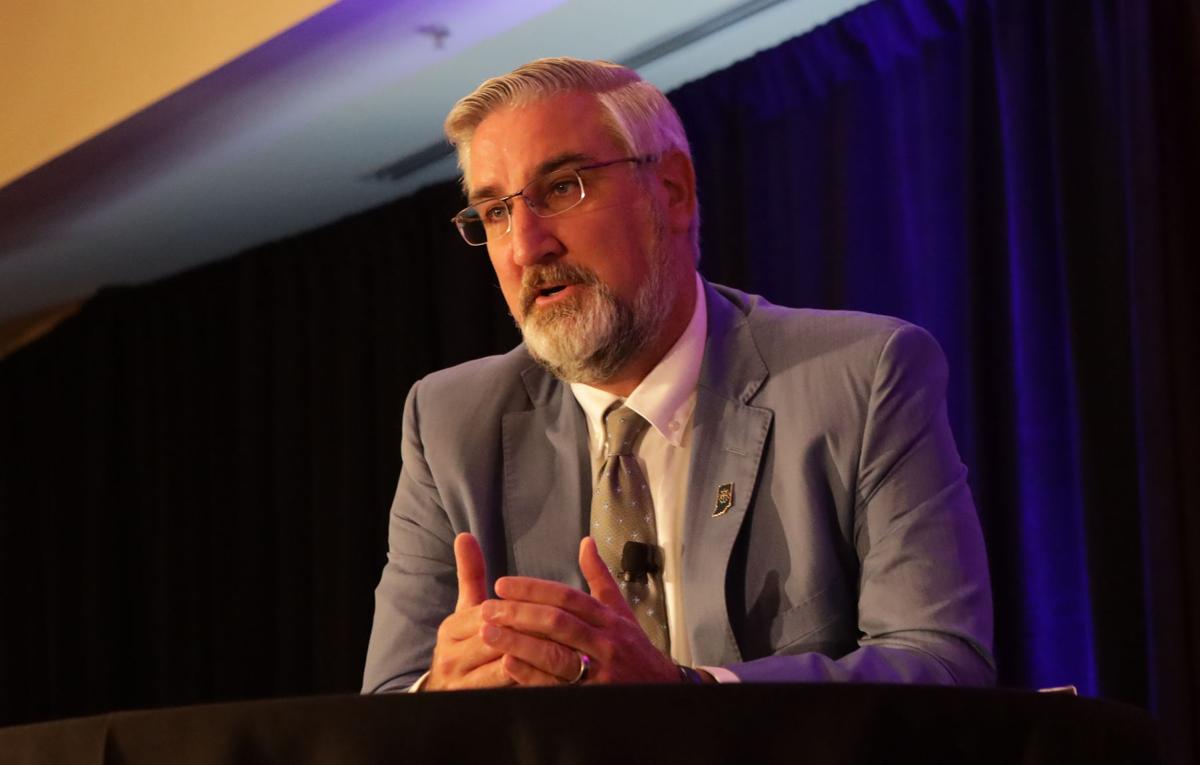 MERRILLVILLE — Leaders of Northwest Indiana school districts and localities probably should not put off decisions on enacting COVID-19 prevention measures in the hope that a single, statewide policy on face masks and virus mitigation is forthcoming.
Gov. Eric Holcomb said Tuesday the state stands ready to assist local leaders in their responses to the COVID-19 pandemic, but the Republican chief executive has no interest in dictating any additional COVID-19 directives for all 92 counties from the Statehouse. 
"I'm good with where we are from a state perspective," Holcomb said about COVID-19 during the annual induction ceremony at Avalon Manor for the Northwest Indiana Business and Industry Hall of Fame, sponsored by The Times Media Co.
The governor explained there was a need last year for comprehensive restrictions as Indiana struggled to secure the resources needed to respond to a health emergency not seen since the 1918-19 flu pandemic that similarly struck in multiple waves over several years.
Now, however, Holcomb said many Indiana businesses have retooled specifically to respond to COVID-19, and both the state and nation cannot afford one-size-fits-all policies that might interrupt the production of COVID-19 drugs or personal protective equipment.
"What we want to do as a state is to make sure local authorities have the resources that they need," Holcomb said. "And that may be endless, but we're going to work on it every single day — together."
To that end, Holcomb said Indiana is preparing to expand COVID-19 testing sites, redeploying the National Guard to support increased testing, and especially working to encourage Hoosiers 12 and older to get vaccinated against the coronavirus.
Holcomb said he spoke Tuesday to the governors of Illinois, Michigan, Ohio, Kentucky and Minnesota trying to craft a unified message on vaccinations as the Delta variant of COVID-19 spikes case counts toward numbers last seen during the 2020 holiday surge.
"We know 98% or 99% of all positive cases, week after week after week, are unvaccinated; positive hospitalizations: unvaccinated; intensive care unit beds: unvaccinated; deaths: unvaccinated — so we know the answer to prevent those adverse reactions," Holcomb said.
Going forward, Holcomb said he believes getting more COVID-19 case and vaccine data to local Hoosier leaders will help steer Indiana on the right course, rather than imposing statewide mandates.
"We're trying to make sure we're doing everything we can to equip local authorities to make the decisions to be as safe as they can depending on the local data, literally in their neighborhood," Holcomb said.
According to the Indiana Department of Health, a total of 3,641 Hoosiers tested positive for COVID-19 on Monday, and 1,956 individuals are hospitalized because of COVID-19 — the highest number of COVID-19 hospitalizations since late January.
Altogether, 14,320 Hoosiers have died from COVID-19 in the past 17 months, including 57 newly reported deaths that occurred between Aug. 15 and Monday, records show.