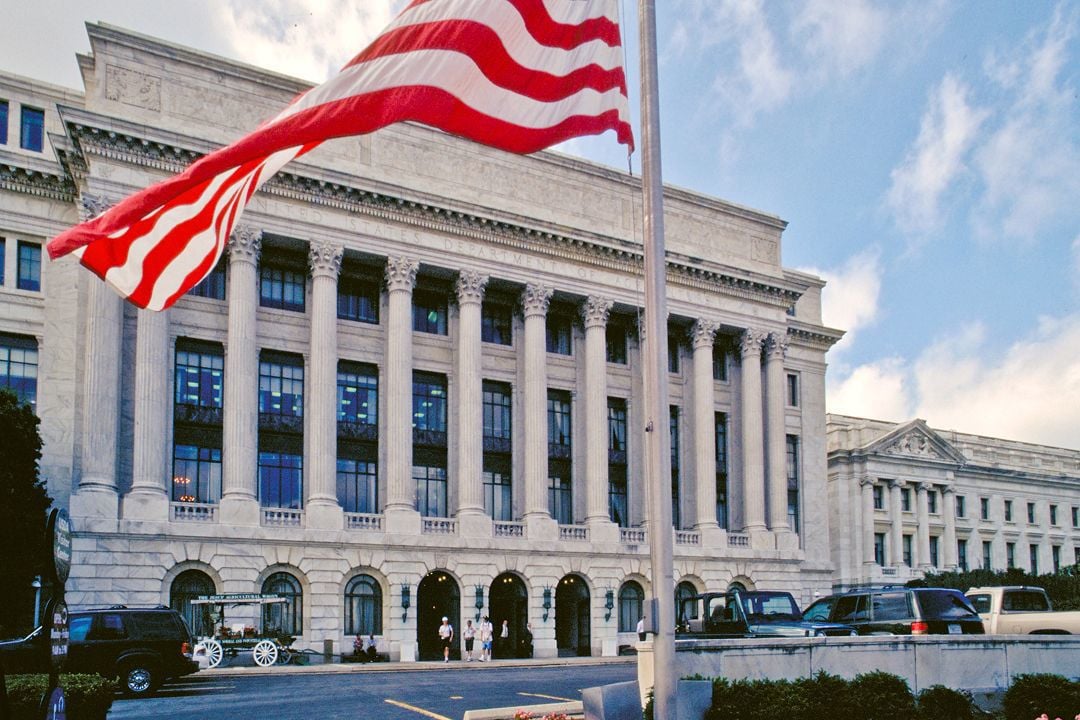 INDIANAPOLIS — A Hoosier senator is asking President Donald Trump to follow through on his oft-repeated pledge to "drain the swamp" by relocating federal agencies from Washington, D.C., to other parts of the country, especially Indiana.
In a letter sent May 3, U.S. Sen. Todd Young, R-Ind., urges Trump to have his administration begin working on comprehensive feasibility studies for evaluating the economic, technological, workforce and logistical factors associated with moving all federal agencies, apart from those connected to national security, away from the national capital.
"Completing these studies would be a sensible first step towards verifying the practicality of moving any single agency to a new home elsewhere in the country," Young said.
The senator acknowledged that "while there are arguments for maintaining concentrated government functions in Washington, D.C.," he also believes "many federal agencies are politically independent in their core mission or are too far removed from the Americans they regulate."
"Relocating some federal agencies throughout the country would distribute economic opportunity, disperse bureaucratic power, and bridge the gap between regulators and the American people," Young said.
"Washington's centralization and dogmatic culture acts as a national tax on talent and removes the diversely skilled citizens from the states and communities that most need them."
Young has filed legislation known as Decentralize Regulatory Agencies, Include the Nation Act (DRAIN Act), authorizing the Office of Management and Budget and the U.S. General Services Administration to develop and implement a competitive process for communities with above average unemployment and the necessary existing infrastructure to bid for federal agency relocations.
However, while that measure is pending in Congress, Young said Trump can move ahead on his own authority to commission feasibility studies as a way to get started.
"With special attention to cost savings, the studies should highlight the benefits of decentralizing power and unleashing economic opportunity, as well as reveal the challenges and limitations each agency might encounter as it addresses the site-selection process," Young said.
One federal agency not waiting to relocate some of its workers away from Washington is the U.S. Department of Agriculture.
It announced on May 3 that a to-be-determined Indiana location, along with Kansas City and North Carolina's Research Triangle, are the three finalists out of 136 localities that expressed interest in becoming the new home for the USDA Economic Research Service and National Institute of Food and Agriculture.
"Relocation will help ensure USDA is the most effective, most efficient and most customer-focused agency in the federal government, allowing us to be closer to our stakeholders and move our resources closer to our customers," said Sonny Perdue, U.S. agriculture secretary.
Gov. Eric Holcomb said he was "extremely proud" that Indiana made the shortlist to become the new headquarters for the two USDA research divisions.
"The Hoosier state has a rich tradition of agriculture and is well positioned for continued growth and momentum. We're training tomorrow's workforce and developing new solutions to solve critical challenges," Holcomb said.
"Indiana would be the perfect place for USDA to call home, and we look forward to working with them as they continue to narrow their list of potential sites."