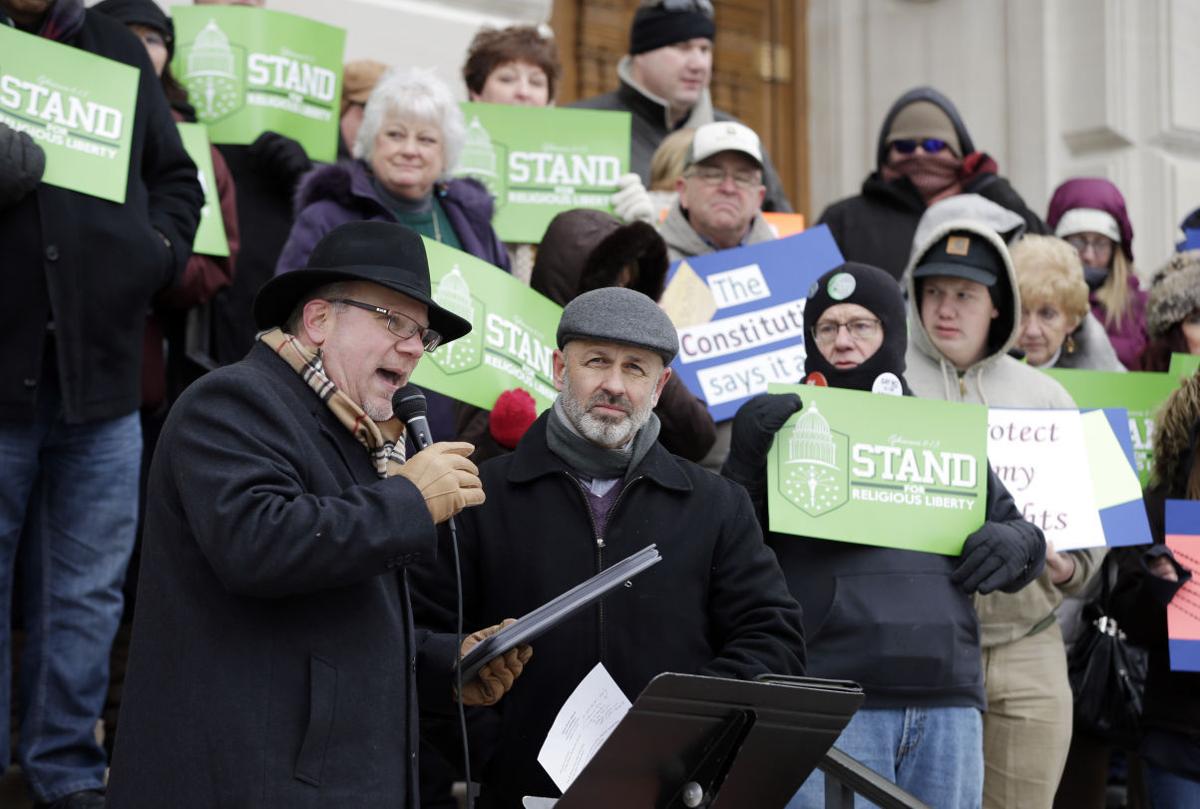 INDIANAPOLIS — Hoosiers differed sharply Wednesday in response to Gov. Mike Pence's demand that any legislation providing civil rights protections for lesbian, gay, bisexual and transgender individuals contain a broad religious freedom exception.
The governor said in his State of the State address that while he opposes all forms of discrimination, he's not sure it's "necessary or even possible" to balance an LGBT anti-discrimination law with religious liberty.
He vowed not to sign legislation that interferes with Hoosiers' ability to "live out their beliefs in worship, service or work."
That was good news to 50 supporters of the Indiana Pastors Alliance, who rallied on the frigid Statehouse steps before going inside to present Senate President David Long, R-Fort Wayne, petitions signed by 5,500 Hoosiers opposing Senate Bills 100 and 344.
"We consider that to be an unambiguous, direct statement that he (Pence) is going to protect the religious liberty of Hoosiers," said Kevin Baird, field director for the pastors group and a minister at Crown Point's Living Stones Church.
Baird said the Senate legislation — which adds sexual orientation and gender identity to the seven protected classes in Indiana's civil rights code with a limited religious exemption — is a "direct attack" on Christian business owners.
"Our faith is not just where we worship ... (Christians) take their faith out of the church and practice that faith with regards to their business practices," Baird said. "We will not have our faith compartmentalized."
Ron Johnson Jr., executive director of the Pastors Alliance and senior minister at Living Stones Church, warned that providing "special rights" to LGBT Hoosiers will lead to persecution of people who sincerely believe marriage must be limited to one man and one woman.
"If we live out these beliefs we're now called bigots," Johnson said.
"But for Christians seeking to live their lives and conduct their businesses in a way that pleases God, we gain absolutely nothing from either of these bills, and we actually lose everything because these bills criminalize our beliefs and actually turn God himself into a discriminator."
Supporters of LGBT civil rights legislation had a different point of view on the governor's favoring of religious liberty over non-discrimination guarantees in employment, housing and public accommodations.
Peter Hanscom, manager of Indiana Competes, a business coalition pushing for LGBT civil rights, said Pence missed an opportunity to show leadership following the 2015 Religious Freedom Restoration Act controversy that made Indiana appear to endorse discrimination against LGBT individuals.
"Hoosiers have seen how vulnerable our economy can be to negative public perception that we are not a welcoming state," Hanscom said.
"A clear majority of Hoosiers support banning discrimination against gay and transgender Hoosiers, and it's time for our elected officials to lead and find a solution that ensures equal rights for all."
Chris Paulsen, of Freedom Indiana, which spearheaded opposition to a Pence-endorsed constitutional ban on gay marriage, said the governor's position is "a complete letdown."
"We must redouble our efforts so that lawmakers craft a good bill to send to the governor that makes it clear that gay and transgender people should not be fired, denied housing or turned away from public spaces because of who they are or whom they love," Paulsen said.
Pence's likely election opponent, Democrat John Gregg, similarly blasted the governor for passing the buck on civil rights to the Legislature.
"His refusal to take a stand for equality is unconscionable given the fact that he created this mess, which continues to damage Indiana's economy and reputation," Gregg said. "This failure of leadership is disappointing, but sadly not surprising."
Get Government & Politics updates in your inbox!
Stay up-to-date on the latest in local and national government and political topics with our newsletter.