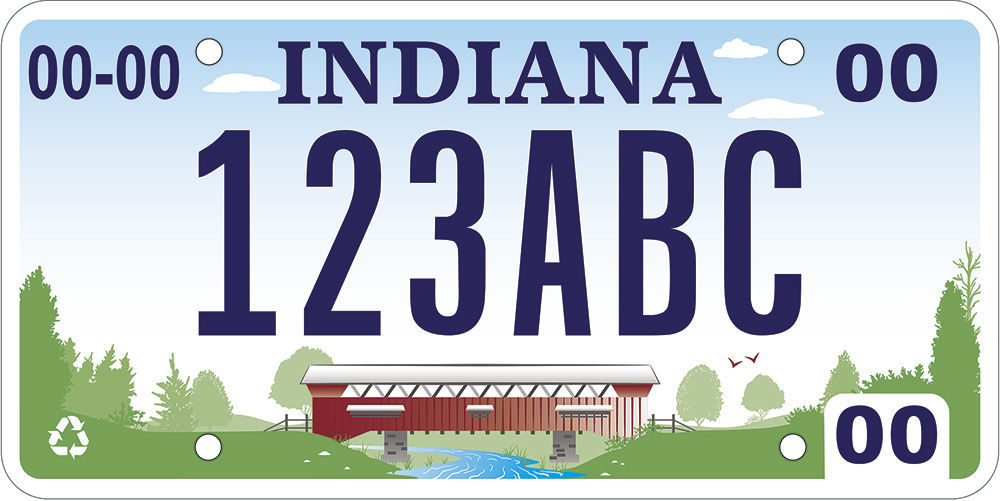 INDIANAPOLIS — Motorists used to driving down bumpy Indiana roads soon will get a near-constant reminder of the idealized infrastructure of the past.
The Bureau of Motor Vehicles announced Thursday that Indiana's new standard license plate will feature a red covered bridge straddling a blue stream set amid green grass and trees.
"The first day of fall is a great time to announce the covered bridge license plate is our winner," said BMV Commissioner Kent Abernathy.
Hoosiers were invited last month to vote online or at the State Fair for one of three designs to replace the current bicentennial license plate.
Abernathy said the covered bridge received 54 percent of the vote, a state outline similar to the bicentennial plate was favored by 39 percent and a white plate with only the state's "Crossroads of America" motto on it got 7 percent.
The new license plate uses blue letters and numbers instead of black. It does not have any words other than the state name in capital letters centered at the top.
Vehicle owners with a bicentennial license plate that's at the end of its seven-year life cycle will receive a covered bridge plate with their 2017 registration renewal, according to the BMV.
The new plate design also can also be purchased next year for $10.25 by motorists not yet due for a new plate.
Get Government & Politics updates in your inbox!
Stay up-to-date on the latest in local and national government and political topics with our newsletter.