INDIANAPOLIS — Spectacle Entertainment has received state regulatory approval to complete its purchase of the Majestic Star casinos in Gary.
The Indiana Gaming Commission unanimously agreed Friday to authorize Spectacle's acquisition of Majestic Star for an undisclosed sum in a transaction that's expected to be finalized Wednesday.
If all goes according to plan, the Majestic Star casinos will close to patrons Tuesday night for a final accounting of operations under current owner Majestic Holdco LLC, and then the casinos will reopen Wednesday afternoon under Spectacle's ownership.
Once the purchase is final, Spectacle will own and operate a hotel, pavilion, parking garage and two casino boats on Lake Michigan that are marketed as a single gaming facility, but are, in fact, two separate casinos for state and local tax and oversight purposes.
Spectacle has announced plans to relocate one of the casinos to a land-based site in Gary, adjacent to the Borman Expressway, and to use its second owner's license to open a casino in the west-central Indiana city of Terre Haute.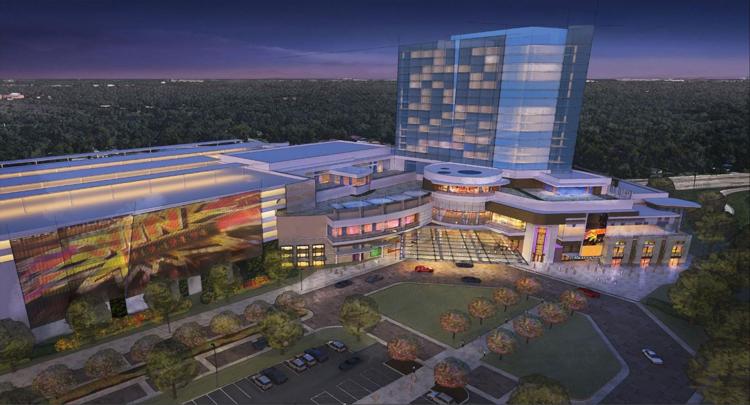 The proposed new Gary casino would be a $300 million project, including a 200-room boutique hotel, that Spectacle anticipates could annually generate $75 million in net new revenue for the state and create 400 jobs at the new location — growing Majestic's current workforce by one-half to about 1,200.
"We're excited about the project," said Rod Ratcliff, chairman and CEO of Spectacle Entertainment. "It's going to have a lot of opportunities for both us and the state of Indiana, and we think it's a win-win situation."
The Republican-controlled Indiana Senate last month approved the casino relocations in Senate Bill 552. That measure, which also legalizes sports wagering and makes other gaming industry changes, is awaiting action in the Republican-controlled House.
Ratcliff was careful not to say too much about what's to come, to avoid derailing or impeding the legislative approval process that's required by law to conclude on or before April 29.
However, he said Spectacle has a "good outlook" for the existing Majestic Star facilities on Lake Michigan that he anticipates operating as-is for at least a year or two, depending on how things proceed in the General Assembly.
"We think we've got some room to move the thing up, if we work it really hard and do some things that we've learned in the past," Ratcliff said.
Majestic Star back to local ownership
Ratcliff led much of his Spectacle team when they previously worked together at Centaur Gaming, which last year sold the two central Indiana horse track casinos to Caesars Entertainment, the parent company of the Hammond Horseshoe Casino.
Peter Rusthoven, a Barnes & Thornburg attorney representing Spectacle, said no matter what happens this year in the Legislature, Spectacle is committed to ensuring Majestic Star operates successfully on Lake Michigan for however long is necessary.
"We're going to do the best we can with what's there, put money into it, do what we can to refurbish it and see if we can make a go of it," Rusthoven said.
"The Majestic Star people have done a tremendous job. It's time to transition to the next stage, to a company that is owned by Hoosiers, and Hoosiers who I think have more experience in the gaming business than anybody else."
Indeed, Spectacle's acquisition of Majestic Star would make the Gary casinos the only gaming operation in the state owned by an Indiana-based company.
Rusthoven said that fact is even more special when you consider the two Majestic Star gaming licenses were the first issued in Indiana, for what then were separate casinos operated by the late Don Barden and Donald Trump, now president of the United States.
"The current transaction for Spectacle offers new opportunities," Rusthoven said. "For Indiana's gaming industry and also for Gary itself, both on the gaming front and because of the potential new uses for Buffington Harbor."
Gary City Council President Ron Brewer and Dayna Bennett, chief of staff to Gary Mayor Karen Freeman-Wilson, told the Gaming Commission the city supports the ownership change, and is excited about the new employment and economic development prospects Spectacle's relocation plans make possible.
Making room for new development
"We've enjoyed our relationship with Majestic for many years, and it's an end of an era in some respects," Bennett said.
"But we are looking forward to the new ownership from Spectacle. We believe it will bring some new excitement and renewed interest in gaming in the city of Gary, in addition to new revenue, which we are extremely excited about."
The city plans to use some of that revenue to redevelop Buffington Harbor into an intermodal shipping and warehousing hub that uses Gary's water, rail, highway and air connections to offer businesses an alternative to moving goods through Chicago.
Senate Bill 66, which also is pending in the House, establishes a joint state-city Gary Indiana Transmodal Compact to oversee the development and operation of new intermodal facilities at Buffington Harbor and the Gary-Chicago International Airport.
Joseph Svetanoff, a Gaming Commission member from Crown Point, was first to congratulate Spectacle on its "amazing" Majestic Star transaction, moments before the commission vote.
"I'm excited about this proposed casino project and the opportunities it creates for the city of Gary, for all of Northwest Indiana and even the city of Terre Haute," Svetanoff said.
"I'm also elated that this proposed casino project will be Northwest Indiana's first fully land-based casino, which I've been clamoring for for years now."