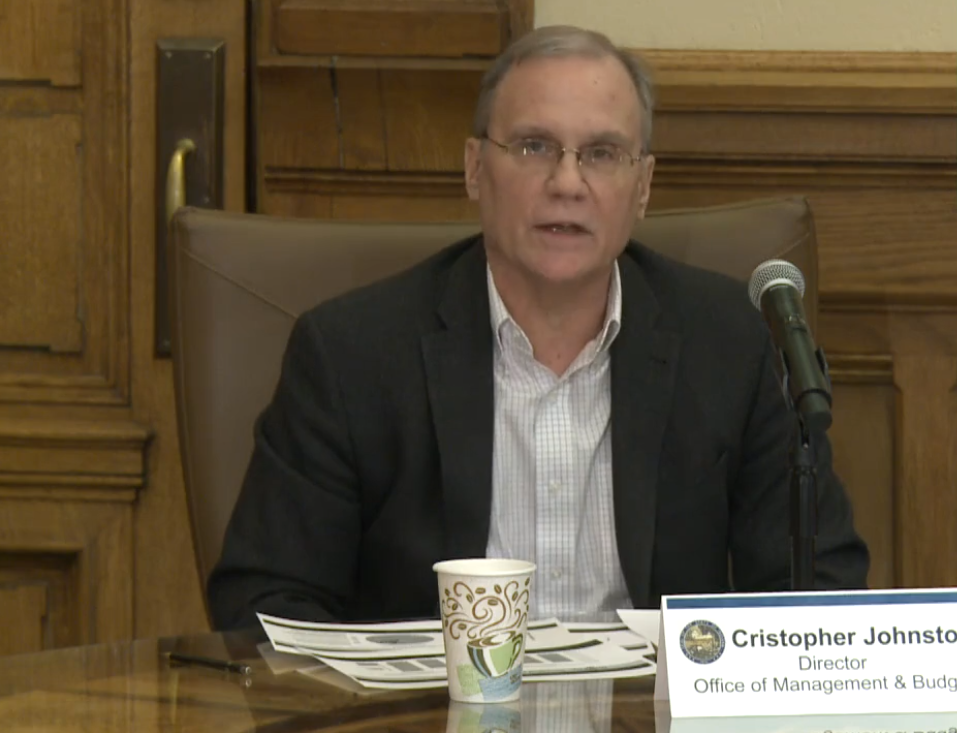 Indiana is poised to sharply reduce state spending to maintain its balanced budget following a steep decline in sales, income and gaming tax receipts caused by policies aimed at minimizing the spread of COVID-19.
The State Budget Agency reported Friday that Indiana collected $1.2 billion in General Fund tax revenue in April, a whopping $964 million, or 44%, less than predicted by the state's revenue forecast, and $1.04 billion, or 45.7%, below the state's April 2019 revenue total.
Cris Johnston, director of the Indiana Office of Management and Budget and a Crown Point native, said the bulk of the revenue shortfall was due to Indiana following the federal government in shifting its income tax filing deadline to July 15 from April 15.
He said nearly $800 million in personal and corporate income taxes that normally would have come in last month presumably will be paid in July — during Indiana's next budget year — assuming the individuals and businesses have the funds needed to cover their tax bills.
Johnston said the other $164 million in anticipated April sales and gaming tax revenue likely is gone for good, since Hoosiers can't go back and pay taxes on items they didn't purchase or retroactively gamble at casinos that have been closed since March 16.
More importantly, Johnston said the drop in sales tax receipts — Indiana's biggest revenue category — is likely to grow in subsequent months, even as businesses gradually reopen, since there generally is a four- to six-week lag between when a consumer pays sales tax at a cash register and when it's recorded on the state's balance sheet.
So the full effect of Gov. Eric Holcomb's March 23 stay-at-home order on sales tax collections won't be known until the May state revenue report is issued in early June, Johnston said.
In the meantime, he said the April revenue miss compared to the forecast puts Indiana's tax collections for the 2020 budget year, which runs from July 1, 2019, through June 30, at $931 million, or 7%, below expectations — with more shortfalls to come.
"Needless to say, the remainder of the fiscal year will be challenging," Johnston said.
To adjust to the state's reduced revenue, Johnston said state agencies soon will be provided a memorandum "setting significant spending reduction targets for agency programs," on top of the general cost-cutting measures implemented in April.
Johnston did not specify which state programs or personnel are likely to be cut. But he suggested Indiana will see another "great reset," similar to the 2008-09 Great Recession, when programs and institutions once thought untouchable were shrunk or eliminated entirely.
"Similar steps will be required, and probably quicker action will be required, all in the world of social distancing and remote work environments," Johnston said. "But it can be done."
He also anticipates Indiana will continue tapping its $2.27 billion budget reserve fund — equal to about 13% of annual state revenues — to cover ongoing shortfalls in operating revenue until the state spending reductions take effect.
"The 2009 recession took reserves down to 6% to 7% of state revenues, but were judiciously built back up to help address fiscal issues, just like we face now," Johnston said.
Johnston indicated Indiana could get some budgetary assistance from the federal government if a fourth coronavirus relief package is approved by Congress.
Currently, he said federal coronavirus funds directed to states only can be used for health care expenses and other costs directly tied to COVID-19.
Gallery: Regionites show off shaggy hairdos, DIY cuts during quarantine