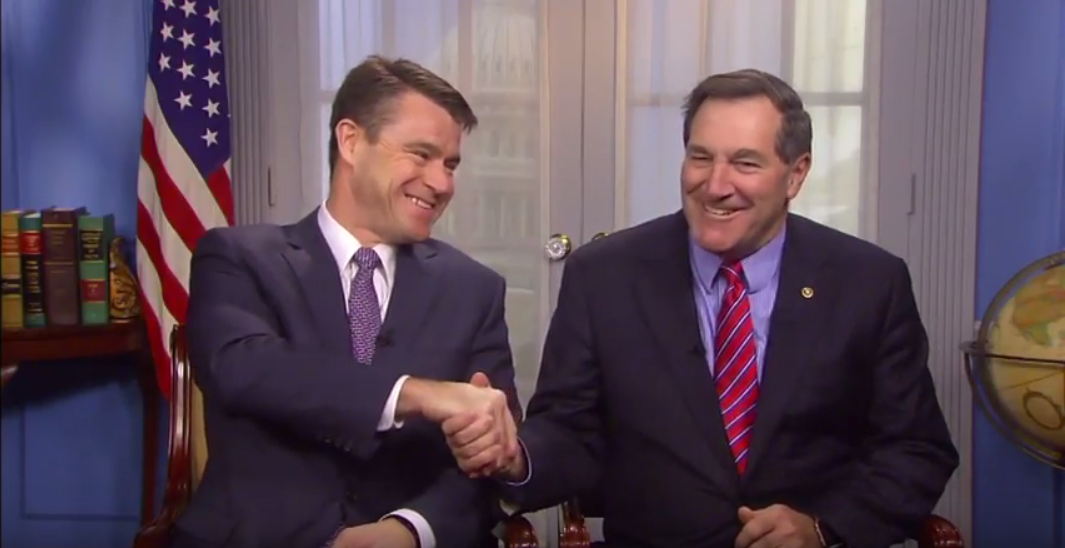 INDIANAPOLIS — The two U.S. senators representing Indiana are among the lawmakers most likely to work across party lines in Congress, according to a new analysis from a think tank led by former U.S. Sen. Dick Lugar, R-Ind.
The Lugar Center's Bipartisan Index rated U.S. Sen. Joe Donnelly, D-Ind., the fourth most bipartisan senator in 2017. U.S. Sen. Todd Young, R-Ind., was ninth out of the 100 senators.
In contrast, Illinois' senators fared poorly for bipartisanship, with U.S. Sen. Tammy Duckworth, D-Ill., coming in 84th, and U.S. Sen. Dick Durbin, D-Ill., at 91st.
The index, compiled in conjunction with the McCourt School of Public Policy at Georgetown University, measures bipartisanship by tallying how often a member of Congress files legislation that attracts co-sponsors from members of the other party, and how often they in turn co-sponsor measures introduced across the aisle.
"Members of Congress, from the most progressive to the most conservative can score well on the index if they dedicate themselves to seeking bipartisan support for their own legislation and give fair consideration to a variety of legislative initiatives," said Lugar, who represented the Hoosier State in the Senate for 36 years.
Indiana was the only state in the nation with both of its senators ranked in the top 10 for bipartisanship. Just two more states, West Virginia and Iowa, saw both of its senators place in the top 20.
High marks for bipartisanship are nothing new for Donnelly.
The Lugar Center previously determined that Donnelly was the second-most bipartisan senator during the 2015-16 Congress, and also rated as the second-most bipartisan senator out of the 240 who have served since 1993.
"I'm the hired help for Hoosiers, and my focus every day isn't on Democrat or Republican but on finding solutions and addressing issues important to Indiana," Donnelly said.
"That's how I have been successful in advancing and getting dozens of provisions signed into law on a range of issues, including to combat the opioid epidemic, improve mental health services for our law enforcement officers and honor our Vietnam veterans."
According to the Lugar index, Young has become more bipartisan since entering the Senate last year. Young rated 120th out of 435 U.S. House members for bipartisanship during the 2015-16 Congress.
Young also has been significantly more willing to work across party lines than his predecessor. Former U.S. Sen. Dan Coats, R-Ind., now the director of national intelligence, was 82nd for bipartisanship during the 114th Congress.
The two Congressmen vying for the Republican nomination to challenge Donnelly in the November election received significantly different bipartisanship scores on the latest Lugar index.
U.S. Rep. Luke Messer, R-Greensburg, rated 137th out of 435 House members for bipartisanship in 2017, well up from 309th place during the 2015-16 Congress.
Munster native U.S. Rep. Todd Rokita, R-Brownsburg, declined in last year's bipartisanship rankings to 350th. He was the 278th most bipartisan representative in the previous Congress.
Here's how the other Hoosier representatives placed on the 2017 bipartisanship index: Pete Visclosky, D-Gary, 65; Jackie Walorski, R-Elkhart, 84; Jim Banks, R-Columbia City, 377; Susan Brooks, R-Carmel, 44; Andre Carson, D-Indianapolis, 401; Larry Bucshon, R-Newburgh, 205; and Trey Hollingsworth, R-Jeffersonville, 238.