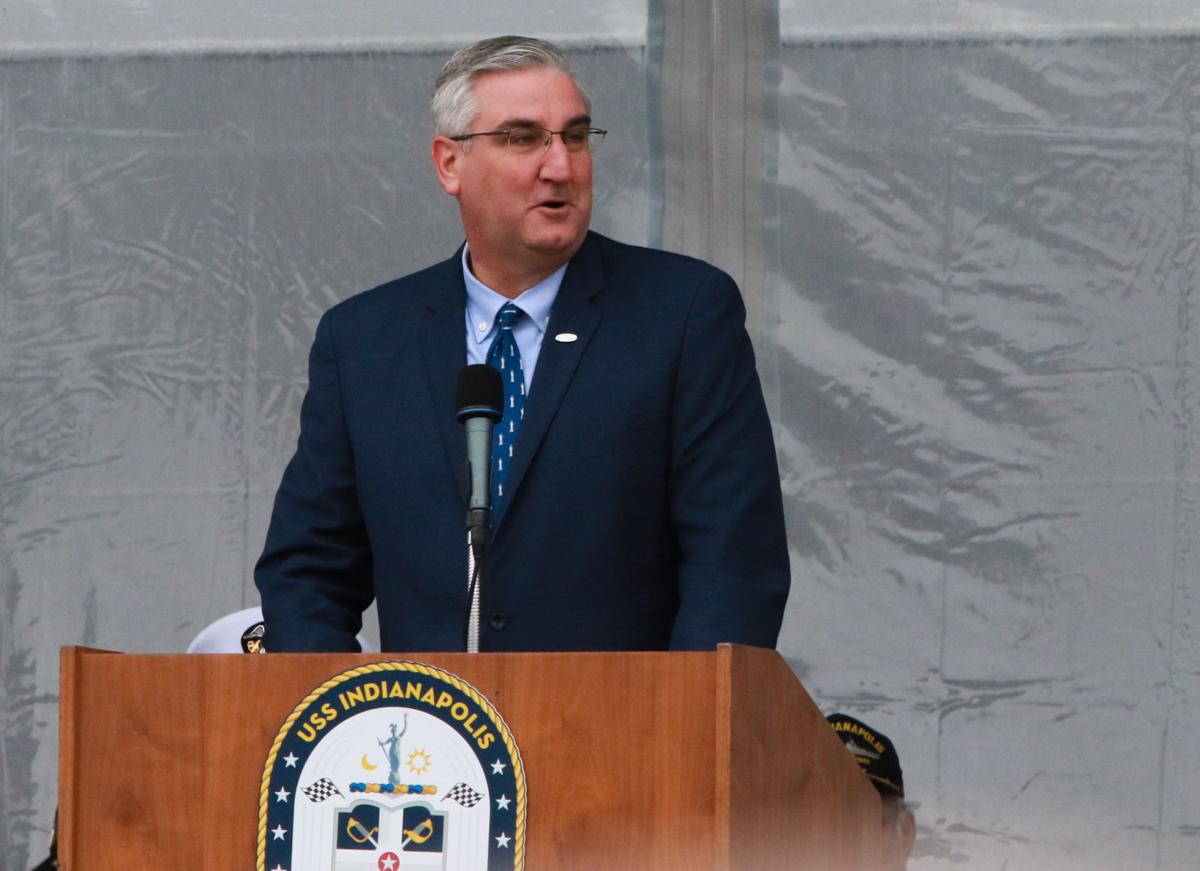 An organization of Hoosier journalists is condemning Gov. Eric Holcomb's use of a cease-and-desist letter to demand the Indianapolis Star retract two recent news articles the governor claims contain "serious inaccuracies and falsehoods."
In a message sent Tuesday, the leaders of the Indiana Professional Chapter of the Society of Professional Journalists say the tactic used by the Republican chief executive "is a threat to press freedom."
"In our view, your cease-and-desist letters, issued on Nov. 29, are designed to intimidate reporters and journalists looking into your administration," write John Russell, of the Indianapolis Business Journal, and Michael Puente, of WBEZ-FM radio, on behalf of the Indiana Pro SPJ board of directors.
"The letters also add to the overall climate in the nation that looks to undermine the credibility of journalists and media outlets," they write.
The journalist group does not take a stand on the truthfulness of the reports in the Indianapolis Star that were produced by Reveal, a project of The Center for Investigative Reporting.
Rather, it says the governor's unusual use of a cease-and-desist letter could "chill efforts to report an ongoing story," simply because the governor disagrees with its content or conclusions.
"Indiana should set an example for the rest of the nation to follow when it comes to press freedom," Russell and Puente write. "If there are disputes over accuracy, there are ways to address those concerns without issuing a cease-and-desist order."
Holcomb told reporters Tuesday in Indianapolis that he appreciates the thoroughness, toughness and good work of reporters everywhere — but sometimes a bad apple reflects poorly on the entire profession.
"For an organization, like the Indianapolis Star, to print something that is so grossly inaccurate, to claim that they are concerned about accuracy and then to throw it out in a paper so that others could pick it up and run with it, is irresponsible," Holcomb said.
The governor's office has fiercely denied the central allegation in the Star/Reveal reports that Holcomb personally helped scuttle a state investigation into the death of employee Phillip Lee Terry at an Amazon warehouse in Plainfield to boost Indiana's chances of landing Amazon's second corporate headquarters, and because Amazon made a $1,000 donation to Holcomb's reelection campaign.
Joseph Heerens, Holcomb's general counsel, said the reports were based on unsupported claims made by a single, fired Indiana Department of Labor employee, and mistakenly alleged special treatment for Amazon that ignored an Indiana statute explicitly authorizing a cooperative review process to resolve workplace safety issues.
"Your story seeks to unjustifiably and inexcusably harm the good name and reputation of Governor Holcomb through false accusations," Heerens said in letters to the Star and Reveal. "You must also cease and desist from publishing this article as currently written, take steps to retract it and issue an apology to Governor Holcomb."
The Indianapolis Star has not retracted its stories or apologized to the governor. Reveal stands by its reporting.
Andy Donohue, Reveal managing editor, said Tuesday the governor's cease-and-desist letter is notable for another reason: "It is the most extensive response Reveal has received to date from the state of Indiana regarding these events."
"Neither the governor nor (other state) officials agreed to an interview that would have allowed us to more fully reflect their perspective on the sequence of events surrounding Terry's death and Indiana's bid for Amazon's HQ2," Donohue said.
"Our attempts to access Indiana public records also were stonewalled. Instead, the state issued broad denials that we included in our story. As we await responses from the state, our reporting continues."