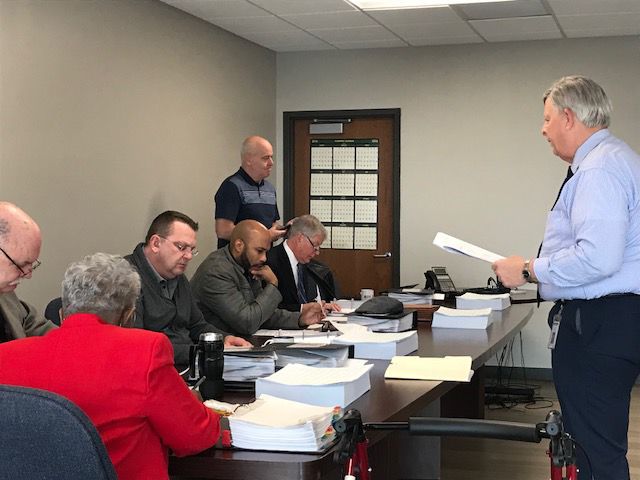 CROWN POINT — The Lake County Council is considering paying as much as $8.25 million to settle more than eight lawsuits alleging misconduct and negligence by county employees that led to four deaths and several injuries.
Lake County Attorney John Dull presented council members Thursday a list of cases he recommended they settle to avoid trial, and the possibility of greater damages being assessed by judges and juries.
The council will vote Tuesday on whether to borrow to make the payments.
The largest settlement would involve $2.75 million to the family of Gregory Smith, 39, of Hobart, who died two years ago in the county jail after a county jailer used a stun gun on him.
The county would pay $2.2 million in the death of Adekunle Odumabo, 39, of Lansing, who hanged himself with a bed sheet in April of 2007 in his county jail cell.
A U.S. District Court magistrate judge previously had ordered jailers to put Odumabo on suicide watch because he had threatened to commit suicide.
The county would pay $800,000 in the death of 43-year-old Cedell Wright in the county jail in March of 2013. He died of pneumonia and other medical ailments. The suit alleged the county's medical team neglected obvious deterioration of his health.
The county would pay $435,000 in the wrongful arrest of Renee and David Otten, both of rural Crown Point.
Merrillville attorney Russell W. Brown Jr., who represents the Ottens, said Thursday they had an argument in February 2015 and Renee Otten left their house to walk outside and cool off.
Brown said county police received a report that someone in a car was attempting to run her over, but when officers found her walking along the road in the 6200 block of 85th Avenue, there was no car nearby and she was in no danger.
Brown said Renee Otten told officers she didn't need help, but officers drove her home. When they got there, officers entered the house without permission and awoke David Otten who was asleep in their bedroom.
Brown said David Otten told police to leave, but instead officers used a stun gun on him and struck him in the head, leaving a gash, and then arrested both of them.
Brown said police and the prosecutor charged the Ottens with disorderly conduct, but the court acquitted them early last year.
The county would pay $400,000 to the family of Christopher Reynoso, 52, of Evergreen Park, who died in September 2013 when his motorcycle and a car collided near 109th Avenue and Parrish, south of St. John.
Valparaiso attorney Jon Schmoll, who represents the Reynoso family, said evidence of the county police investigation into the cause of the accident focused on a deep drop off on the shoulder of the road. Schmoll said the county highway department failed to fill that in with gravel.
The county would pay a Burnham, Illinois, couple $200,000 over allegations of their wrongful arrest and unnecessarily rough treatment in July 2012.
Vincent and Denise Price said they were in the Hammond supermarket parking lot when they saw Lake County Police officer Joseph Kraus arresting a woman in a violent manner.
Vicent Price began recording the arrest on his cell phone. The officer took the phone away from Price and injured Price's rotator cuff. The officer arrested him and Denise Price when she protested the officer's behavior.
Dull said the county should pay a Hobart man $20,000 for booking him into the jail after he was arrested in a case of mistaken identity, and $70,000 to several sheriff's employees who were wrongly denied overtime pay.
Dull said the county still is negotiating a dollar amount for a settlement with an Illinois man who was attacked by the K-9 of a county policeman who was working a second job as a security guard.
Dull said he and other county legal advisors negotiated the other settlements, but they were negotiated for smaller amounts then originally stated, so the council paid less.