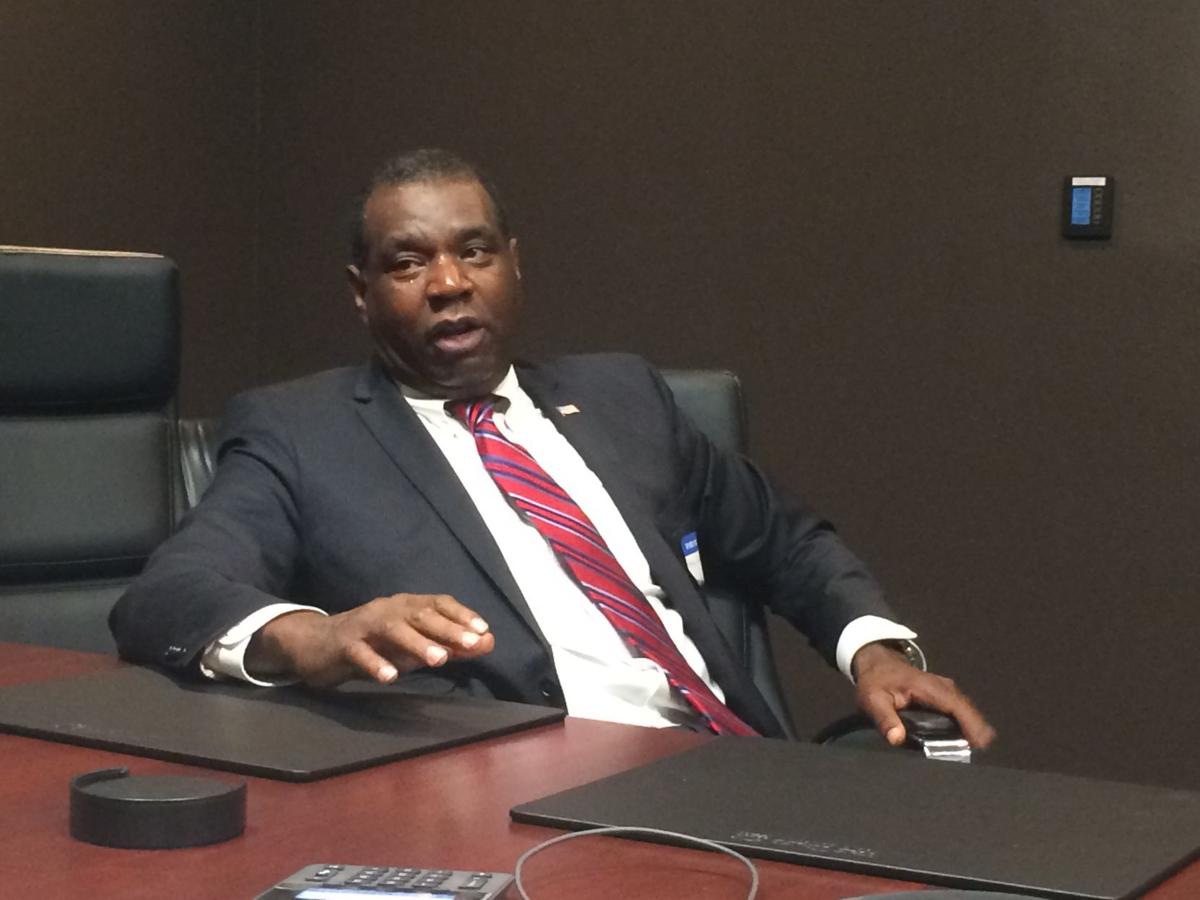 CROWN POINT — Despite some circulating rumors, Lake County Prosecutor Bernard Carter said he has no plans to leave the office he has held for the past 26 years.
Carter officially announced his plans to run for re-election as county prosecutor for 2022 on Friday during a golf outing at White Hawk Country Club in Crown Point.
"It has been an honor and passion of mine to serve citizens of Lake County. I wish to continue in this capacity as prosecutor," Carter told The Times.
"I have been reached out to by a number of people recently hearing rumors that this would be my last term. That has never been the idea. In light of the fact that people are spreading rumors, I had to be progressive and announce early to indicate my intentions. I enjoy my job and will continue to do my job as long as the citizens want me to."
Carter assumed office as the Lake County prosecutor in 1993. Before that, he served as a deputy prosecutor and Lake County Superior Court judge. He grew up in Gary and went on to receive his undergraduate degree from Kentucky State University and his law degrees from Valparaiso University.
In addition to serving with multiple local organizations, Carter is a board member of the Association of Indiana Prosecuting Attorneys Inc., serves on the executive committee of the Indiana Prosecuting Attorneys Council and is one of the founding members of the Indiana Governor's Drug Task Force.
"I was the first African American in Lake County history that ran and won a judicial office. When I was elected prosecutor, I was the first African American to become prosecutor in the state — I still hold that title," Carter said. "Those are the accomplishments that I am very proud of. Myself and my family have worked hard and sacrificed to maintain that level of service."
During his tenure as the Lake County prosecutor, Carter said he has made many advances.
One he references specifically is the technology that his office, the local police agencies and coroner's office currently use to present evidence and prosecute cases.
"If you look throughout the state, we are at the top in the way that we use technology in our courts," Carter said.
Another is in the way he approaches his cases. Carter said he has worked hard to give second chances on life to some of the criminals who have come through his office, especially youth offenders.
"I've been around a long time, and I understand the legal process, but I also understand the inner city and why young people commit the crimes that they do," he said. "You don't solve problems by always putting them in jail."
Under Carter's leadership, the Lake County prosecutor's office has worked closely with different programs like Gary For Life, an initiative that was launched in mid-2014 as a way to combat the city's violent crime rates.
The program relies on local, state and federal partnerships, focusing on high-crime areas and known criminals believed to be responsible for much of the city's more serious offenses, according to Times archives.
"The Lake County prosecutor's office plays an integral role in that we call in gang members that we can identify. Along with other law enforcement agencies, we have honest, frank discussion with them and tell them their conduct cannot continue. We say, 'If you want to stop, we can give you the vehicle and resources to get out,'" Carter said. "It's worked tremendously. The homicide rate has cut down drastically over the years.
"It's all about teaching and giving them the chance to do better in life. I want to reduce the numbers in the criminal justice system. That's my purpose."
Carter expressed his gratitude to his employees and the citizens he has been able to work with over the years and said he has more to get done for Lake County.
"I tell my kids you need to find a career that you are passionate about. This has become something that is not just a job for me. I work to make my community better," he said. "I love what I do, and I intend to keep doing it."