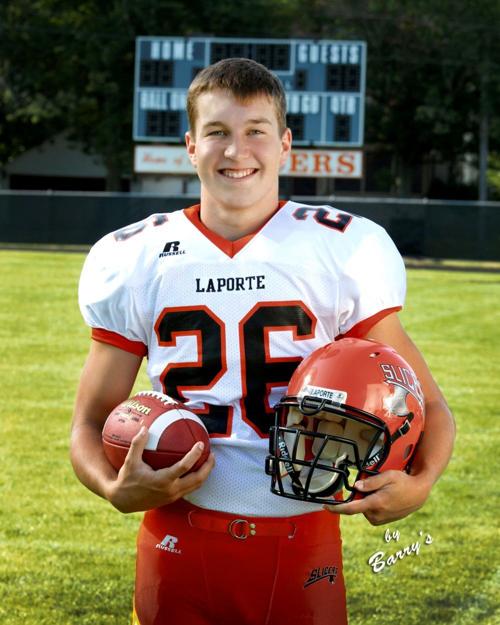 Spurred to action by the death of a LaPorte High School football player, Indiana lawmakers are determined to ensure the coaches and parents of student-athletes and marching band members are aware of the risks and warning signs of sudden cardiac arrest.
Jake West was a junior at LaPorte when he collapsed in 2013 while running laps during football practice and died of sudden cardiac arrest due to an undiagnosed genetic weakening of the muscular wall of his heart.
A subsequent screening of some 250 Northwest Indiana student-athletes by Indiana University LaPorte Hospital found at least three warranted further testing for similar conditions.
WATCH NOW: LaPorte football remembers its teammate (2013)
House Enrolled Act 1040 would require additional information about sudden cardiac arrest (SCA) be provided to school employees and the parents of student athletes, including how to obtain electrocardiogram testing.
"SCA is the leading cause of death for young student-athletes in the country. Over the last several years, LaPorte County has lost three kids due to this condition," said state Rep. Jim Pressel, R-Rolling Prairie, the House sponsor.
"Those great students are the reason why I authored this bill. I hope that more athletes will be aware of this condition and receive information that could help save a life."
The legislation also requires student athletes identified by a coach, trainer, or other medical personnel as experiencing a symptom of sudden cardiac arrest must halt their participation in practice or a game until a parent or guardian is provided information about SCA and authorizes their child's return.
Symptoms of SCA include fainting, difficulty breathing, chest pains, dizziness, or an abnormal racing heart rate.
"As the parent of a student athlete, I know how important the availability of safety information is. This bill is a common sense way to help keep our children safe as they participate in athletics," said state Sen. Mike Bohacek, R-Michiana Shores, the Senate sponsor.
The proposal additionally obligates athletic coaches, marching band leaders or any leader of a strenuous extracurricular activity to complete an SCA training course.
Julie West, the mother of Jake West, has dedicated her life to raising awareness of sudden cardiac arrest so no other family has to endure the loss she suffered with the death of her son.
"There is no doubt that the passage of HEA 1040 — Jake's Law — will save lives in Indiana," said West, founder of the Play for Jake Foundation.
"This law will help further educate and train individuals on the critical signs and symptoms leading to SCA so that we can prevent these tragedies from happening."
The measure was approved 88-0 by the House and 37-13 in the Senate. It now goes to Republican Gov. Eric Holcomb to be signed into law.
Gallery: Jake West tribute
Gallery: Jake West tribute
Football players and fans from all over the region honored the memory of Jake West, the LaPorte football player who died during practice Wednesday night.