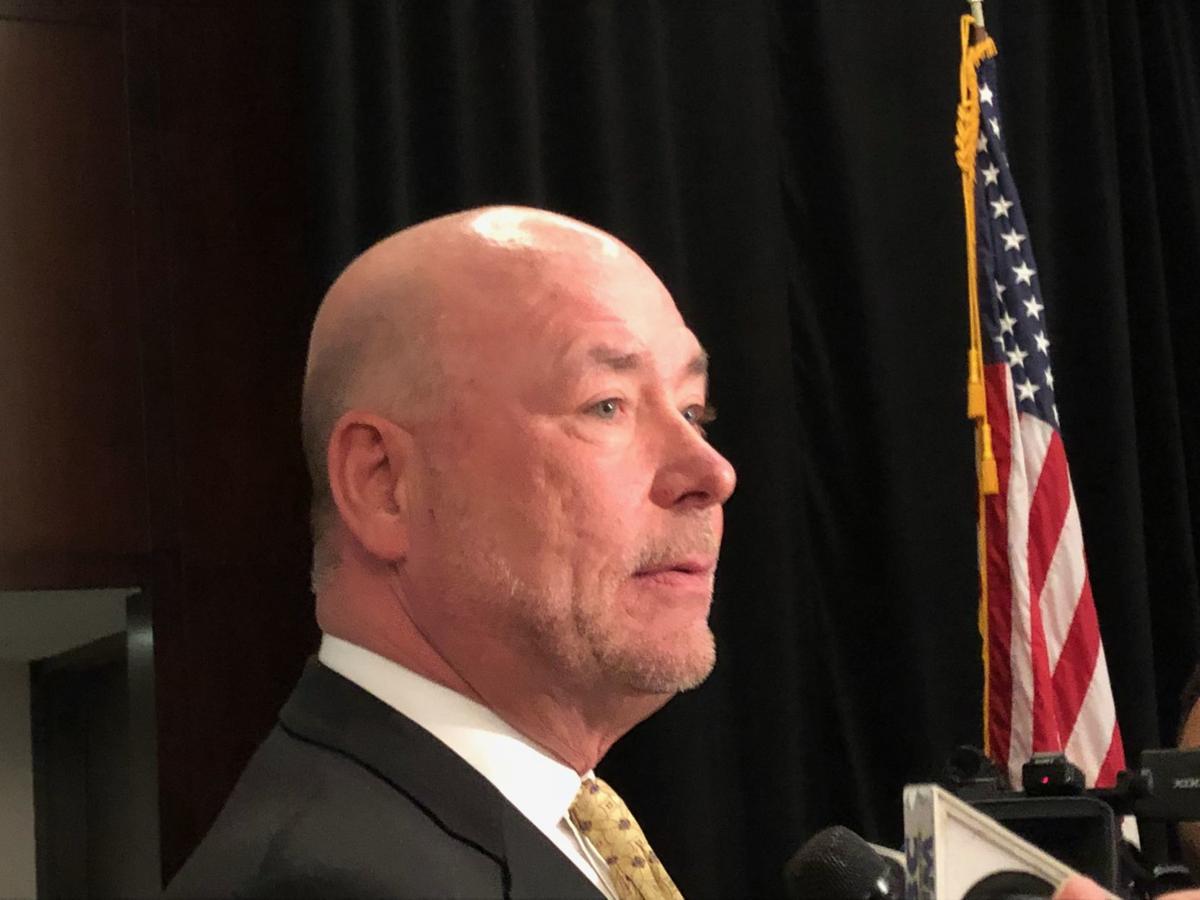 INDIANAPOLIS — The 15,000 Hoosier teachers expected to rally for higher wages and school accountability changes Tuesday at the Statehouse should not anticipate immediate action by the General Assembly on either priority.
That's the message from the Republican leaders of the Indiana House and Senate, who said Monday they plan to use the massive "Red For Ed" event to educate the educators about the efforts lawmakers already have made to boost teacher pay and improve Indiana schools.
"All we can do is give the message, give the facts, and we'll have to let people make up their own minds. Currently, teachers only hear what their association lets them know," said Speaker of the House Brian Bosma, referring to the Indiana State Teachers Association labor union to which many Hoosier teachers belong.
Bosma and Senate President Pro Tempore Rodric Bray noted the 2020-21 Indiana budget, enacted in April, increases funding for kindergarten through 12th grade education by a record $763 million compared to the 2018-19 spending plan, with the decision of how to spend most of that money entirely in the hands of local school boards.
They said some school districts wisely are using it to address teacher pay concerns, while others appear to be continuing to increase administrative spending at the expense of classroom instructors.
"The issue of teacher pay is a local issue," Bosma said. "We're going to try to make that case, and I'm going to have some very detailed statistics tomorrow about the money that we have provided to local schools to provide for their teachers, and how little of that is getting to the classroom — which is distressing."
At the same time, Bosma said it's difficult for legislators just to direct how local school boards should spend their funds, because no one wants "150 people in Indianapolis determining what school salaries are in every school corporation in the state. It's just not the right thing."
"This is an issue. It's an issue that we're not going to resolve in the short (legislative) session," Bosma said. "But it's an issue we need to have a discussion about, we need to start addressing, and we need to take action on, so we can get money to the most important professional, I've said many times, not just in education, but in the state — those who are teaching our children for the future."
Concerning accountability, the GOP leaders said it's a top priority for both of them to "hold harmless" teachers and schools from any negative impact associated with the change to the ILEARN standardized test from the old ISTEP exam, perhaps by decoupling teacher pay raises from student test performance.
"We're happy to have teachers come here and have that conversation," Bray said. "We make a lot of decisions on K-12 education. Education is the biggest thing that we do in our state. It's more than 50% of our budget and we want them at the table."
Neither chamber leader believes, however, that Indiana should entirely scrap its A-F system for rating school performance, as some teachers and Democratic lawmakers, such as state Rep. Terri Austin, D-Anderson, have suggested.
"I don't think they're unreasonable demands," Austin said. "If we're going to have some intellectual honesty, we know that 15 years of education reform hasn't necessarily given us the results that we want or need."
Senate Democratic Leader Tim Lanane, D-Anderson, agreed.  He said teachers across Indiana are saying: "We need to be listened to. We need to have a voice. We need to be heard."
"Umpteen thousands of teachers are going to take the time to come down here and voice their concerns about what's going on at the Indiana Statehouse. I just wish every citizen in the state of Indiana had that commitment about things that they're passionate about," Lanane said.
"Sometimes it does take that type of citizen participation before we get real results."
Bosma said despite occasional policy differences between educators and the Republican legislative supermajorities, he too is pleased Hoosier teachers will be directly participating in state government.
"I'm going to guess that many of them have never seen the inside of the Statehouse," Bosma said. "They probably expect to see horned legislators with pitchforks and forked tails.
"Hopefully, they'll find that the legislators truly do appreciate the hardest working professionals in our state, and we hope to communicate that adequately to them."
Both the House and Senate briefly will convene Tuesday afternoon to officially begin the 2020 legislative session that's set to run from early January until mid-March.
Get Government & Politics updates in your inbox!
Stay up-to-date on the latest in local and national government and political topics with our newsletter.