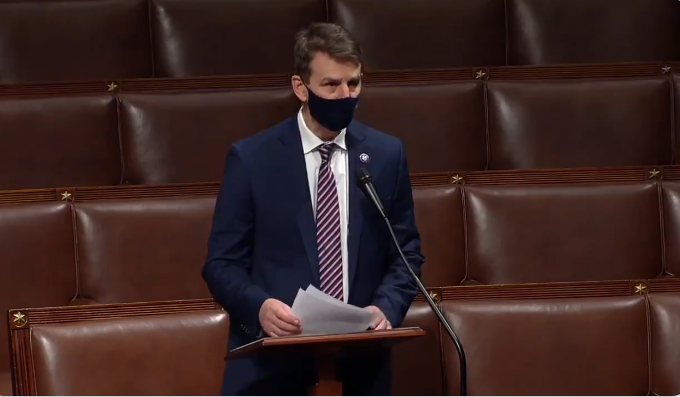 Financial assistance for individuals, school districts and communities in Northwest Indiana, whose lives and operations have been disrupted for more than a year by the COVID-19 pandemic, soon will be on its way.
The Democratic-controlled U.S. House voted 220-211 Wednesday to send the American Rescue Plan to Democratic President Joe Biden to be signed into law Thursday. It previously passed the Democratic-controlled Senate 50-49.
Not a single Republican in either chamber supported the measure, including U.S. Sen. Todd Young, R-Ind., and U.S. Sen. Mike Braun, R-Ind., who both voted no.
In contrast, U.S. Rep. Frank J. Mrvan, D-Highland, said he was honored to vote yes on a proposal "that will provide direct and tangible investments to address the pandemic, provide much needed relief for our families, and grow our economy."
"The COVID-19 pandemic has wreaked havoc on all of our lives, our mental health, and our economy, and I continue to grieve for all of the individuals and families in our nation who have lost someone special this past year," Mrvan said.
"We remember these victims as we take action today to defeat this virus, get children safely back in schools, and make lasting investments to create more good-paying job opportunities and grow our economy."
The legislation provides financial relief to most Americans in the form of a $1,400 per person stimulus payment that could be deposited in eligible recipients' bank accounts by the end of this month.
Qualifying families with children between ages 6 and 17 also will get a $3,000 child tax credit on their 2021 income taxes. The tax credit is worth $3,600 for each child under age 6.
In addition, the measure extends the $300 a week supplemental federal unemployment benefit and the 15% increase in food stamp benefits until Labor Day, provides a tax credit through October 2021 for employers who offer paid sick leave or paid family leave benefits, and exempts up to $10,200 in unemployment benefits from federal income tax.
To help schools safely reopen, the American Rescue Plan allocates $130 billion for elementary and high schools to improve ventilation, reduce class sizes to allow for social distancing, purchase personal protective equipment, hire support staff, and remediate "learning loss" stemming from the pandemic.
According to Mrvan, nearly every Region school district will get at least $1 million, and some much more, including: Gary Community School Corp., $95 million; School City of Hammond, $46 million; School City of East Chicago, $38 million; Michigan City Area Schools, $23 million; Merrillville Community Schools, $14 million; Portage Township Schools, $12 million; and Lake Ridge Schools, $10 million.
In addition, Lake Central School Corp. and the School City of Hobart each will receive $6 million; River Forest Community School Corp, $5 million; Valparaiso Community Schools, Duneland School Corp., Lake Station Community Schools, Griffith Community School Corp. and Crown Point Community School Corp., $4 million each; and the School Town of Highland, Tri-Creek School Corp., School Town of Munster, School City of Whiting, and East Porter County School Corp., $2 million each.
The legislation also provides $350 billion to help states and local governments mitigate budget shortfalls caused in part by COVID-19 business shutdowns used to minimize the spread of the virus.
In Northwest Indiana, cities and towns large and small, along with county governments, are due to regain millions of dollars in revenue lost over the past year.
According to Mrvan, that includes $94 million for Lake County, $33 million for Porter County and $21 million for LaPorte County.
Gary is in line to receive $84 million; Hammond, $53 million; East Chicago, $33 million; Michigan City, $17 million; Portage, $8 million; Merrillville and Valparaiso, $7 million each; Crown Point, Hobart and Schererville $6 million each; Highland and Munster, $5 million each; St. John, $4 million; Cedar Lake, Chesterton, Dyer and Griffith, $3 million each; and less than $3 million headed to each of the Region's other communities.
Even tiny Schneider, home to 277 people in southern Lake County, is getting $50,000 under the American Rescue Plan.
"I look forward to assisting our communities in obtaining this essential funding as soon as possible, and making sure that it is spent as efficiently and effectively as possible," Mrvan said.
Other provisions in the legislation include approximately $150 billion to fund COVID-19 vaccinations, testing and other virus prevention measures; $25 billion to aid renters with late payments to landlords or utility companies; $50 billion for small business assistance programs; and $50 billion to sustain commuter rail operators and airlines that lost many of their regular passengers due to COVID-19.
Indiana's Republican senators said they voted against the measure because it included such items, which they claimed were insufficiently affected by the COVID-19 pandemic to justify federal spending.
"My Republican colleagues and I support providing additional assistance for needs directly related to the COVID-19 pandemic. We support money for vaccines and personal protective equipment. We support reopening schools," said Young, who is running next year for reelection.
"But we could not support a bloated and wasteful $1.9 trillion partisan bill, only 10% of which would go to COVID-related needs. We should not take advantage of a crisis to pass pet projects and unrelated policy wish lists."