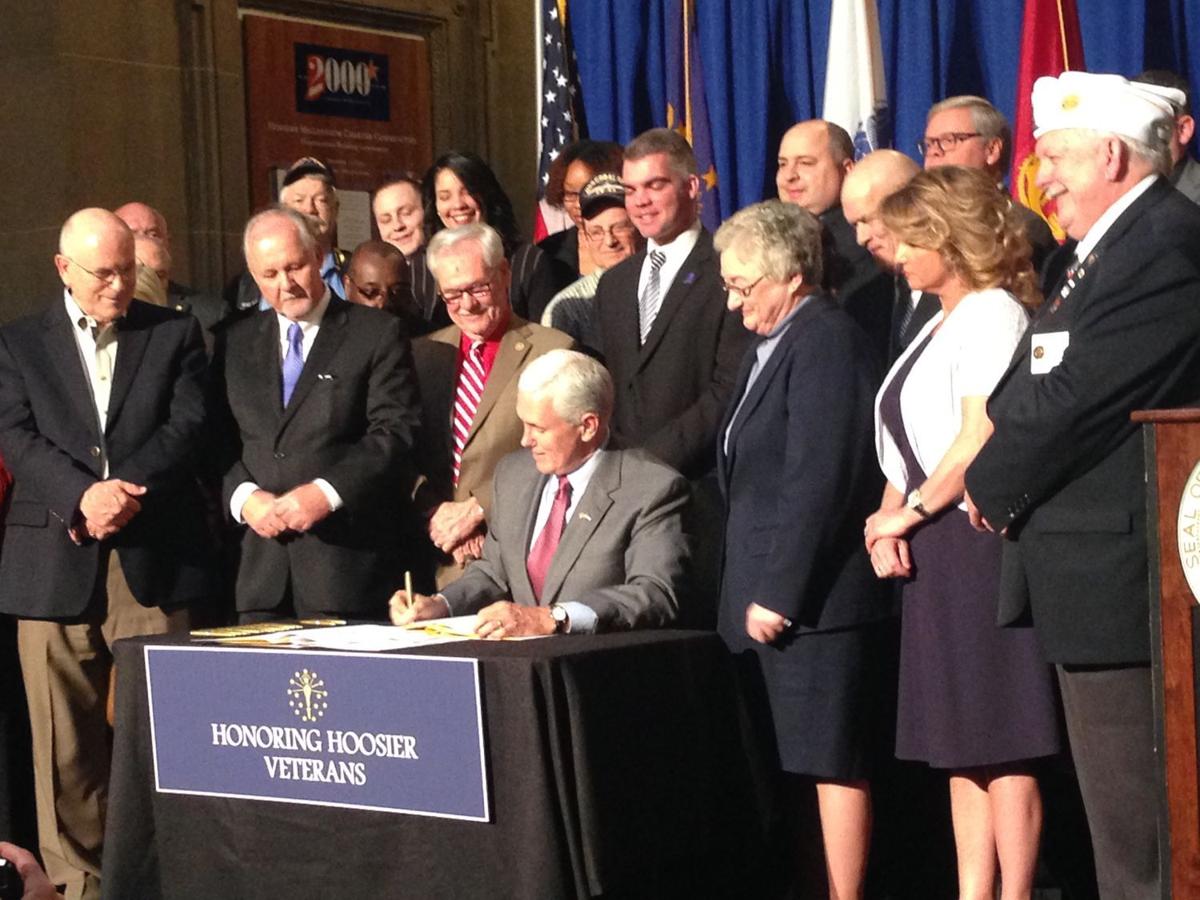 INDIANAPOLIS — Pretending to be a military veteran to obtain a discount or other benefit not only is considered wrong by most Hoosiers, it also now is a crime in Indiana.
Republican Gov. Mike Pence signed into law Tuesday House Enrolled Act 1179, sponsored by state Rep. Chuck Moseley, D-Portage, making "stolen valor" a misdemeanor crime punishable by a $5,000 fine or up to one year in jail.
"Veterans deserve — and they've earned — the honor to be veterans, and taking advantage of that is just not what Indiana likes to see happen," Moseley said.
The four-term representative explained that he was motivated to act after encountering a military veteran arguing with a man posing as a veteran who was trying to obtain veteran discounts last year at a Region shopping mall.
After the confrontation abated, Moseley spoke with the veteran who asked him, "Doesn't anybody care enough to do something about this?"
Moseley said the more he looked into the issue, the more Hoosier veterans he discovered who had run-ins with faux veterans across the state.
"I was kind of shocked that so many people had experienced this," Moseley said.
He hopes the new law, which takes effect July 1, serves as a deterrent to any individual who might consider posing as a veteran for minor financial gain.
"It's just not worth the shame and embarrassment, and quite frankly the fine, for them to try to take advantage of veteran status in the state of Indiana," Moseley said.
The measure was sponsored in the Senate by state Sens. Karen Tallian, D-Ogden Dunes, Ed Charbonneau, R-Valparaiso, and Lonnie Randolph, D-East Chicago.
It was among 13 proposals expanding veterans benefits the governor enacted during a Statehouse ceremony attended by active-duty and veteran members of the U.S. military and Indiana National Guard.
Pence said he considers the new laws a "thank you" from the people of Indiana for their service and sacrifice.
Get Government & Politics updates in your inbox!
Stay up-to-date on the latest in local and national government and political topics with our newsletter.