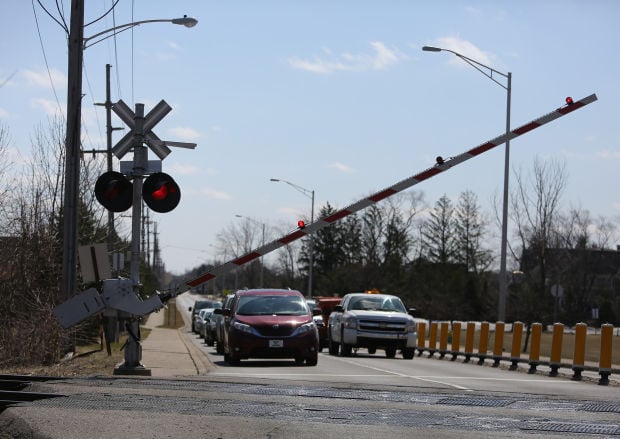 INDIANAPOLIS — Northwest Indiana's most dangerous rail crossings soon could receive critical safety upgrades thanks to the infrastructure funding legislation enacted last week by Republican Gov. Eric Holcomb.
In addition to hiking fuel taxes and vehicle registration fees to pay for road and bridge construction, House Enrolled Act 1002 allows the Indiana Department of Transportation to spend up to $10 million to improve crash-prone rail intersections with local roads and state highways.
State Rep. Ed Soliday, R-Valparaiso, the sponsor of the new law, said it requires INDOT to develop an empirical measurement to officially determine which rail crossings will be fixed first.
But he said it's obvious where the most work is needed.
"The majority of heavy congestion, at-risk crossings are in Northwest Indiana," Soliday said.
The veteran lawmaker acknowledged that $10 million won't go very far toward addressing the state's nearly worst-in-the-nation rankings for most rail crossings and most rail crossing fatalities.
"This is just the beginning of dealing with our at-grade crossing issues," he said.
Soliday also is not expecting INDOT to get to work immediately on the railroad component of his legislation, since state policymakers have made it clear that getting Hoosiers to "smell asphalt" from road repairs is the top priority.
Indeed, INDOT spokesman Will Wingfield suggested it could be a little while before Region residents, and Hoosiers generally, start seeing rail intersection modifications.
"INDOT is exploring ways to make the best use of the new legislation and will identify construction projects over the coming months," Wingfield said.
The transportation agency is moving much more quickly in soliciting applications from local governments for state matching funds to support local road construction projects.
A provision of the new law allows municipalities that share jurisdiction over a road or bridge to aggregate their requests in an effort to secure a larger Community Crossings grant.
Soliday said given how Northwest Indiana communities generally run into each other, the aggregation option could bring a lot more state money for local projects to the Region if its cities, towns and counties choose to work together.