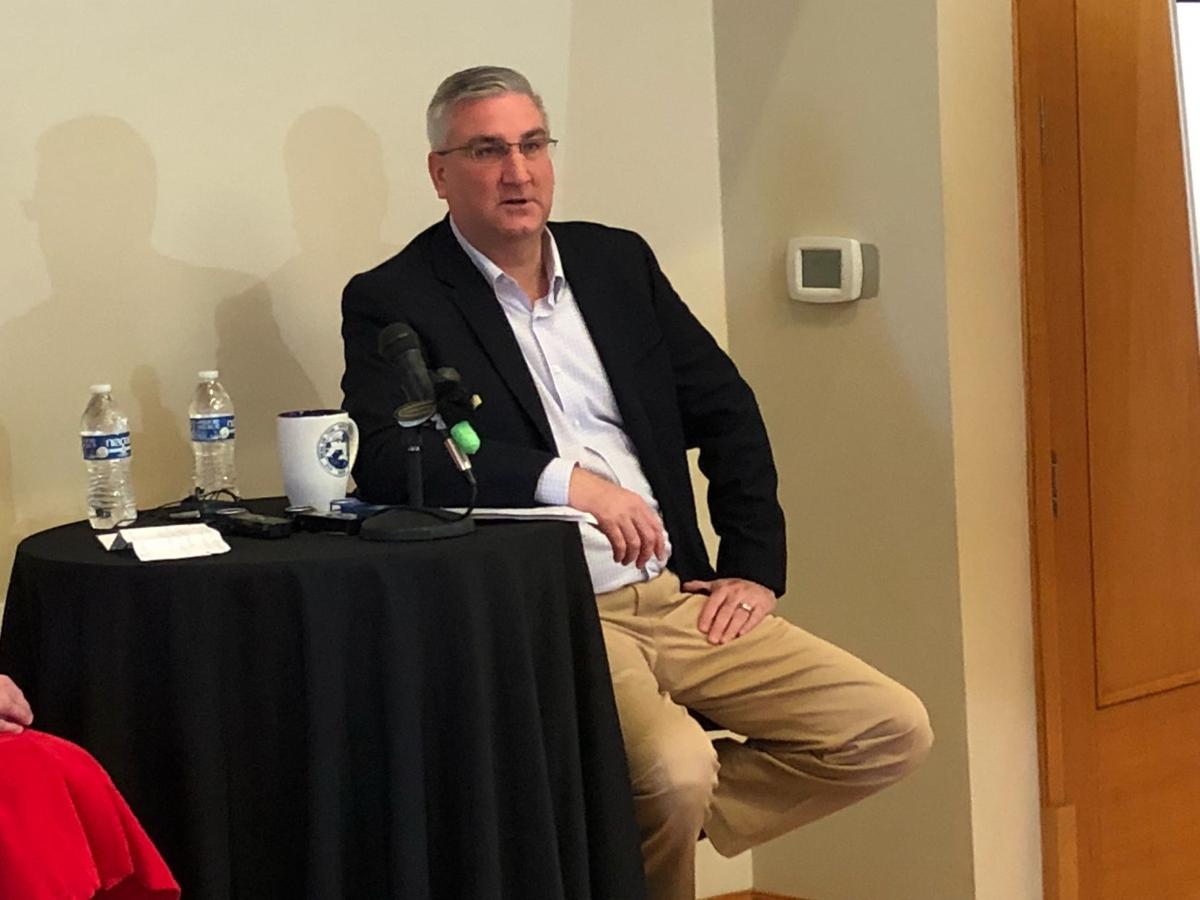 * INDIANAPOLIS — A new state law directs Indiana doctors and hospitals to compile and submit a detailed report every time a woman seeks treatment for a physical or psychological condition that is in any way connected to a past abortion.
Starting next year, a care provider who fails to submit an "abortion complications" report to the State Department of Health risks being charged with a Class B misdemeanor, punishable by up to six months in jail and a $1,000 fine, for each instance of noncompliance.
Republican Gov. Eric Holcomb, who routinely describes himself as "pro-life," approved Senate Enrolled Act 340 with little fanfare Sunday afternoon prior to departing on a three-day Canadian trade mission.
He said similar reporting requirements already are in place in 27 states and exist solely to gather information about abortion complications, without restricting access to the procedure.
Indiana's new law, however, employs a broad definition of abortion complication that ranges from an immediate physical injury due to a surgical abortion, to psychological or emotional pain, including anxiety and sleeplessness, that arises possibly years or decades after having an abortion.
Under the statute, doctors who identify an abortion complication must then report to the state: the patient's age, race and county of residence; the type, date and location of the abortion; a list of each complication and treatment; the date of every visit to every doctor relating to the complication; and any abortion drugs used by the patient and how they were procured.
The state health department is required to compile and publish an anonymous tally of Indiana abortion complications that will be submitted to the Centers for Disease Control and Prevention for inclusion in the Vital Statistics Report.
Dr. Kristina Box, an OB/GYN who Holcomb appointed as Indiana's health commissioner in September, said now that Senate Enrolled Act 340 is law, the state health department will begin developing rules to implement the new statute.
"That process takes time and will include opportunities for public comment, which I am confident will be provided," Box said.
National anti-abortion groups already have announced plans to post details of Indiana's abortion complications report on their websites to deter women from choosing abortion.
Mike Fichter, president of Indiana Right to Life, issued a statement Monday describing the new statute as an "important pro-life law" that "ensures abortion complications don't get swept under the rug."
"Hoosier women deserve better," Fichter said. "We don't want to see anyone injured by the abortion industry."
Christie Gillespie, president of Planned Parenthood of Indiana and Kentucky, said the law "is not about enhancing patient safety" and "does absolutely nothing to reduce unintended pregnancies."
"(It) adds unnecessary restrictions to Indiana's licensing requirements for abortion providers and is the perfect example of government intrusion into the sacred relationship between doctors and their patients," Gillespie said.
Senate Enrolled 340 was approved 37-9 by the Indiana Senate and 67-26 in the House. Both chambers are Republican-controlled.
Beyond the reporting requirement, it also legalizes "baby boxes" at fire stations for individuals to anonymously give up permanent custody of an infant less than 30 days old, adds 17 items to the Indiana pregnancy termination report and mandates annual state inspection of abortion clinics — a requirement that doesn't apply to hospitals.
Holcomb additionally approved Senate Enrolled Act 203, which anti-abortion advocates say brings Indiana closer to embracing fetal personhood.
Under the new law, which also takes effect July 1, a fetus at any stage of development is recognized as an individual separate from its mother if her pregnancy is terminated due to a violent crime or drunken driving.
Current Indiana statutes require a fetus to attain viability, or roughly 24 weeks gestation, before it is considered a separate person for prosecution of feticide, or a second count of murder, voluntary manslaughter or involuntary manslaughter if both a pregnant woman and her fetus are killed.
The new law pushes that timeline back to the moment of conception and provides for either an additional charge for the death of the fetus if the perpetrator knew the woman was pregnant, or a 6- to 20-year penalty enhancement if the perpetrator did not.
It specifically does not apply to a legal abortion or to a woman who otherwise chooses to terminate her own pregnancy.
* The headline and story have been changed to more precisely reflect what the law says.
See the various measures recently signed into law in Indiana