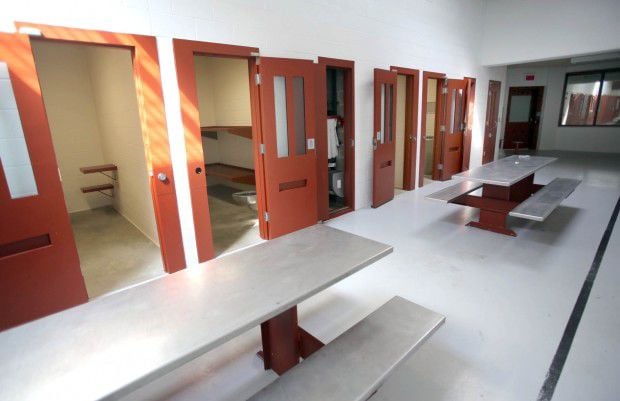 There is no simple, universal answer for reducing the overcrowded conditions inside about half the jails across Indiana's 92 counties.
That's the conclusion of the state's 13-member Jail Overcrowding Task Force that worked between August and November to better understand why some county jails are bursting at the seams, while others, such as Porter County's, are comparatively well run.
The task force found many factors contribute to jail overcrowding, including the size and age of existing facilities, the growing number of female inmates, large numbers of pretrial detainees, long case processing times and high bond amounts, among other reasons.
It said collaboration and evaluation among all the players in the state and local criminal justice systems — such as prosecutors, public defenders, sheriffs, police and judges — is necessary to undo the structural and political forces leading to overcrowded jails.
"Any solutions to address jail overcrowding must target the specific needs and challenges faced by the criminal justice stakeholders and community partners," the report says.
The task force singles out Porter County as a place that's doing things right, in part by prioritizing pretrial release for all but the most serious alleged offenders, offering alternatives to incarceration, and connecting inmates to social service and personal improvement programs.
"We have a very strong community corrections program, very strong probation department, very strong prosecutor's office and our judges are awesome," said Porter County Sheriff David Reynolds.
"They get it, and they all work closely together trying to do what's in the best interest of what's going on, and also keeping in mind the victim."
Reynolds said the population at the Porter County Jail is at a 20-year low, with about 300 local inmates and 50 federal inmates in a facility with a capacity of 450 people.
He said unlike other Indiana counties where relatively minor offenses may be charged as low-level felonies with correspondingly high bond amounts, Porter County rarely charges Level 6 felonies and focuses on holding people accountable with pretrial release conditions.
"That's not saying you're soft on crime, that's just saying this is the way it should be," Reynolds said. "Our violent offenders, the people that have done bad stuff, they're not getting out."
At the same time, Reynolds said more still needs to be done by the governor and General Assembly to ensure county jails aren't being used as facilities of last resort for Hoosiers with severe mental health issues when treatment beds aren't available elsewhere.
The task force also recommends Indiana adopt a single, statewide jail management system, with real-time population tracking and standard reporting, to collect accurate jail data across jurisdictions and better understand the conditions leading to jail overcrowding.
Get Election 2020 & Politics updates in your inbox!
Keep up on the latest in national and local politics as Election 2020 comes into focus.