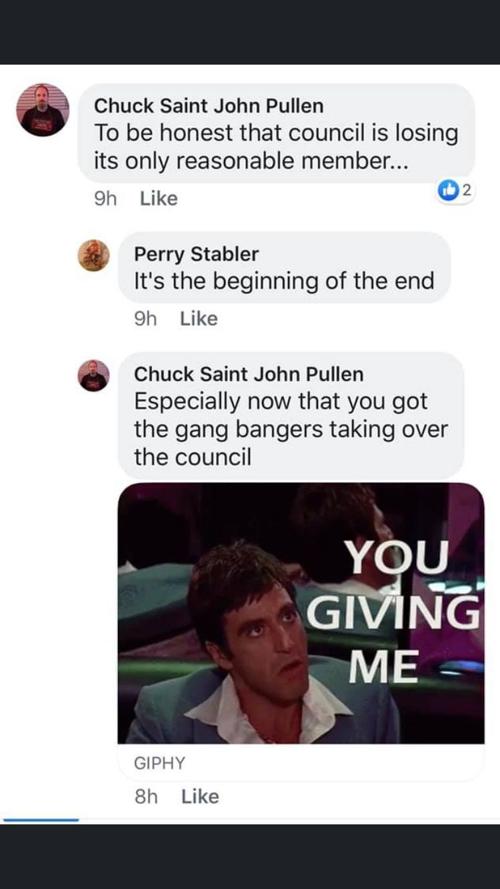 HAMMOND — The former chairman of the Lake County Libertarian Party is receiving public criticism for using the term "gang bangers" to describe two black candidates who are expected to be elected next month to the Hammond City Council.
Chuck Pullen, who resigned as leader of the county Libertarians Tuesday night in the wake of the incident, insists he did not make a racist remark when he used the "gang bangers" term in connection with the changing Hammond council membership.
Pullen, of St. John, wrote Monday night in a public exchange on Facebook with Perry Stabler, of Hammond, that "you got the gang bangers taking over the council," following the upcoming departure of eight-term Councilman Bob Markovich, who is white.
Katrina Alexander, who is black, defeated Markovich by four votes in the May 7 Democratic primary election.
Barry Tyler Jr. also prevailed in the primary against four-term Councilman Anthony Higgs. Both Tyler and Higgs are black.
Under a video clip of Markovich confronting Hammond Mayor Thomas McDermott Jr. during Monday's council meeting, Pullen posted: "To be honest, that council is losing its only reasonable member," referring to Markovich.
This prompted Stabler, known for producing off-color online satire of local political issues and politicians, to reply, "It's the beginning of the end."
Pullen then posted: "Especially now that you got the gang bangers taking over the council," along with a moving image of actor Al Pacino portraying Miami drug lord Tony Montana in the 1983 film "Scarface."
Speaking Tuesday morning with The Times, Pullen rejected the suggestion that his Facebook comment was racist.
"Everybody thinks everything is a racial remark. It's not a racial remark at all," said Pullen, who is a regular host and contributor on local radio programs.
Pullen did clarify that he meant to use the term "gang banger," instead of "gang bangers," since he only intended his remark to refer to Tyler, not Alexander.
He said he's seen Facebook postings suggesting Tyler "had previous gang ties and things like that." Pullen said he did not know for sure whether that's true.
"I'm not presenting that as a news story. I'm basically just on Facebook," Pullen said.
Tyler, who has no criminal record and said he's never been affiliated with any gangs, said Pullen's comments are a reminder of the ignorance that persists in society.
"While the recent Facebook posts are disheartening, they are a reminder of the current state of our society, which of course is directly connected to our country's history of racism and oppression and the notion that all black and brown people are connected to gangs and/or criminal activity," Tyler wrote in an email to The Times.
"It is sad that we are still dealing with these mindsets, but I am hopeful that the majority of our community is more focused on coming together to improve the quality of life for all residents."
Alexander did not respond to a telephone message seeking reaction to Pullen's posts.
Despite rejecting the racist characterization of his Facebook remarks, Pullen late in the day nevertheless submitted to the Indiana Libertarian Party his resignation as chairman of the Lake County delegation.
"I've spent the better part of a decade of my life trying to convince people to think and vote differently. It's unfortunate that I've made very little headway," said Pullen, who told The Times Tuesday night he now plans to focus on other pursuits and spend more time with his family.
In his resignation letter, he said he wasn't surprised to be attacked by McDermott, the former Lake County Democratic Party chairman, since Pullen was "well aware that when I took on this position that it would be an uphill battle against the corrupt criminal enterprise that controls this county."
"Unfortunately, it appears that the people are content in supporting the continued parasitic scourge that afflicts both the citizen's freedoms and their wallets."
Earlier in the day, Hammond's mayor described Pullen's Facebook remark as "shocking and vulgar," adding that he "would expect better behavior from the county's Libertarian Party."
"When he says racist statements like he did, he needs to be held accountable," McDermott said. "There's no place for these types of statements, and we all need to call him out for making it, so that's what I did."
"Katrina is a teacher, she works with kids. Barry has worked with kids his whole life. They're both college-educated, great examples to the African-American community, and to call them gang bangers coming in before they've even done one act on the City Council — he's calling them gang bangers already? It's ridiculous."
There's no shortage of bad blood between Pullen and McDermott, who repeatedly have criticized each other on Facebook and on programs broadcast on Hammond's WJOB-AM radio station.
Pullen said McDermott doesn't like him because he questions why the four-term mayor is "spending millions of dollars on bike trails and bike bridges" when Lake County's most populous city has so many other needs.
He also suggested McDermott engineered the electoral defeats of Markovich and Higgs because they frequently questioned the mayor's spending priorities and other decisions.
"He runs his city the way Mayor Pastrick ran East Chicago. He's got, you know, a rubber-stamp council," Pullen said. "It's not my city, not my deal, but he's been making it a point to point out anything I say on Facebook for months now."
McDermott said he has good reason for keeping tabs on Pullen: "He's obsessed with me."
"So I always make sure I'm paying attention to what my critics are saying, even if it's not about me. I'm always watching," McDermott said.
The social media sniping continued after McDermott's Facebook post condemning Pullen's remarks was blocked from public view after a report was submitted to the social media giant claiming the mayor's post violated Facebook policies against "harassment and bullying."
"I cannot believe this," McDermott said. "The guy is making racial comments about two of my council members, I screenshot it, and they knock me off."
Meanwhile, in the MX Cartoons Facebook group, Stabler posted a manipulated image of McDermott holding a credit card-style "Race Card," as well as a photo of an "Impeach McDermott" T-shirt — both remained viewable on the Facebook group Tuesday night.
Get Government & Politics updates in your inbox!
Stay up-to-date on the latest in local and national government and political topics with our newsletter.