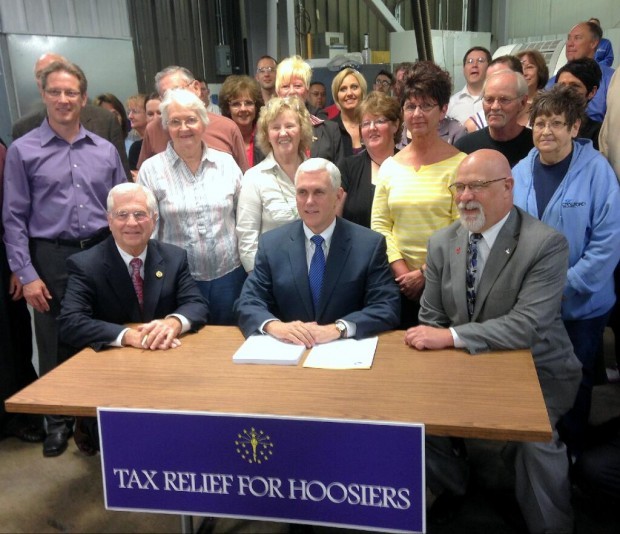 INDIANAPOLIS | Republican Gov. Mike Pence on Wednesday signed into law Indiana's $30 billion, two-year state budget that keeps spending increases below the inflation rate and provides Hoosiers more than a billion dollars in tax cuts.
"This is a jobs budget, and it signals that Indiana is open for business," Pence said. "By preserving Indiana's strong fiscal position, increasing funding for schools and roads, and giving Hoosiers $600 million a year in tax relief, this budget will encourage investment in Indiana."
The spending plan approved by the Republican-controlled General Assembly boosts funding for elementary and high schools by 2 percent during the 2014 budget year, which starts July 1, 2013, and 1 percent more in 2015.
Transportation funding will grow $210 million a year by dedicating 1 percent of state sales tax revenue and all gas tax proceeds to roads. An additional $200 million a year is set aside in a Major Moves 2020 fund to spend on future large-scale road projects.
The Department of Child Services will get $35 million in new money to hire more staff and pay for improvements to the state's centralized child abuse hotline. A half-million dollars is appropriated for a study of the need for a trauma hospital in Gary.
The budget, contained in House Bill 1001, also reduces the personal income tax rate to 3.3 percent from 3.4 percent, eliminates the inheritance tax, shaves 1 percent off the corporate income tax rate and cuts taxes on banks.
A Hoosier family earning $50,000 a year will pay $50 less in income taxes once the rate cut takes effect Jan. 1, 2015.
Democrats claim that tax cut will have little effect on the state's economy, because most Hoosiers will get back less than a dollar a week 19 months from now.
They also point out that most of the new money for education will not go to public schools, half of which will get less money in 2015 than they did in 2011. Instead, the new funding will pay tuition for an estimated 15,000 students, up from 9,000 this year, who will attend religious and other private schools using state vouchers.