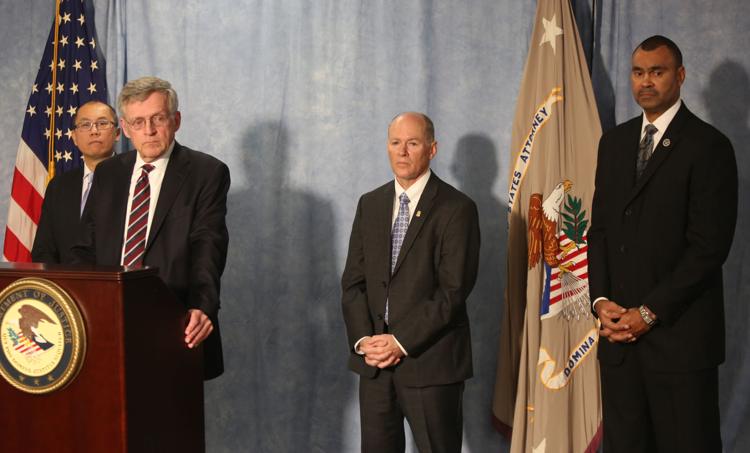 PORTAGE — Mayor James Snyder has been indicted in federal court in Hammond on bribery and obstruction charges.
U.S. District Attorney David Capp announced the indictments in a press conference Friday morning.
While the charges were being read from the federal courthouse in Hammond, Snyder met with city department heads and employees at his home.
U.S. marshals escorted Snyder, 38, into court about 3:30 p.m. Friday. He flashed smiles at his lawyers, Thomas Kirsch and Thomas Dogan.
He pleaded not guilty before U.S. Magistrate Judge Paul Cherry to felony bribery, extortion and tax dodging counts, which carry long prison terms if he is convicted.
He was freed on a $20,000 recognizance bond, but has to surrender his passport and firearms he owns. When the judge asked Snyder if he has a passport, Snyder smiled and said, "We've been looking for it since 7 a.m."
Snyder's administrative assistant, Amanda Lakie, said he would not be making a statement and directed The Times to Snyder's attorney. Lakie said Snyder met with employees to encourage them to continue their work for the city.
"Mayor James Snyder has been under investigation for nearly two and half years and today was indicted on three counts," said Snyder's attorney, Tom Kirsch, of Chicago. "Mayor Snyder believed that this extremely lengthy federal investigation had been concluded without charges being sought. Today's indictment comes as a complete surprise. This is particularly so because these charges are meritless. Mayor Snyder has always been cooperative with federal agents throughout the relentless investigation. Mayor Snyder looks forward to fighting these charges in a court of law and to complete vindication. Mayor Snyder and his family are grateful for the outpouring of support they have received from residents, friends, and family and asks that they continue to believe in him through this time."
Federal authorities arrested and arraigned John Cortina, owner of Kustom Auto Body, 5409 U.S. 6, Portage, earlier Friday. He is pleading not guilty to his role in the scheme and is also free on bond.
Cherry set their trial to begin the week of Jan. 23, although the date could change if the defense needs more time to prepare.
The first charge names Snyder and Cortina.
Snyder and Cortina are both charged with a violation of the federal bribery statute. Snyder is alleged to have corruptly solicited and received two checks totaling $12,000 from Cortina, in exchange for a towing contract in the city of Portage, according to a press release from the U.S. Department of Justice. Cortina is charged with corruptly offering those checks to Snyder.
Cortina's business was raided last week by Indiana State Police and U.S. Treasury Department agents. Cortina told The Times then that his business was not the subject of the raid, that a towing company which leases property from Cortina was being investigated.
Keep reading for FREE!
Enjoy more articles by signing up or logging in. No credit card required.
Snyder is also charged with a second violation of the federal bribery statute. That count alleges that between Jan. 1, 2012 and Jan. 10, 2014, Snyder corruptly solicited and agreed to accept a bank check in the amount of $13,000 in connection with Portage Board of Works contracts, a Portage Redevelopment Commission project and other consideration, stated the release.
The final charge against Snyder alleges obstruction of the internal revenue laws. This count sets forth an alleged scheme, undertaken by Snyder between January 2010 and April 2013, to obstruct and impede the Internal Revenue Service's collection of personal taxes he owed and payroll taxes owed by his mortgage business, First Financial Trust Mortgage LLC. Snyder is alleged to have diverted funds away from FFTM to a sole proprietorship he created, and submitted three forms to the IRS which failed to disclose, among other things, the existence of the sole proprietorship and its bank account – all during a time when the IRS was attempting to collect the aforementioned tax debt.
The indictment comes after more than two years of investigation by the FBI into the city and Snyder and less than two months after Snyder attempted to get the city's Utility Service Board to pay some $93,000 in legal fees involving the investigation.
In September, Snyder had two checks cut by the department and sent to two legal firms without approval by the board. The legal firms allegedly returned the checks because they were not from Snyder directly. The funds were returned to the department and Mark Oprisko, City Council president and utility board vice chairman, called for an investigation by an independent attorney into the claims.
While state law allows Snyder to request the reimbursement it can only be done if he was cleared of the investigation and there were no impending indictments.
Oprisko said he had the "wind knocked out of me" when he heard about the indictments and was "disheartened," thinking that the investigation was over a couple of months ago.
"It is a black eye to the city. The investigation is what it is. He is innocent until proven guilty. He still has a job to do. He has to pick it up and move forward," Oprisko said, adding the same is true for city employees and other elected officials. "Our job is to serve the citizens of Portage, and we will continue to do that."
"While this is a sad day for the city of Portage, Jim Snyder deserves his day in court," said Portage Clerk-Treasurer Chris Stidham. "However, I am focused on ensuring myself and the City Council continue to lead Portage forward despite the mayor's troubles. Now, more than ever, Portage needs good leaders. We are more than any one person and the issues of one won't derail our progress."
"Today's indictment issued by the United States Attorney in connection to Portage Mayor James Snyder is deeply concerning," said Portage Councilman Collin Czilli in a written statement, promising residents that city business will continue unimpeded. "However, like any other individual, Mayor Snyder deserves his day in court and the right to defend himself. As a city Councilman, I am of the mindset that we must allow the judicial process to continue and to not interfere in that process for political purposes."
"These investigations are not over. Our public corruption team will continue its work, particularly into the towing contracts in both Lake and Porter counties," Capp said in the press release.
Anyone with information related to these public corruption charges is encouraged to call the FBI at (219) 769-3719.
Times reporter Bill Dolan contributed to this story.