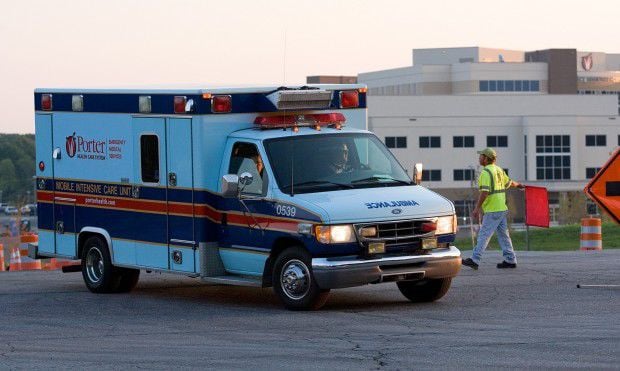 VALPARAISO — The Porter County Board of Commissioners amended the ambulance contract with Porter Hospital, saving the county $1.5 million over a five-year period.
Under the amendment approved Tuesday, ambulance service is at Status 3, which, as Porter County attorney Scott McClure explained, means there will never be less than three Porter Hospital ambulances available at any given time for unincorporated sections of the county.
The amendment reduces the county's annual ambulance cost from $750,000 to $450,000.
Commissioners Chairman Jeff Good said the board and hospital have held several meetings regarding ambulance service, as both sides "got an opportunity to look at where we stand," he said.
"It's a pretty big deal," said Good, noting that contract talks are continuing and there is potential for additional amendments.
McClure called Porter Hospital officials "extremely forthcoming and attentive" during talks between the two sides. Because of the potential savings, the attorney said, the commissioners did not want to wait on a new contract but opted instead for the amendment, which leaves the original contract terms intact.
The amendment, McClure said, also solidifies minimum requirements for first responder service by the hospital. Good said the amendment is part of "very quantitative steps" being taken by county officials, including updated emergency 911 services.
In other business, the board awarded a $577,000 contract for workman's compensation insurance to Bitco Insurance Cos., a national firm. The county had been paying $590,000.
The board also approved buying nine police vehicles at a total cost of $329,000. That Porter County Council will need to sign off on it as well. Commissioners are responsible for $150,000 of the total cost; the council would pick up the remaining $179,000.
Porter County Sheriff David Reynolds said his department tries to remove squad cars at a safe mileage, adding that county police are now "pushing the envelope" on some vehicles.
In other bidding, the board awarded contracts to seven firms for bituminous materials. County Highway Superintendent Andy McKay said awarding multiple contracts enables the county to select the most economical prices from the seven companies on road supplies.
Get Government & Politics updates in your inbox!
Stay up-to-date on the latest in local and national government and political topics with our newsletter.