INDIANAPOLIS — Northwest Indiana has the distinction of being home to seven of the state's 10 most populous towns, and 10 in the top 20.
According to 2016 U.S. Census estimates, Merrillville has the most residents of any town in Indiana with 34,994, immediately followed by Schererville with 28,701.
The other Region towns ranked highest in the state by population are Munster (fourth), Highland (fifth), St. John (eighth), Griffith (ninth) and Dyer (10th). Chesterton places 12th, Cedar Lake 15th and Lowell 18th.
Under Indiana law, every one of those towns could have become a city years, or even decades, ago, once their population exceeded the city minimum of 2,000 residents.
So why do many of the Region's most bustling communities have the same status as Indiana's least-populated locales?
"It really just comes down to the preference of the local community, whether they want to remain a town or look at becoming a city," said Matt Greller, CEO of Accelerate Indiana Municipalities, or AIM, which advocates for cities and towns at the Statehouse.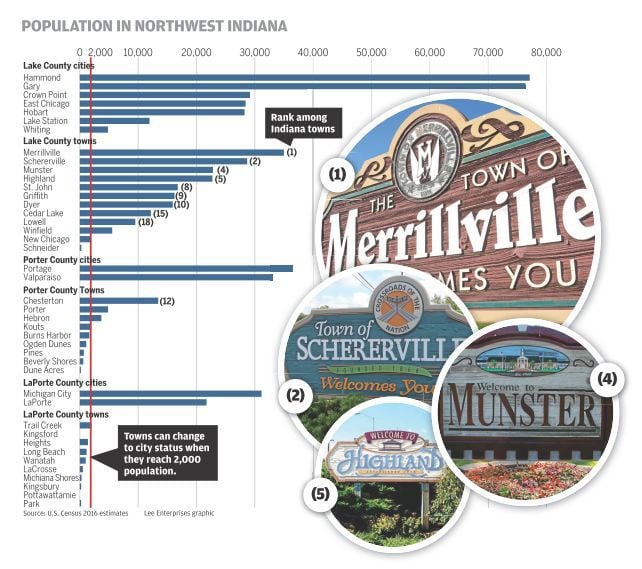 The primary difference between a town and a city in Indiana is the structure of municipal government.
In a town, all power is vested in the elected members of the town council. The council sets tax rates, adopts a budget, appoints department heads, hires town employees and oversees the day-to-day operations of town government.
"The town council is the ultimate authority," said state Rep. Hal Slager, R-Schererville, a former 10-year member of the Schererville Town Council. "It's a collective decision, but they are in charge."
Town councils do elect a council president, usually from the political party with a majority of council members.
However, the president is just first among equals. He or she has little explicit authority beyond ensuring council meetings don't get out of hand and representing the town at official functions.
Many, but not all, town councils hire a professional town manager to administer some of the council's duties, particularly day-to-day town operations.
The town manager generally serves at the pleasure of the council and can be removed and replaced at any time.
In a city, the elected council members have legislative and financial authority, but the administration and day-to-day operations of city government are controlled by a separately elected mayor.
Hoosier mayors are unusually powerful compared to their colleagues in most other states, as mayors of even the smallest Indiana cities often are full-time city employees and, because they are separately elected, can claim a citywide mandate for their agenda.
Mayors of Indiana cities also tend to serve as the primary cheerleader for their communities and as the single point of contact for economic development efforts and other city-boosting activities.
According to the State Board of Accounts there are 119 cities and 447 towns in Indiana.
Making a town into a city
State law permits, but does not require, town residents to vote on whether to reincorporate as a city once a town's population exceeds 2,000 people.
A town-to-city referendum is triggered when either the town council authorizes it, or a petition demanding a referendum, signed by at least 10 percent of the number of town voters who cast a ballot in the most recent secretary of state election, is presented to the council.
If a majority of voters approve the change at a regular or special election, they then will cast ballots at the next general or municipal election for a mayor and city council.
A town officially becomes a city on the first day of the year following the November election of its city officials.
Since 1976, only six Indiana towns — none located in Northwest Indiana — have become cities: Carmel, Greendale, Jonesboro, Austin, Westfield and Fishers.
Greller said AIM usually gets one or two inquires a year from Indiana town officials about making the switch to a city, but his organization does not advocate in favor of the change.
"We just help them through the mechanics of the process and we try to answer any and all questions we can," Greller said. 
"It's really just a local decision and whether they want to retain that council-manager form of government that most of the communities in Northwest Indiana have now, or move to a mayor structure."
Fishers, located immediately northeast of Indianapolis along Interstate 69, is the most recent Indiana town to become a city following a favorable 2012 referendum. The change took effect Jan. 1, 2015.
Its first mayor, Republican Scott Fadness, was the former town manager of the booming community that includes 90,127 residents, the state's only IKEA store and central Indiana's first Portillo's restaurant.
Fadness told an Indianapolis television station following his 2014 election that he expects Fishers changing from a town to a city will spur even more economic growth in the community.
"First thing to happen: I will become the centerpoint, or singular voice, for economic development underway," Fadness said.
"We've got a lot of momentum, but I think you're going to see even more come Jan. 1 in our development of a smart, vibrant, entrepreneurial city."
AIM's Greller is not convinced that Fishers changing to a city from a town had much impact on its economic development prospects.
"When you look at a place like Fishers, they've been doing a lot of things over the last 25-plus years to position themselves for that type of growth and development," he said.
"For them, going from a town to a city, I would put that way down on the list of importance in having the success that they're experiencing now."
At the same time, Greller believes there can be some benefit to having a single person represent a community in business negotiations and other matters — provided that person is capable of leading effectively.
"If you become a city, you do have that citywide elected leader that is in charge, generally, of setting the vision for the community, economic development vision, all those kinds of things," Greller said.
"But that's all dependent on who is elected, too ... So much of it is involved with who you get, in so many cases, rather than just the simple going from a town to a city."
He added that state funding for local governments is distributed on a per capita, or formula basis, without regard for whether the money is going to a city or a town.
Slager said he's discovered, through annual surveys of his legislative district, that his town-based constituents are wary of concentrating power in the hands of a single county or city executive, even though Slager likes it because then "you can't pass the buck."
"In Lake County, the fear is of having too much authority with one person," he said. "I think if you have one person that was an elected official that was responsible for the development, I think that's a good thing."
He noted that town council members, in particular, have a reason for not wanting to become a city council: "If there's a mayor involved that's where things change. ... To move to a city, there is a relinquishment of authority."
Rick Ryfa, Griffith's Town Council president, is not opposed to considering whether his town of 16,252 residents should become a city.
"We actually owe it to our citizens to look closer to see if it would be more beneficial to do that," said Ryfa, a Republican.
Griffith is somewhat rare among the Region's more populous towns in that its five-member town council oversees day-to-day town operations — without the assistance of a town manager, a fact that astounded Slager.
"I've got to tell you, having been in that position, I can't imagine doing that job without a town manager," Slager said. "That's far more minutiae than I would ever have interest in doing."  
Ryfa admitted that at some point in the near future Griffith likely will need to hire a town manager, instead of relying on council members to personally handle everything connected to the town.
"We've been fortunate that some of us are in a position where we can do that, but that's not always going to be the case," Ryfa said.
"When you're doing a lot of stuff, moving forward and doing a lot of different things, you do need a full-time person in that position."
He said the question then is whether a town manager subject to the whims of the town council is best, or would Griffith be better off becoming a city with a full-time mayor elected by the people — if both positions cost roughly the same amount of money.
"From a citizen standpoint, I think you would be better having a city with an elected mayor," Ryfa said.
"Even though the town manager does answer to the council, and they're ultimately responsible for hiring or firing him, it's a lot harder to change five people than one person if there's a problem."
As for why the Griffith town council has yet to seriously look into becoming a city: "We're spending way too much time trying to run the town," Ryfa said.
Hammond Mayor Thomas McDermott Jr., the leader of Northwest Indiana's most populous city with 77,134 residents, said he would encourage any town considering becoming a city to make the change to a mayor-led municipal government.
"I love Merrillville, don't get me wrong, but I always use Merrillville as an example," McDermott said. "It's run by a town board, and these people on the board have other responsibilities besides being board members."
The Democrat said in a natural disaster, such as the 2008 floods that inundated parts of Hammond and other Region localities, having a mayor on the scene empowered to make quick decisions is an asset that benefits the entire community.
"It definitely helps during times like that to have a decision-maker instead of a bunch of board members," McDermott said.
He indicated that a mayor also is more useful for economic development purposes because businesses considering whether to locate in a city are able to deal with one person who can make reliable promises, as well as coordinate permitting and licensing approval by city departments.
"I sit down and talk to CEOs often, and if I think a project is worth it, I'm willing to push the envelope to try to get that company," McDermott said.
"You don't see too many corporations run by five people with no leader."
Beyond cities and towns, McDermott said Lake County actually should be looking into the Unigov system employed in Indianapolis where all of Marion County is a single municipality with one mayor and a combined city-county council.
"Our biggest problem in Northwest Indiana is we have a bunch of territories that are all strong on their own and independent of each other," he said.
"To have one mayor and one council make decisions for the entire metropolitan area — that's the answer in my opinion."