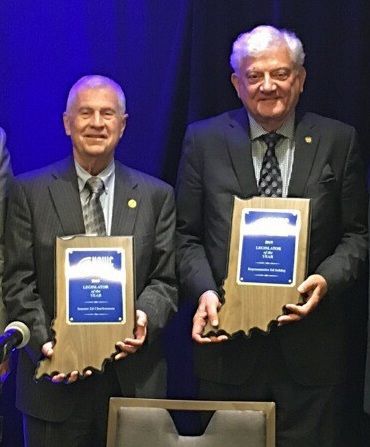 Two Northwest Indiana state lawmakers have been proclaimed the best in the state by an organization representing water companies across the country.
The National Association of Water Companies recently named both state Sen. Ed Charbonneau, R-Valparaiso, and state Rep. Ed Soliday, R-Valparaiso, as its 2019 "Legislator of the Year" for their work to address Indiana's water needs and to ensure Hoosiers have access to clean, reliable water.
Earlier this year, Charbonneau and Soliday shepherded into law Senate Enrolled Act 4, promoting regional planning of water infrastructure improvements in Indiana, and House Enrolled Act 1406, establishing a state water infrastructure assistance fund.
"Achieving a long-term water system plan for our state is vital, and I believe the legislation passed this session is a great step in achieving this goal," Charbonneau said.
"I am honored to have my work recognized by the National Association of Water Companies, and I will continue to serve as an advocate for policy that ensures safe, clean water for all Hoosiers."
The NAWC represents regulated water and wastewater companies, as well as outsourced municipal utilities, which altogether provide 73 million Americans with safe drinking water.