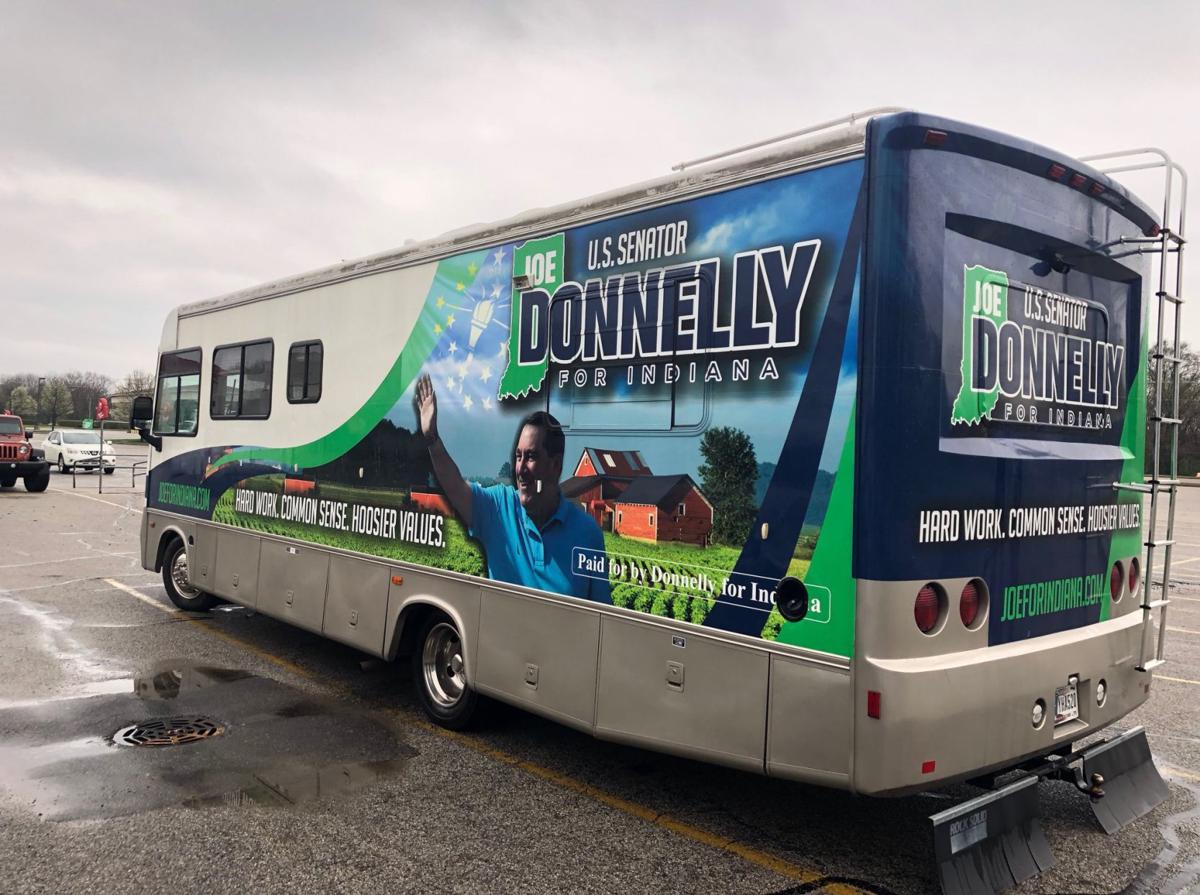 INDIANAPOLIS — U.S. Sen. Joe Donnelly, D-Ind., has no regrets about voting against the 2017 Tax Cuts and Jobs Act, a "no" vote that Republicans are certain to repeatedly condemn in the weeks and months ahead as Donnelly seeks re-election.
The first-term senator last week addressed the issue as he answered voter questions on Facebook and in fundraising emails while traveling between Indiana campaign events in a recreational vehicle.
"I voted against the McConnell-Ryan tax plan because it was wrong for Hoosiers, plain and simple," Donnelly said of the legislation championed by Senate Majority Leader Mitch McConnell, R-Ky., and House Speaker Paul Ryan, R-Wis.
Donnelly explained that the law could cost the federal government as much as $2.2 trillion in lost revenue over the next decade.
He said it also does too little for the middle class, while giving most of the benefits to "big banks" and "already extremely profitable corporations."
"This law doesn't deliver relief to hardworking Hoosier families who go to work in the dark and come home in the dark," Donnelly said.
"And any gains they do find are likely to be wiped out by skyrocketing premiums charged by the same insurance companies that are making billions in additional profits thanks to new tax breaks."
Donnelly, who last year ranked fourth in the Senate for bipartisanship according to a think tank run by former U.S. Sen. Dick Lugar, R-Ind., said he tried working across the aisle with Republicans "to produce real tax reform that provided tax relief for working families."
"But that's not what this law does," he said.
That's the opposite of how U.S. Sen. Todd Young, R-Ind., sees the tax law working.
Young contends that one-time employee bonuses paid by businesses enjoying a 21 percent top corporate income tax rate, instead of the previous 35 percent, show ordinary Hoosiers are benefiting from the tax cuts.
Young also has no problem with businesses and wealthy Americans receiving a disproportionate share of the tax reductions, since he said they pay a disproportionate share of federal tax revenue.
"The fact that someone who makes a lot more money than another American might see a larger refund should be of no surprise to anyone," Young said.
New projections by the nonpartisan Congressional Budget Office that account for the revenue impact of the tax law estimate that the United States will spend $804 billion more than it takes in during the budget year that ends Sept. 30, and the federal government will begin running annual trillion-dollar deficits beginning in 2020, two years earlier than originally anticipated.
Some Republican congressional leaders say the answer to the nation's bulging deficit is to reduce spending on entitlement programs, in part by privatizing Social Security retirement income and Medicare health insurance for the elderly.
Donnelly said there's "no way" he ever would go along with any plan to privatize either program.
"Social Security and Medicare are a contract we make with hard-working Hoosiers throughout their lives," Donnelly said. "We tell them, you work as hard as you can, play by the rules, and pay into the system, and we'll make sure you've got the security you need when you can't work anymore."
"These programs are fundamental to who we are — a country that takes care of its people."
Donnelly said he views proposals to privatize Social Security and Medicare as "a scam to cheat people out of their own money."
"That's why I've proudly opposed any privatization plan, and you can bet I'll stay the course if Hoosiers send me back to the Senate in November," he said.