INDIANAPOLIS — The life of Indiana's longest-serving U.S senator was celebrated Wednesday in a church he helped build, by more than a thousand people whose lives were changed for having known, worked with or loved Dick Lugar.
Lugar's funeral at St. Luke's United Methodist Church on Indianapolis' north side was much like the man himself. It was serious and solemn when necessary, but filled with laughter and bright smiles at the memory of Lugar embracing argyle socks to "jazz things up," or his unexpected hunger for pastries inside a biological weapons storage facility.
Former U.S. Sen. Sam Nunn, D-Ga., told of seeing both sides of Lugar while working across party lines with the Hoosier Republican. Among their projects was preventing the spread of weapons of mass destruction from Ukraine, Russia, Kazakhstan and Belarus following the 1991 end of the Cold War.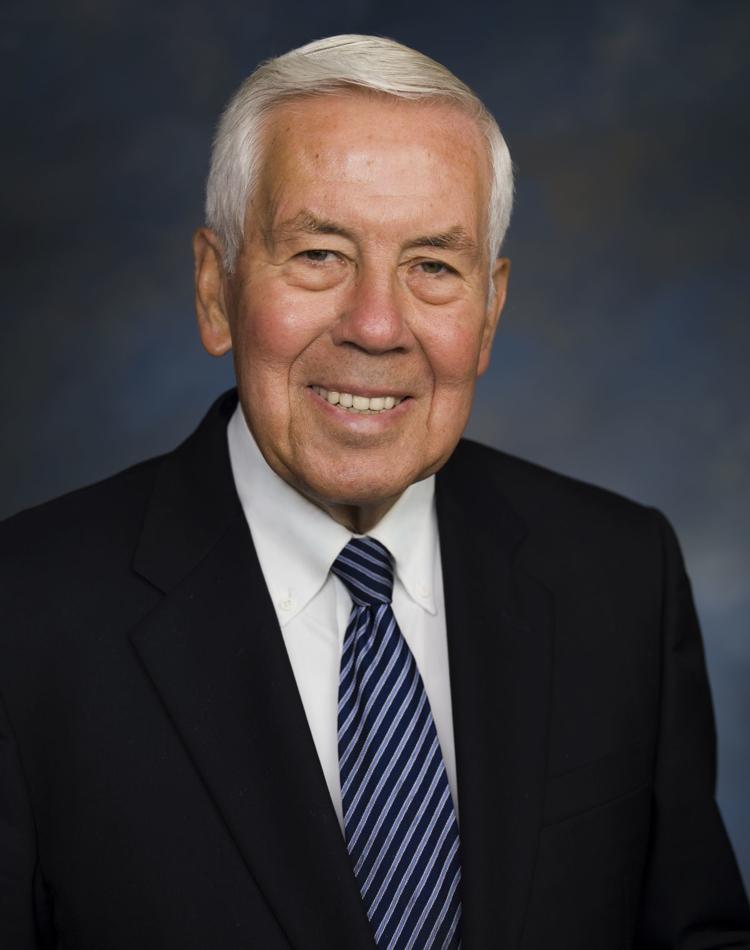 "The stakes were high, to say the least," Nunn said.
But together they convinced a skeptical Congress that it was in America's interest to spend taxpayer dollars helping the newly liberated nations of the former Soviet Union to destroy their stocks of nuclear, biological and chemical weapons, and thereby prevent terrorist organizations from acquiring them.
"Cooperation and compromise in politics is often misunderstood today. Some take it as meaning you give up your principles," Nunn said. "Dick never, ever compromised his principles. He did what is too often missing in Washington today — he looked carefully at the facts, and he let the facts lead him to his conclusions.
"Dick applied both his principles and his Indiana common sense to improve the lives of his constituents, and the security and the economy of our nation."
Vice President Mike Pence, a former Indiana governor, said that is one of many reasons why Lugar is among the senators who continue to be respected by supporters of both political parties.
"Sen. Lugar emerged as an American statesman, whose contributions to our nation are countless," Pence said. "Few Hoosiers will ever leave as large or indelible a mark on our state, and our nation, as Richard Lugar.
"And yet, it was who he was that made him so special: his intellect and backbone were paired with an honesty and kindness not always associated with politics. He was a man utterly without guile and without pretense," Pence said.
Former Indiana Gov. and current Purdue University President Mitch Daniels worked for Lugar during his two terms as Indianapolis mayor from 1968 to 1976, and then in the early part of his 36-year tenure in the Senate that ended in 2013. Daniels echoed Pence's appraisal of Lugar's personal qualities.
"If Dick Lugar ever had an ill-tempered moment, I never saw it. Ever spoke an unkind word about anyone? I never heard it. Ever acted out of raw selfishness? I never witnessed it," Daniels said. "He always, always tried to do the right thing. And, if you were around him, it just had to rub off on you, at least a little.
"Knowing Dick Lugar, I learned about the principles about a free society. I learned about how to make government work effectively. I learned about bringing people together, giving them a direction and an enthusiasm for heading off together in pursuit of a better future for all. But, much more importantly, I learned about what a really good life looks like."
Daniels continued, "I'll never approach the standards he set. I still do things that are venial, unkind or small-minded. But I do them a lot less often because I knew Dick Lugar. He made a much better person out of me, and I know I'm only one of many here who are thinking that right now."
Lugar's influence in state and national politics extends far and wide, from the Richard G. Lugar Excellence in Public Service Series that has trained hundreds of Hoosier women for positions of leadership in Indiana and local government, to his work as head of the Senate GOP campaign committee that in 1984 recruited as a candidate the man who now leads the U.S. Senate.
"He took a chance on this guy from Kentucky," said Senate Majority Leader Mitch McConnell, R-Ky., who was joined at the ceremony by, among others, U.S. Sens. Patrick Leahy, D-Vt.; Susan Collins, R-Maine; Todd Young, R-Ind.; Mike Braun, R-Ind.; former U.S. Sen. Joe Donnelly, D-Ind.; U.S. Chief Justice John Roberts, who grew up in Long Beach, Indiana; and Gov. Eric Holcomb.
Perhaps reflecting Lugar's efforts to promote bipartisanship in his post-Senate years, many of the dignitaries were not seated next to fellow partisans. Donnelly was alongside former Indiana Attorney General Greg Zoeller, a Republican, and Indianapolis' Democratic Mayor Joe Hogsett sat beside his Republican predecessor, Greg Ballard.
Lugar's four sons — Mark, Bob, John and David — also shared personal stories about their father, among them his obsession with writing thank-you notes, his love of creating and working on his Marion County walnut tree farm and his excitement at continuing his life's work well into his 80s through the Lugar Center think tank in Washington, D.C.
"He never stopped thinking about how to bring people together and how to solve problems," John Lugar said.
"What can you do to heal the divisions in your community, in your state, in the nation and the world? What can you do to improve the well-being of future generations? What can you do to feed the hungry and bring peace? He acted upon these questions every day. He took the long view in trying to solve these seemingly intractable problems, and believed we all had the power within us to do the same."
Lugar died April 28, at age 87, of chronic inflammatory demyelinating polyneuropathy, a rare neurotic disorder. His burial site has not yet been announced.
Gallery: Hoosiers pay their final respects to Sen. Lugar
Richard Lugar Funeral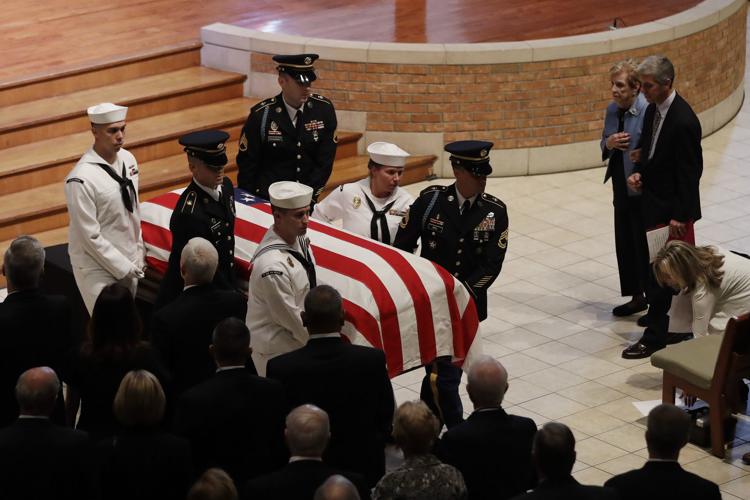 Richard Lugar Funeral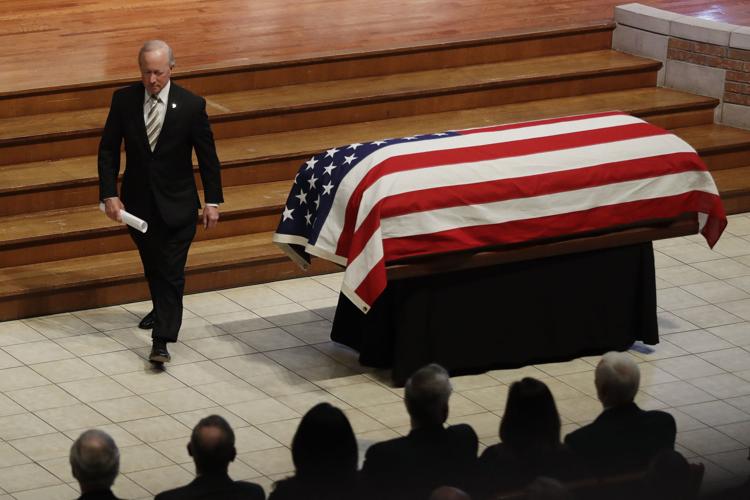 Richard Lugar Funeral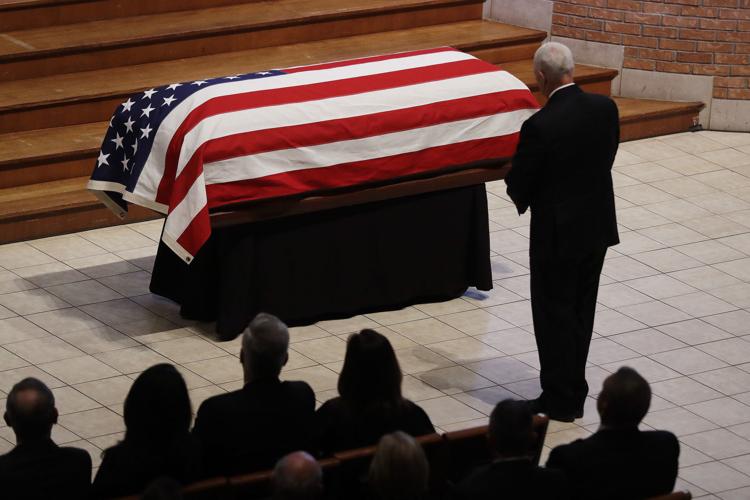 Richard Lugar Funeral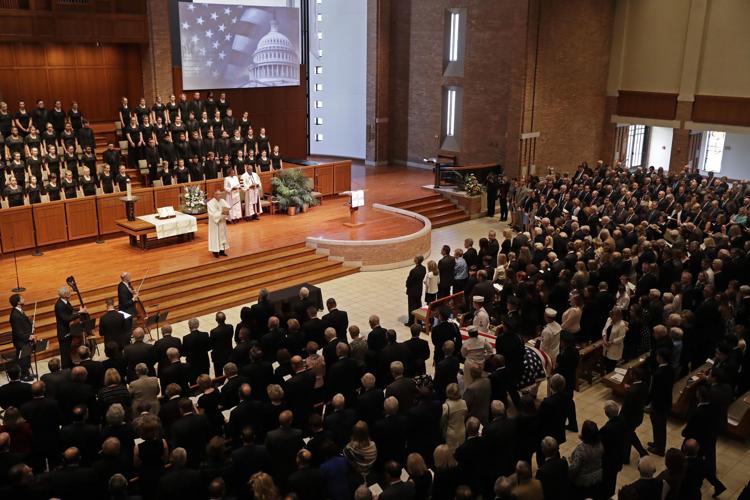 Richard Lugar Funeral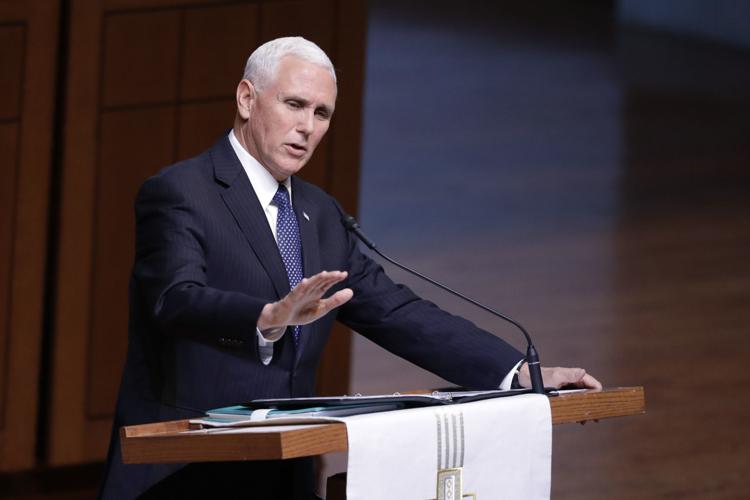 Richard Lugar Funeral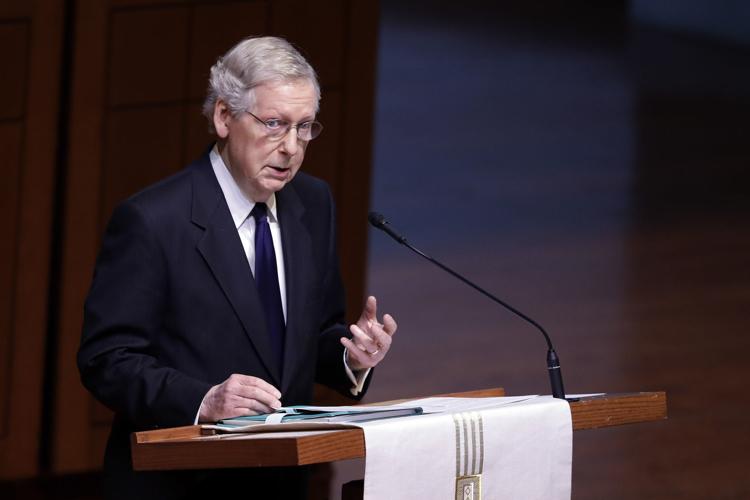 Richard Lugar Funeral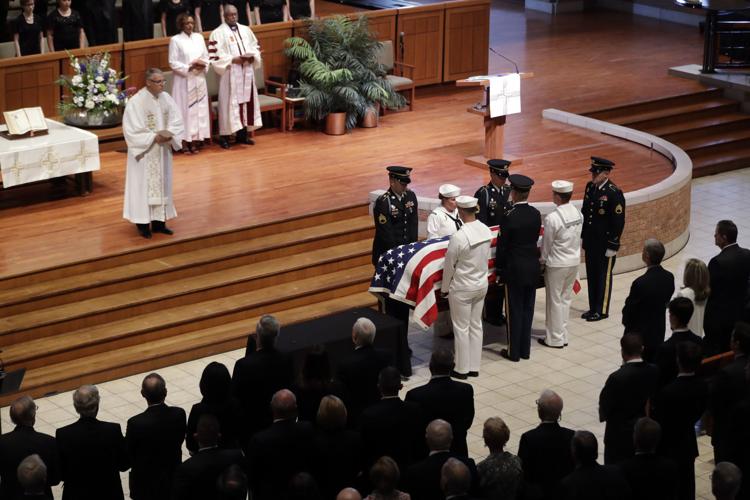 Richard Lugar Funeral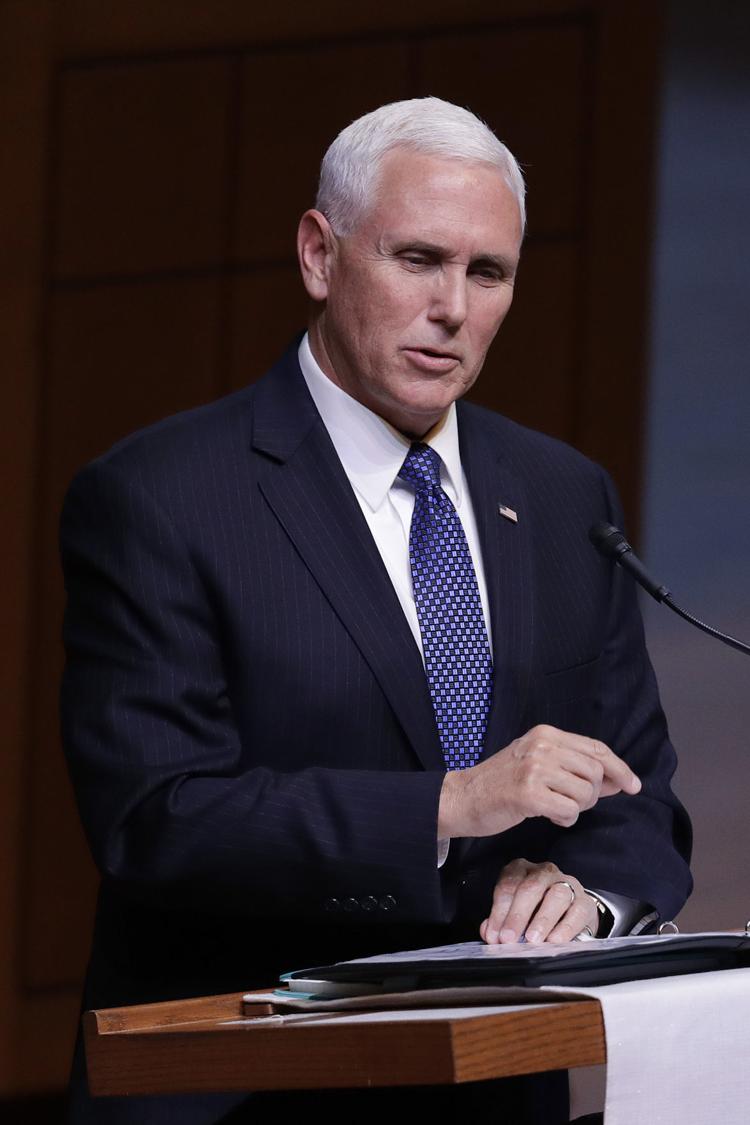 Richard Lugar Funeral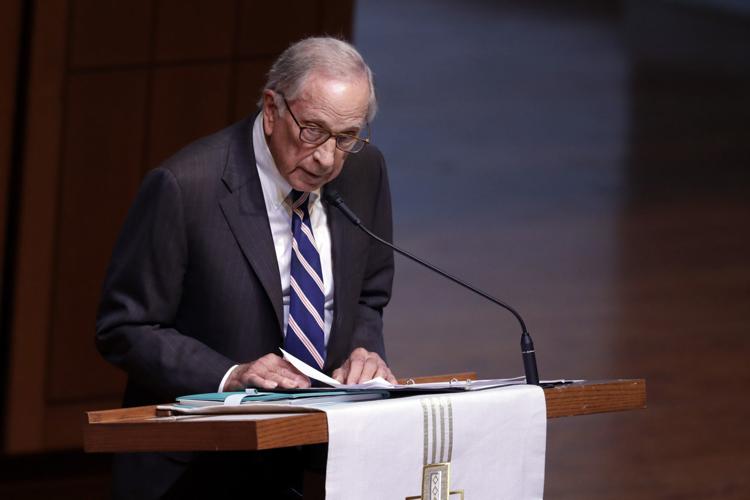 Richard Lugar Funeral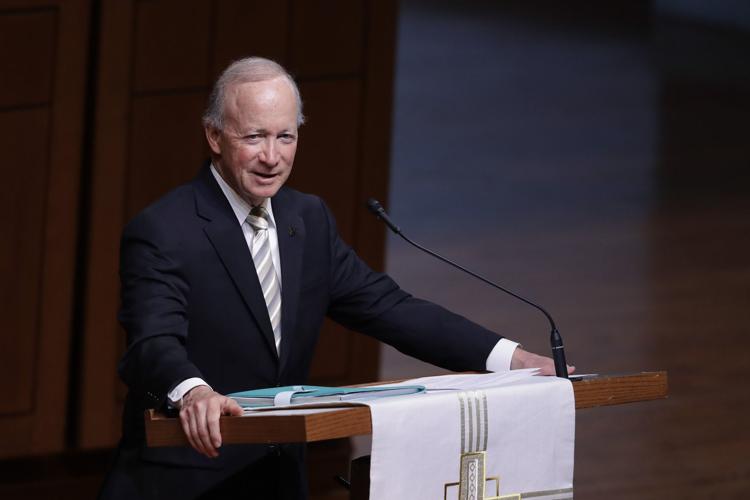 Richard Lugar Funeral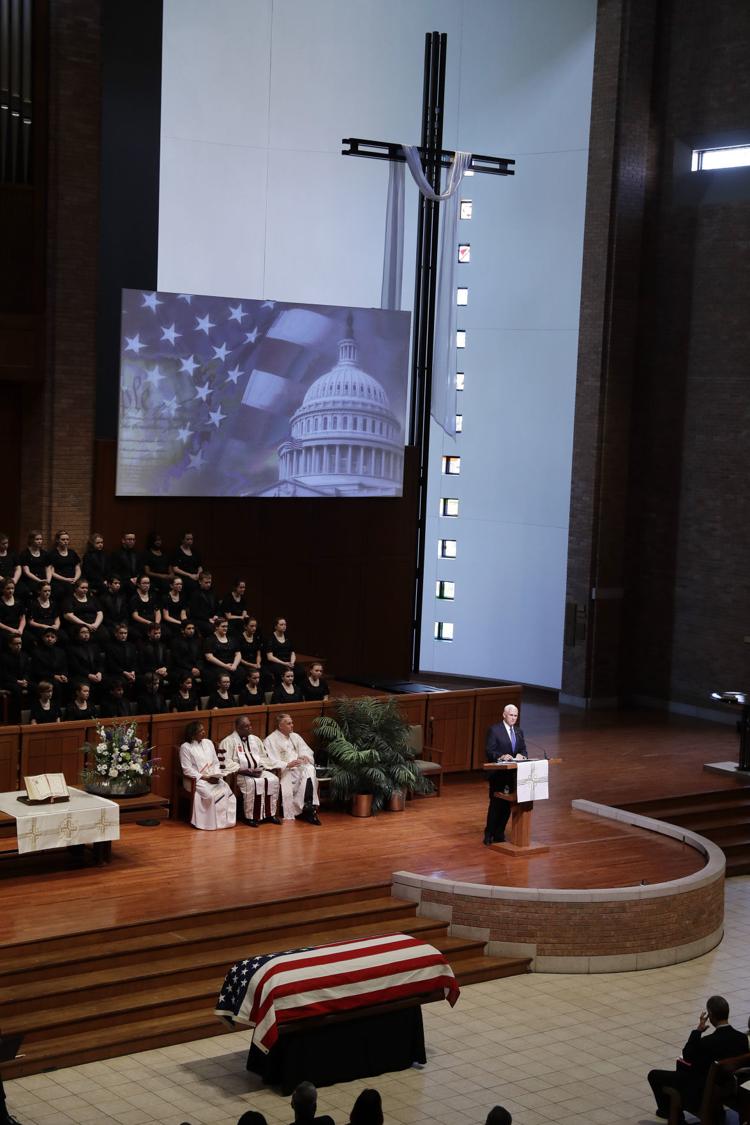 Richard Lugar Funeral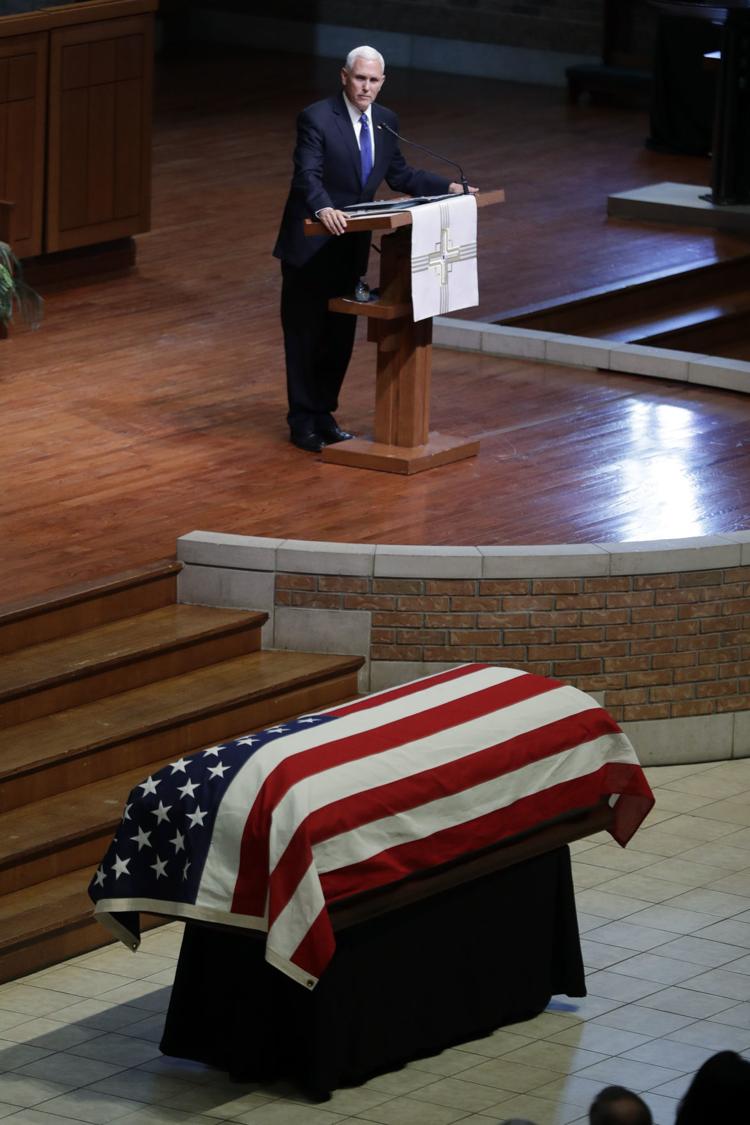 Richard Lugar Funeral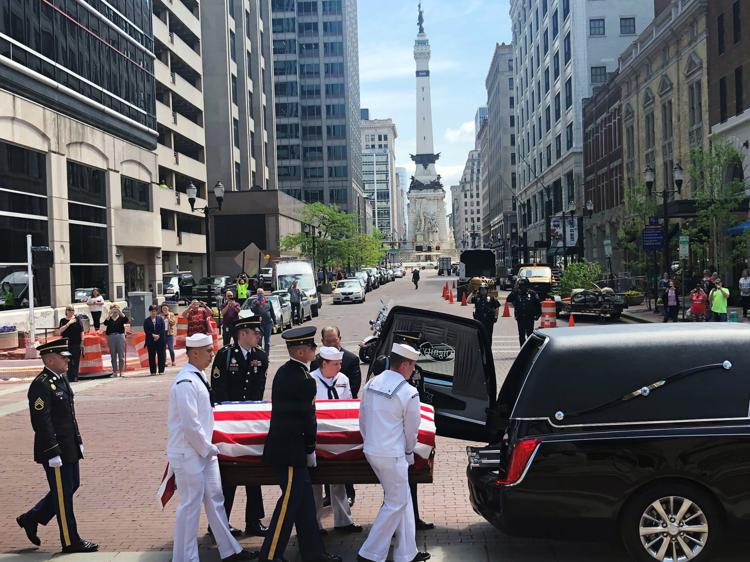 Sen. Lugar proclaimed 'an American statesman' at funeral service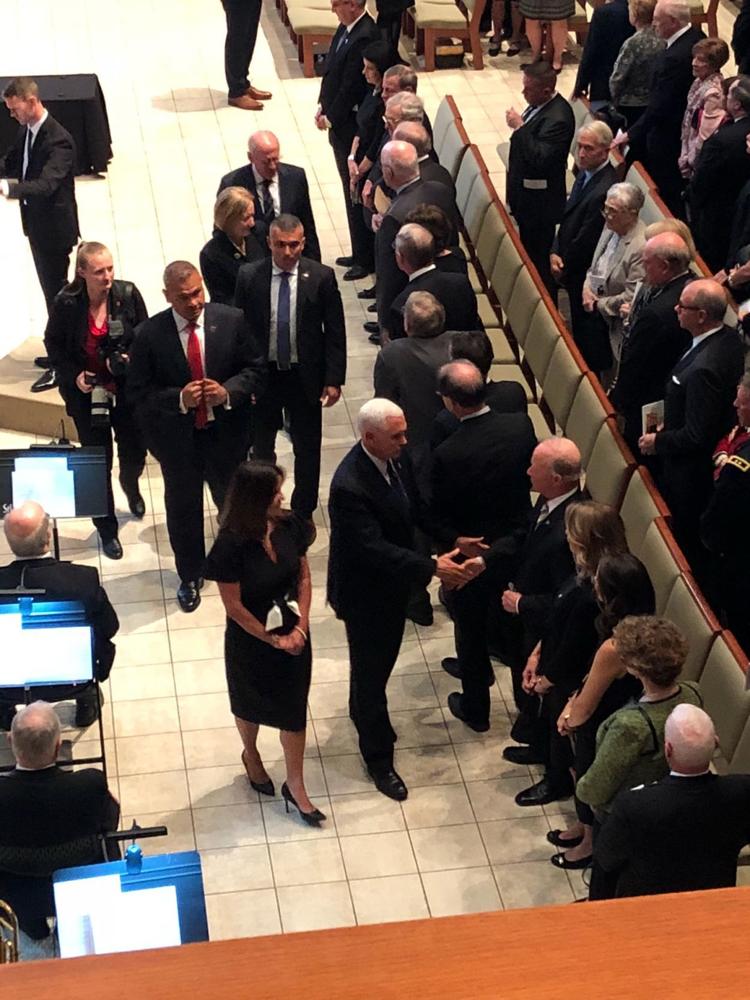 Sen. Lugar proclaimed 'an American statesman' at funeral service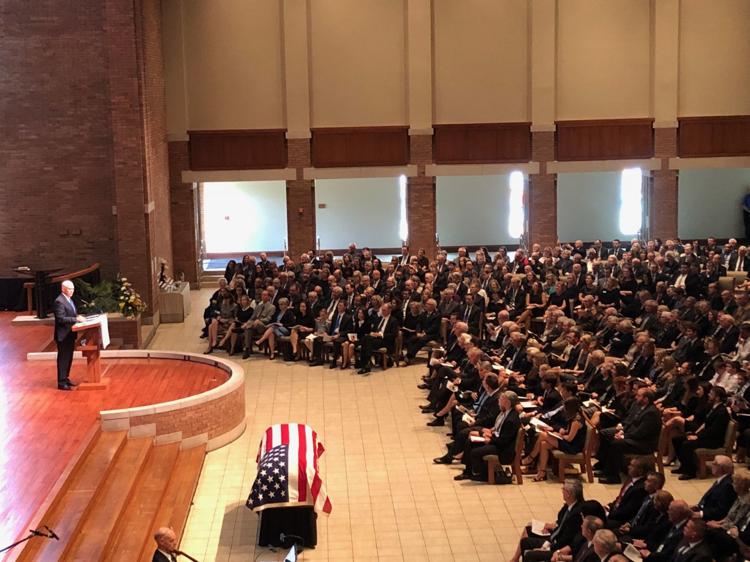 Sen. Lugar proclaimed 'an American statesman' at funeral service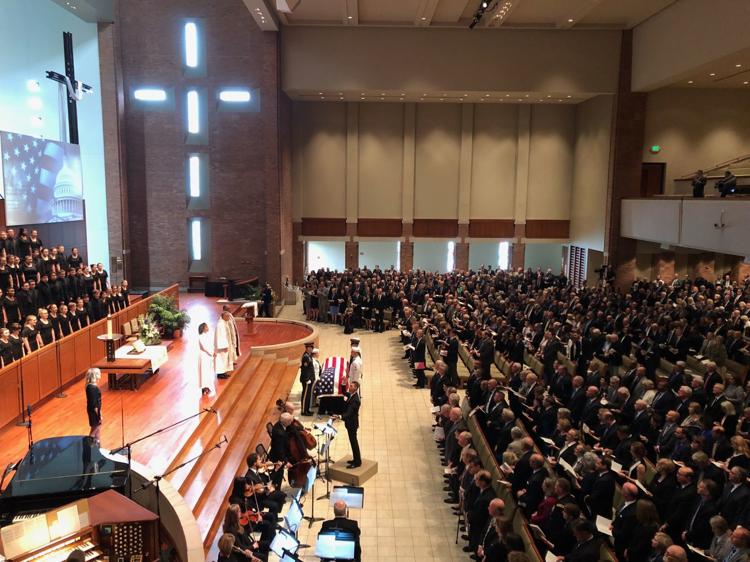 Sen. Lugar proclaimed 'an American statesman' at funeral service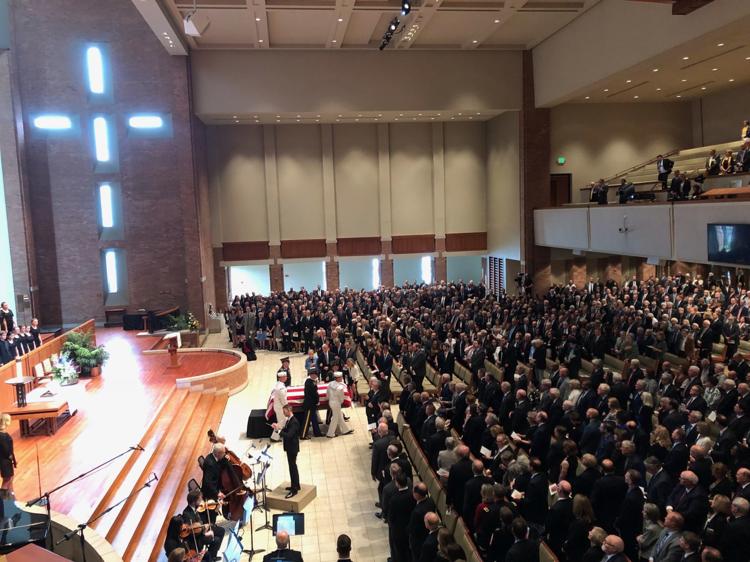 Richard Lugar Funeral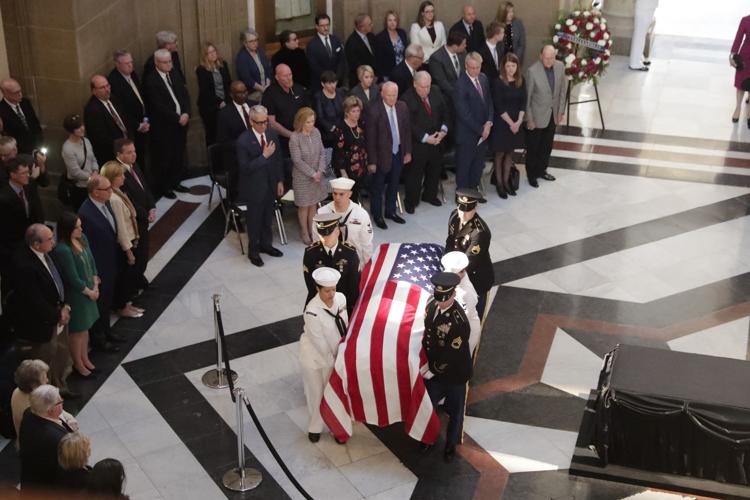 Richard Lugar Funeral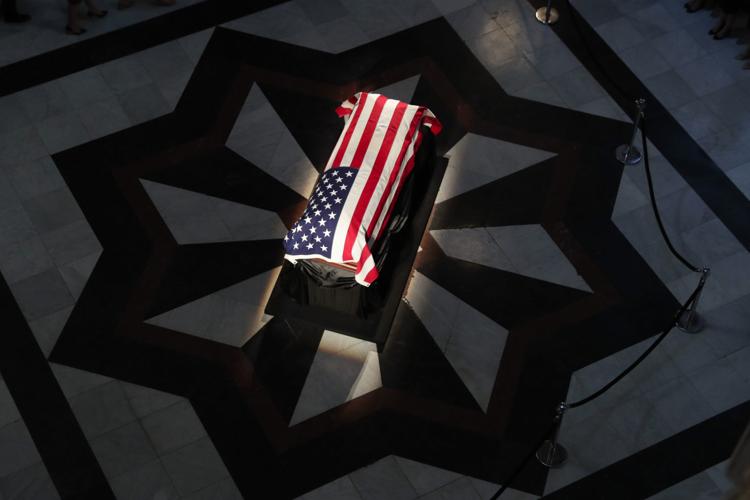 Richard Lugar Funeral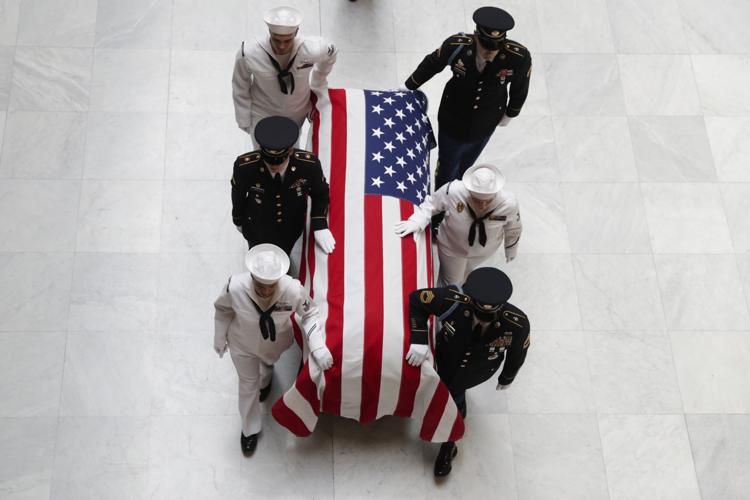 Richard Lugar Funeral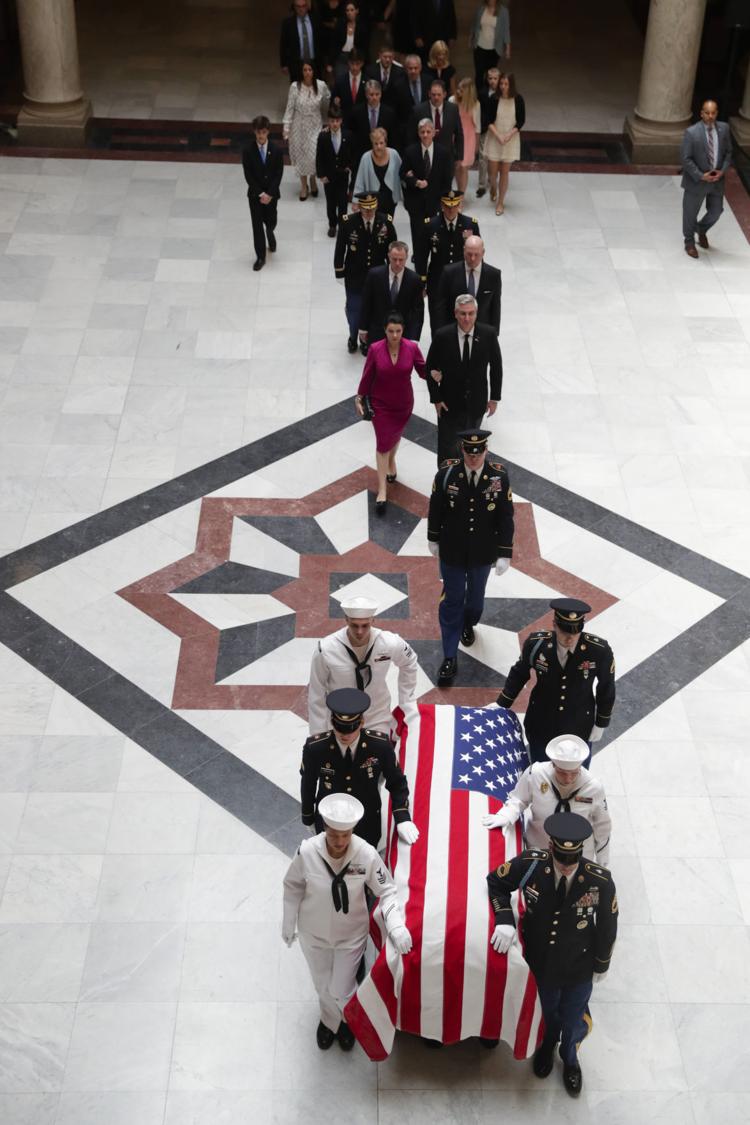 Richard Lugar Funeral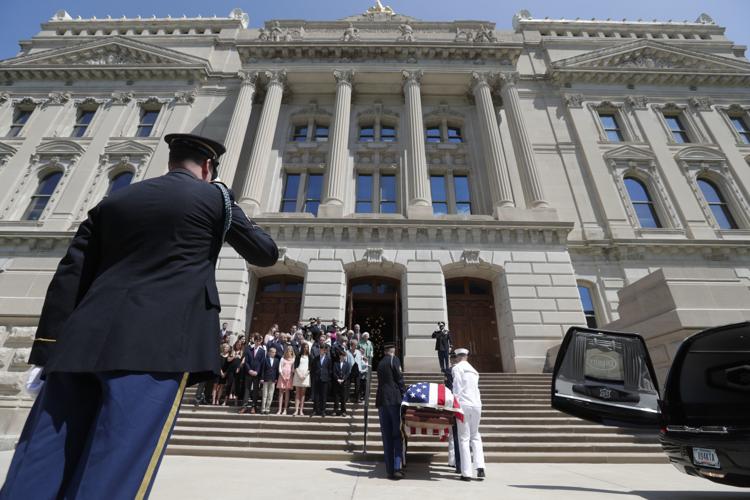 Richard Lugar Funeral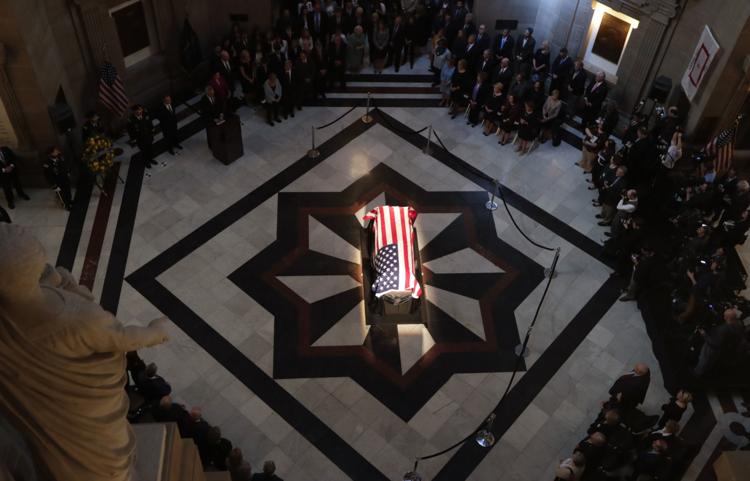 Hoosiers pay their final respects to Senator Lugar as he lie in state at the Indiana Statehouse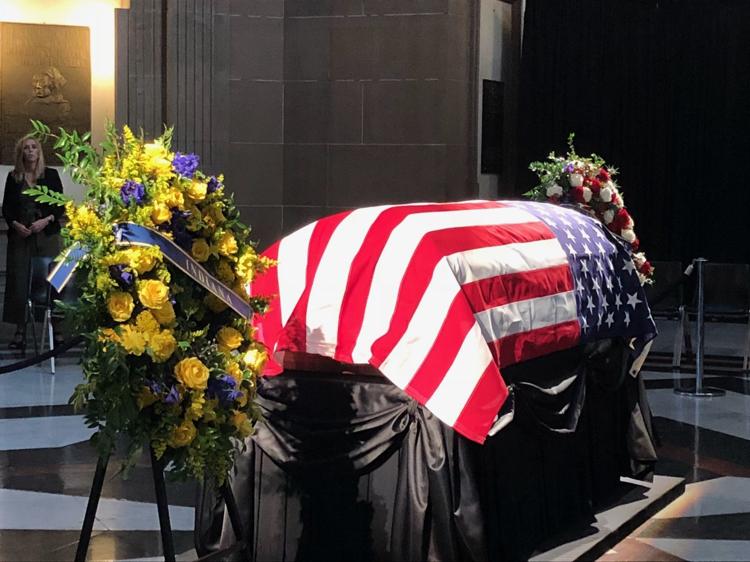 Hoosiers pay their final respects to Senator Lugar as he lie in state at the Indiana Statehouse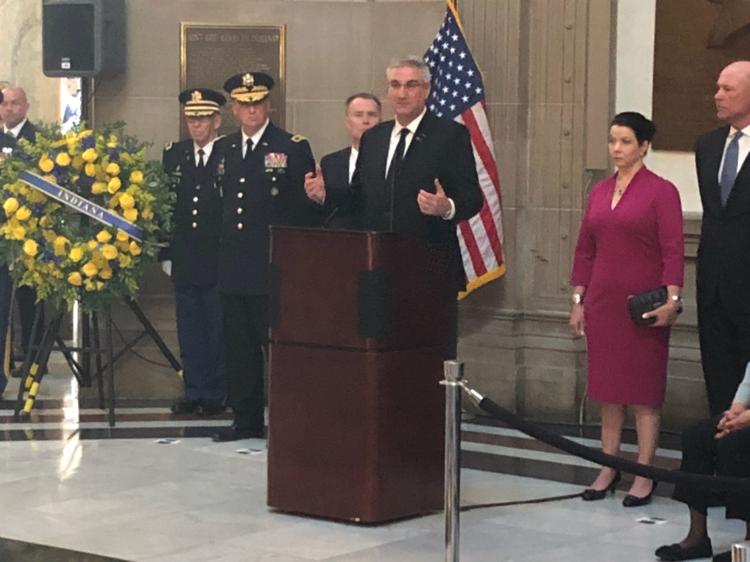 Hoosiers pay their final respects to Senator Lugar as he lie in state at the Indiana Statehouse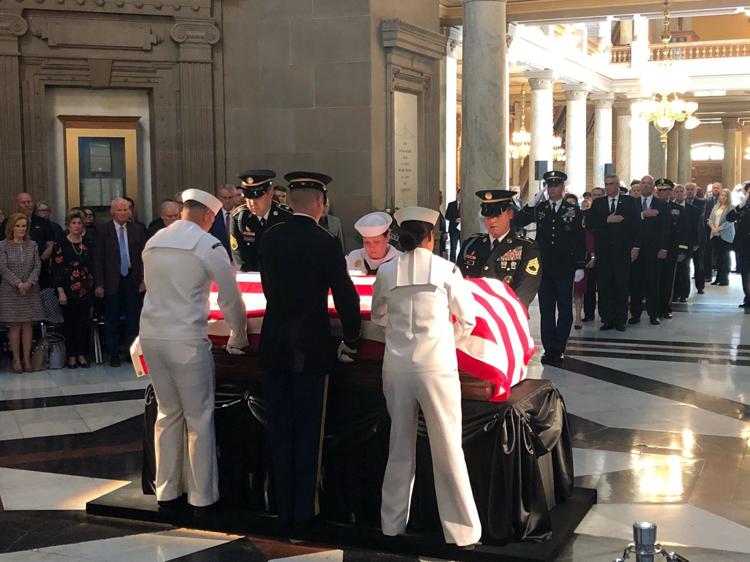 Hoosiers pay their final respects to Senator Lugar as he lie in state at the Indiana Statehouse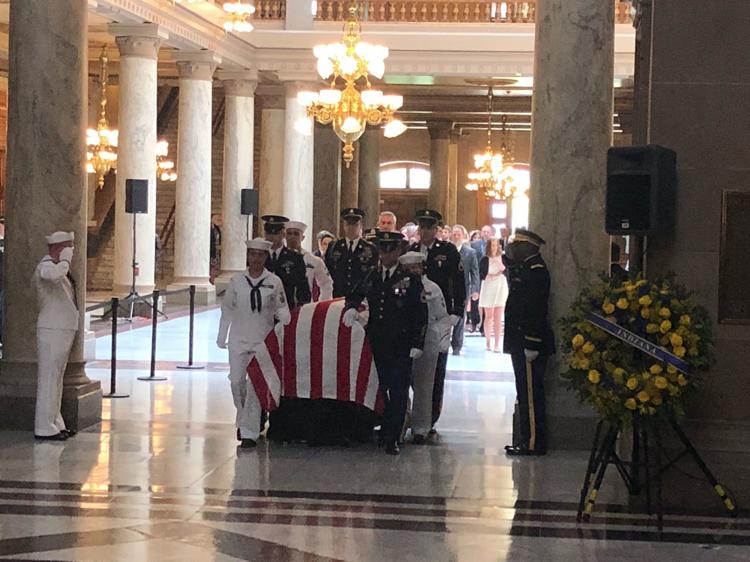 Hoosiers pay their final respects to Senator Lugar as he lie in state at the Indiana Statehouse
Hoosiers pay their final respects to Senator Lugar as he lie in state at the Indiana Statehouse