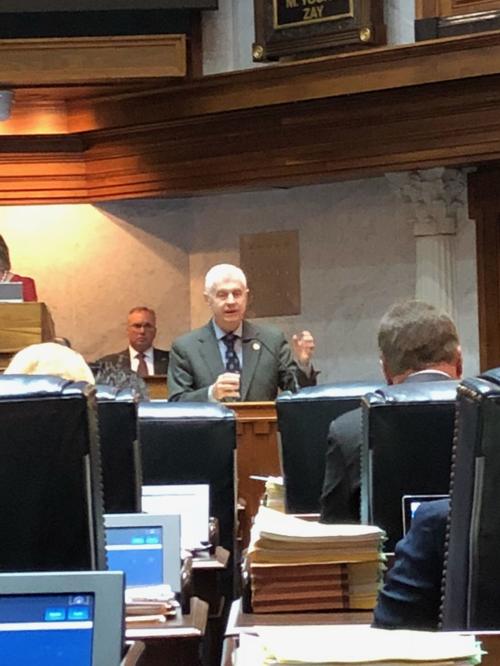 INDIANAPOLIS — The Indiana Senate made it clear Tuesday that it's not on board with a House-approved plan directing the state's Medicaid program to pay the University of Chicago children's hospital the same rates, for serving Region children ages 6 and under, as it would pay if they received care at Indianapolis' Riley Hospital for Children. 
Senators voted 47-2 for a revised version of House Bill 1238 that omits the University of Chicago Medicaid reimbursement pilot program in favor of a broader evaluation of Indiana Medicaid payments to all out-of-state hospitals that treat Hoosier children.
"It's a very complex, complicated issue, and what we've done in the bill is kind of set out a road map for how the Family and Social Services Administration can address the issue," said state Sen. Ed Charbonneau, R-Valparaiso.
Under the plan, FSSA Secretary Dr. Jennifer Walthall is required to consult with national experts, her counterparts in neighboring states and Indiana health care stakeholders to better understand the issue of cross-state Medicaid payments, and the financial feasibility of applying Indiana's in-state payment rate for Hoosier children receiving care in neighboring states.
Charbonneau explained that the issue is much bigger than a single Chicago hospital. There are at least six other Chicago children's hospitals serving Hoosier patients, and 82 total hospitals in Illinois, Michigan, Ohio and Kentucky that are similarly situated.
He said out-of-state hospitals treating children covered by Indiana Medicaid typically are paid a fraction of what Indiana hospitals get.
But that's because Indiana hospitals boost their reimbursement rates by annually paying the state a Hospital Assessment Fee that's not similarly imposed on out-of-state hospitals.
Charbonneau said no one knows whether it's even legal under federal law and Medicaid rules to take money paid by Indiana hospitals to hike their Medicaid reimbursement rates and to send it to out-of-state hospitals, let alone one out-of-state hospital among many.
"It sounds simple on the surface, but it's a very complicated issue," Charbonneau said.
State Sen. Karen Tallian, D-Ogden Dunes, voted no on the revised measure, along with state Sen. Greg Taylor, D-Indianapolis.
She said the Senate should have permitted the House-approved payment pilot program for the University of Chicago children's hospital to move forward while FSSA studies the issue of Medicaid reimbursement rates generally.
"They currently service a lot of our very sick children and babies," Tallian said.
State Sen. Eddie Melton, D-Gary, emphasized the importance of Region families being able to remain together, close to home, while a child is undergoing lifesaving cancer treatments or following the birth of a very premature baby — something that would be impossible to do if every Region family had to drive three hours to the children's hospital in Indianapolis.
"We have to keep this conversation going," Melton said. "I don't want this to fall off the plate of the Legislature."
The measure now is headed to a House-Senate conference committee, where Charbonneau and state Rep. Ed Soliday, R-Valparaiso, along with other members from each chamber, will attempt to hammer out a compromise proposal.
Soliday suggested that the University of Chicago pilot program, which was approved 92-0 by the House, could be restored to the measure to complement the Senate study as a test case for how implementing higher Medicaid reimbursement rates could work.