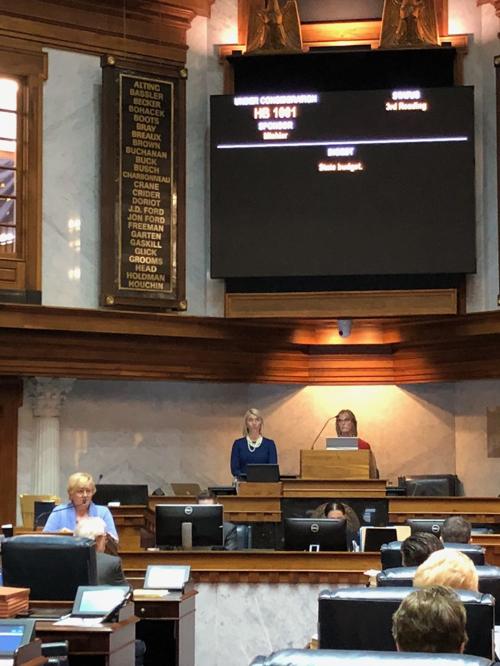 INDIANAPOLIS — The battle over how Indiana should spend about $34.6 billion in taxpayer funds over the next two years can begin in earnest after the Senate voted 40-8 Tuesday to approve its state budget proposal.
Just as in the House, elementary and high school education is the largest spending component in the Senate's revised version of House Bill 1001, accounting for 1 out of every 2 dollars the state will spend between July 1, 2019 and June 30, 2021.
In total, the Senate spending plan increases kindergarten through 12th grade student funding by $535 million, to $14.9 billion for the two-year period, up $74 million compared to the House budget and $103 million more than Republican Gov. Eric Holcomb requested.
However, that education funding increase is not required to be spent on boosting teacher salaries, despite teacher rallies across Northwest Indiana and the rest of the state Tuesday in favor of higher pay.
Instead, lawmakers repeatedly insisted that decisions on teacher pay must be made at the local level, and not at the Statehouse.
The Senate budget does include $90 million for Teacher Appreciation Grants, up from $60 million in the current budget, and requires all teachers rated "effective" or "highly effective" to receive a grant, with at least one-third of each district's total grant distribution reserved for teachers with less than five years experience.
In addition, school districts statewide would have an extra $140 million to spend on any need, as the Senate budget, similar to the House and governor, uses state reserve funds to bring a teacher pension account to fully-funded status, and thereby reduce the contribution rate that school corporations annually pay on behalf of their employees.
Beyond the 50% for K-12 education, the Senate budget appropriates 15% of state spending to Medicaid, 12% to colleges and universities, 6% to public safety, 5% for child services, 4% for health and human services, 4% for general government, 2% for capital projects and 2% for other.
Notable Region budget allocations include: $12 million for South Shore Line expansion projects; $11.6 million for deferred maintenance at Indiana University Northwest, Purdue University Northwest and other university campuses; $6.6 million for new infant mortality prevention programs; and $800,000 to fund the local share of a U.S. Army Corps of Engineers study of Lake Michigan beach erosion.
On Monday, state Sen. Eddie Melton, D-Gary, also won Senate approval to add to the budget legislation a property tax amnesty program to help people behind on their taxes get caught up without having to pay hefty interest or penalties.
"This program is a big step towards eliminating the blight that vacant lots have on our neighborhoods and will help counties access millions of dollars in delinquent tax payments," Melton said.
"At the same time, this program will be a huge relief to Hoosiers who are currently unable to pay back these overdue taxes."
The final budget provisions are certain to be heavily shaped by the revised state revenue forecast due to be issued Wednesday.
House Speaker Brian Bosma, R-Indianapolis, anticipates that projected tax collections for the next two years will be lower than what lawmakers were told in December, which could require the proposed spending increases for education and the Department of Child Services to be dialed back.
Ultimately, leaders from the House, Senate and governor's office will hammer out a compromise budget plan over the next week or so that must be re-approved by both Republican-controlled chambers and Holcomb to become law.