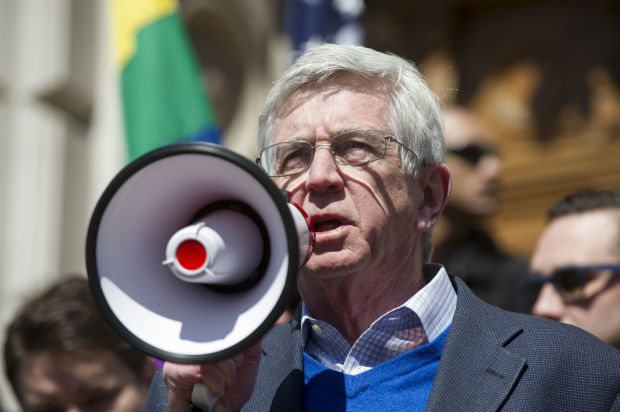 INDIANAPOLIS — A top House Democrat is asking Hoosiers fed up with Republican Attorney General Curtis Hill erecting roadblocks to the investigation of his alleged sexual misconduct to contact House leaders and their state representative to demand Hill's impeachment.
State Rep. Ed DeLaney, D-Indianapolis, said Hill appears determined to postpone justice indefinitely by challenging the integrity of the state's inspector general, trying to prevent the appointment of a special prosecutor and threatening to sue General Assembly staffers.
"If these threats and filings aren't sufficient to stop bringing Hill to justice, we can expect multiple appeals to state and maybe even federal judges," DeLaney said.
DeLaney also suggested that a legal defense fund established Monday by Hill's allies, dubbed a "slush fund" by DeLaney, likely will give the attorney general unlimited resources from unknown entities to block fair treatment for the four women allegedly groped by Hill at a legislative party, including state Rep. Mara Candelaria Reardon, D-Munster.
"The people must take this matter away from Hill's secret supporters and call upon the speaker of the Indiana House to act now," DeLaney said.
"There is but one safe way forward that will protect the victims, Hill and the people of this state. That vehicle is the bringing of an impeachment before the Indiana House."
House Speaker Brian Bosma, R-Indianapolis, has said he plans to wait for Inspector General Lori Torres to complete her investigation of Hill's conduct in the early morning hours of March 15 before deciding what steps, if any, to take next.
Bosma called on Hill to resign his office shortly after the groping allegations became public, as did Republican Gov. Eric Holcomb and Senate President David Long, R-Fort Wayne.
DeLaney has drafted a proposed resolution directing the House Judiciary Committee to also conduct a comprehensive investigation of Hill's behavior and determine if impeachment is warranted.
"When the leaders of your own party make it clear that a person should step down from office for being unfit, it would seem clear that there should be only one prudent course of action: take the hint and leave," DeLaney said.
"However, it is apparent that we do not live in ordinary times, so it is incumbent upon the legislative branch to pursue a course of action outlined in the Indiana Constitution."
No state officer has been impeached by the House since the current Constitution was adopted in 1851.
Records show the House in 1927 impeached a Ku Klux Klan-affiliated judge from Muncie, but the Senate declined to remove him from office.
Hill has denied any wrongdoing.
He said Wednesday that he "accepts and welcomes" the appointment of Special Prosecutor Daniel Sigler after previously arguing in a court filing that selecting a special prosecutor would "create the impression and fuel the speculation that there was a crime committed."
Conviction of a criminal offense is not required for the House to impeach and the Senate to remove an elected official from office.