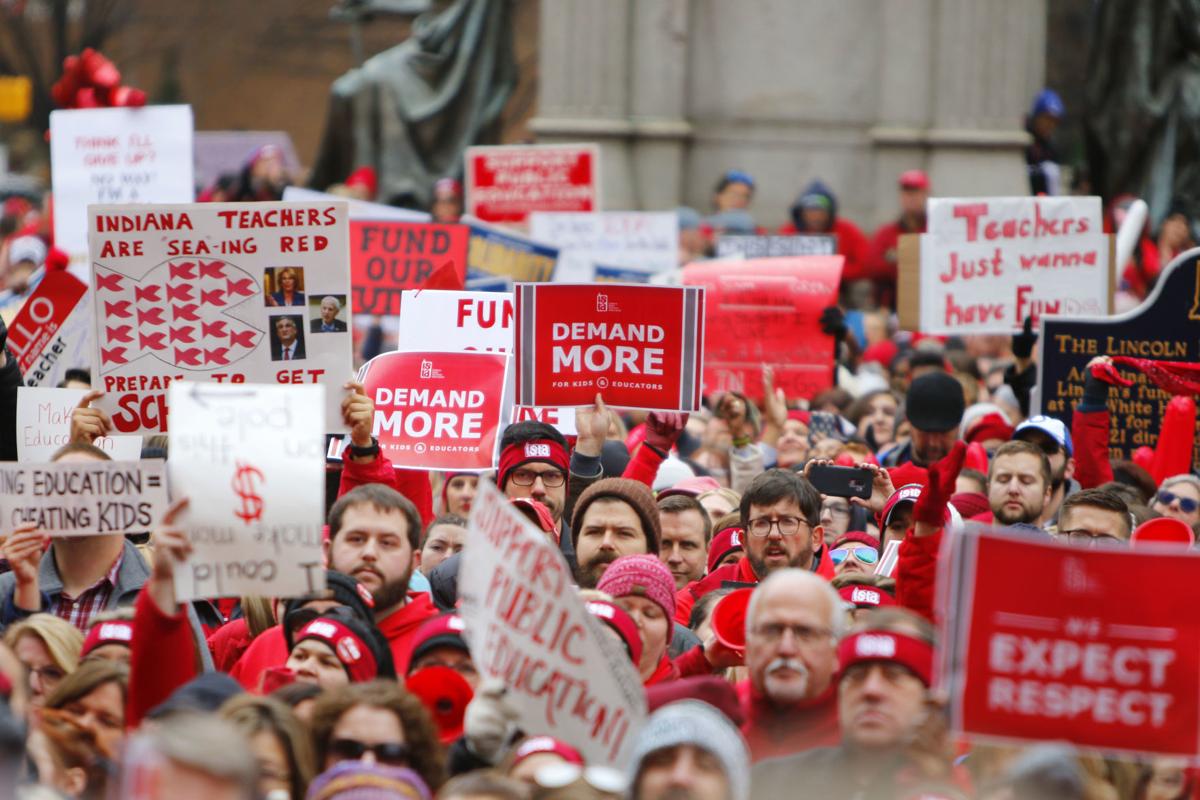 The sole state spending measure set to be considered this year by the Indiana General Assembly is headed to Republican Gov. Eric Holcomb's desk without any provisions for increasing teacher pay.
House Enrolled Act 1007 uses $291.2 million in unanticipated state revenue from the 2019 budget year to cash-fund construction projects at six state universities — none in Northwest Indiana — instead of borrowing money to pay for new and improved campus buildings.
State Sen. Ryan Mishler, R-Bremen, the sponsor, said using cash instead of debt will save the state approximately $135 million in interest costs over the next 20 years.
Democratic senators, however, said Indiana should use the extra funds to provide a salary boost to Hoosier educators, especially after some 15,000 teachers rallied outside the Statehouse in November demanding pay raises and fewer state mandates on schools.
"There is absolutely no reason why the General Assembly can't get our teachers more money this year," said state Sen. Karen Tallian, D-Ogden Dunes. "Otherwise, teachers will once again be forced to wait another year for any possibility of raises."
Senate Democratic Leader Tim Lanane, D-Anderson, agreed. He said state spending is a matter of priorities, and this legislation shows the Republican-controlled Legislature does not consider teachers to be a priority.
"Fifteen thousand people didn't show up on Organization Day to say let's save on the debt service," Lanane said. "Fifteen thousand educators showed up to say: 'We have a problem, let's fix it and let's fix it now.'"
Mishler said many teachers actually tell him they are less concerned about pay raises compared to their wish for legislators to decouple student ILEARN test results from school A-F grades and teacher evaluations, as proposed by House Bill 1001 and Senate Bill 2.
"I feel we addressed their issues," Mishler said.
State Sen. Mark Messmer, R-Jasper, also noted the General Assembly last year increased funding for elementary and high school education by $763 million in the current, two-year state budget.
"State budgeting requires discipline, but with 50% of our current General Fund — 50 cents out of every dollar — going to K-12 education, we have demonstrated where our priorities lie, and we will continue to prioritize funding for our K-12 schools in the future so local school boards can continue to increase their teachers' pay," Messmer said.
Separately, Holcomb has established a state task force charged with identifying funds to provide Hoosier teachers a "significant" pay increase sometime after the next state budget takes effect on July 1, 2021.
Get Government & Politics updates in your inbox!
Stay up-to-date on the latest in local and national government and political topics with our newsletter.