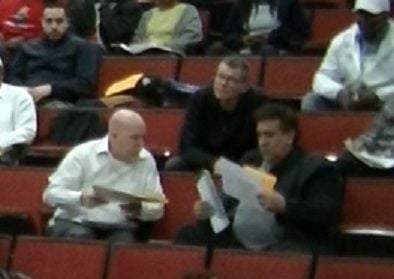 CROWN POINT — A proposed state law aimed at deterring tax-delinquent bad actors who fraudulently bid on properties at Lake County's tax sale auctions each year has cleared its first hurdle in Indianapolis.  
Senate Bill 28, sponsored by Sen. Rick Niemeyer, R-Lowell, passed the Senate Local Government Committee 8-0 Thursday morning.  
Lake County and other local governments across Indiana auction off properties whose owners are behind on tax payments each year as a way to recoup otherwise lost revenue and potentially enables winning bidders to take ownership of the properties. But each year, people who are already behind on taxes attempt to game the system, especially in Lake County.
Niemeyer told the committee the law will help municipalities keep better tabs on delinquent taxpayers who try hide behind liability corporations when bidding at the tax sale. 
The bill will especially aid Lake County, home to the state's largest yearly tax sale events. Niemeyer worked closely with Lake County government officials on the bill.
When asked by Senate committee members if he believes this closes enough loopholes, Niemeyer said this takes care of "all the scenarios" thought up by Lake County officials that could be carried out by bad players at a tax sale, he said. 
The proposal would prohibit a person who is delinquent on personal property taxes or subject to a property tax judgment from bidding or participating at a tax sale.
The ban would also apply to business entities, such as a limited liability corporation, either directly created by the individual, or when the individual is connected to the entity — either as a member, employee, shareholder, agent, partner or attorney.  
Under the proposed bill, fraudulent bidders who knowingly provide false information during the tax sale process would face a criminal misdemeanor charge punishable by up to one year in jail and a $5,000 fine.
Over the years, the Lake County auditor tax sale department has worked diligently to stop people taking advantage of the system. 
If approved, this statute will incorporate some of the local tax sale rules that the auditor has suggested and the Lake County Council has instituted by local ordinance here. 
The proposed state law comes on the heels of the Lake County Commissioners unanimously approving a rewrite of the county's tax sale rules the past summer. The goal is to prevent straw purchasers, tax scofflaws and other unwelcome bidders from participating.
Ryan Hoff, director of government affairs for the Association of Indiana Counties, said his organization supports the bill. 
He said this ensures delinquent property gets in the hands of honest, tax-paying developers.
"I appreciate your work on this," Hoff said.    
Niemeyer's bill was inspired, in part, by people like Thomas Wisniewski, a serially tax-delinquent real estate speculator accused of gaming the system in 2019 regarding 544 parcels he bid on for a redevelopment project north of the Borman Expressway and east of Broadway.  
Wisniewski, along with a group of investors, are accused of purchasing more than 500 property tax certificates on behalf of a newly formed corporate entity in apparent violation of the tax sales rules in effect at the time.
A lawsuit seeking to invalidate those purchases is pending in Lake Circuit Court.
Day two of Wisniewski's bench trial in the case is set for 9 a.m. today before Lake Circuit Court Judge Marissa McDermott. 
Wisniewski is reportedly under investigation by the FBI for alleged fraudulent tax sale activities, Lake Circuit Court testimony shows.
The Indiana Attorney General's Office also has a pending civil lawsuit against Wisniewski and his wife for alleged deceptive real estate practices and for operating without a license in Northwest Indiana.