HAMMOND — A Republican and three Democrats are vying for three at-large seats on the city's Common Council.
Two Democratic incumbents, Dan Spitale and Janet Venecz, are facing off with two newcomers: Katrina D. Alexander, a Democrat, and Charles Kallas, a Republican. In an upset, Alexander defeated longtime incumbent Councilman Bob Markovich in the primaries.
In Hammond's 3rd District, Barry Tyler Jr., a Democrat, and Jeffrey E. MacDonald, a Republican, are squaring off. Tyler defeated longtime city council incumbent Anthony Higgs in the primary.
At-large district
Venecz, who is seeking a third full term on the council, said public safety is her No. 1 priority and it shows through her participation in neighborhood crime watch groups. She said she is always responsive to residents' complaints and concerns.
"I focus on our residents," Venecz said. "When someone asks me something, I will find an answer for them. They may not always like that answer, but I will speak truth."
Venecz, a retired insurance agent, said she worked at her father's company in Calumet City for years, working her way up from secretary to owning the business. She said she believes the expansion of Northwest Indiana's commuter rail line is critical for the city's downtown revival.
Spitale, a veteran, realtor with McColly Real Estate and retired steelworker, has served four terms as the council's vice president, as a commissioner on the Lake County Economic Development Commission, and as board member of the Lake County Solid Waste Management District. 
If reelected, Spitale said he wants to keep the city moving in a positive direction with development like the Sportsplex and the new ice skating rink.
"I will always work for the people of Hammond," Spitale said. "Seeing all the good things going on in our city, I'm just honored to be a part of this group, the mayor and his staff."
Alexander, 36, is an educator with the School City of East Chicago. She graduated in 2001 from Hammond High School and obtained a bachelor's degree from Purdue Northwest.
She said she interned at the Hammond Urban Enterprise in her youth, and then worked for the city clerk's office for a few years while substituting for the School City of Hammond.
"I really want to see us get more involved with our youth and our families. We need more activities for our kids," Alexander said. "We need an arcade. A movie theater. We need things for kids to do in our own backyard, especially for families without transportation."
Alexander said it's critica the city helped change the perception that outsiders have of Hammond.
'Rubber stamp' council
Kallas, 30, an electrician with ArcelorMittal, said he is offering an alternative to the Democratic party.
Keep reading for FREE!
Enjoy more articles by signing up or logging in. No credit card required.
"It comes down to transparency and people believing in their government. Right now, we have an all Democrat-controlled council that rubber stamps what the top dog wants, and in this case, the mayor is the top dog and always gets what he wants. I'm a strong candidate that will stand up and be a voice for the people," Kallas said.
Spitale said he is used to Kallas and other critics labeling the current council as a 'rubber stamp' for what the mayor wants.
"The things the mayor brings up are things that are for the betterment of the city, and it's all worked out. I'm sure I've said no to a couple of things. The mayor's had a vision and the vision is working," Spitale said.
Kallas said he wants to see the city progress more quickly with green energy development and offer residents incentives to go green in their own homes.
A revenue challenge unique to Hammond in the years to come is the construction of a new inland casino in Gary to the east and the threat of another casino to the west in south suburban Cook County, Kallas added.
To combat revenue declines, Kallas said the city needs to cut back on staffing inefficiencies in government and make more budget cuts.
"I hate saying that, but this is government, but a day-to-day business operation. Less government equal better situation for the taxpayers," Kallas said.
3rd District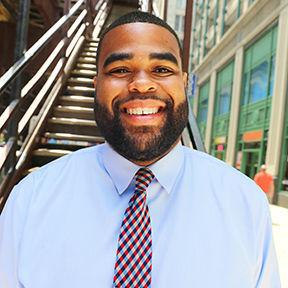 MacDonald did not respond to requests for comment nor the Times' candidate questionnaire.
Tyler, 35, of Hammond, said he is running for public office because Hammond "has always been my home."
"Growing up, I knew this is where I wanted to start my family because it is the city that raised me. The neighbors who molded and guided me as a youth instilled a great sense of community," he said.
He said he currently works as director of regional impact for Leadership for Educational Equity for the Illinois and Northwest Indiana region. He said he serves on several boards, including First Tee of Lake County and the Downtown Hammond Council.
"We have to figure out ways to bring more revenue and jobs into our city but at the same time meet the needs and wants of our residents. Our current administration has done a decent job of this, but I feel there is even more opportunity in the future that we can work to achieve," Tyler said.
He said he wants to recruit businesses that "actually meet the daily needs of residents," conduct multi-year budget forecasting with the council and department heads, and create a job training and placement program to ensure career development and fair wages for residents.
Tyler said residents can usually find him in one of the city's local parks running, his favorite exercise, or hanging out at 18th Street Brewery or the new Sportsplex.