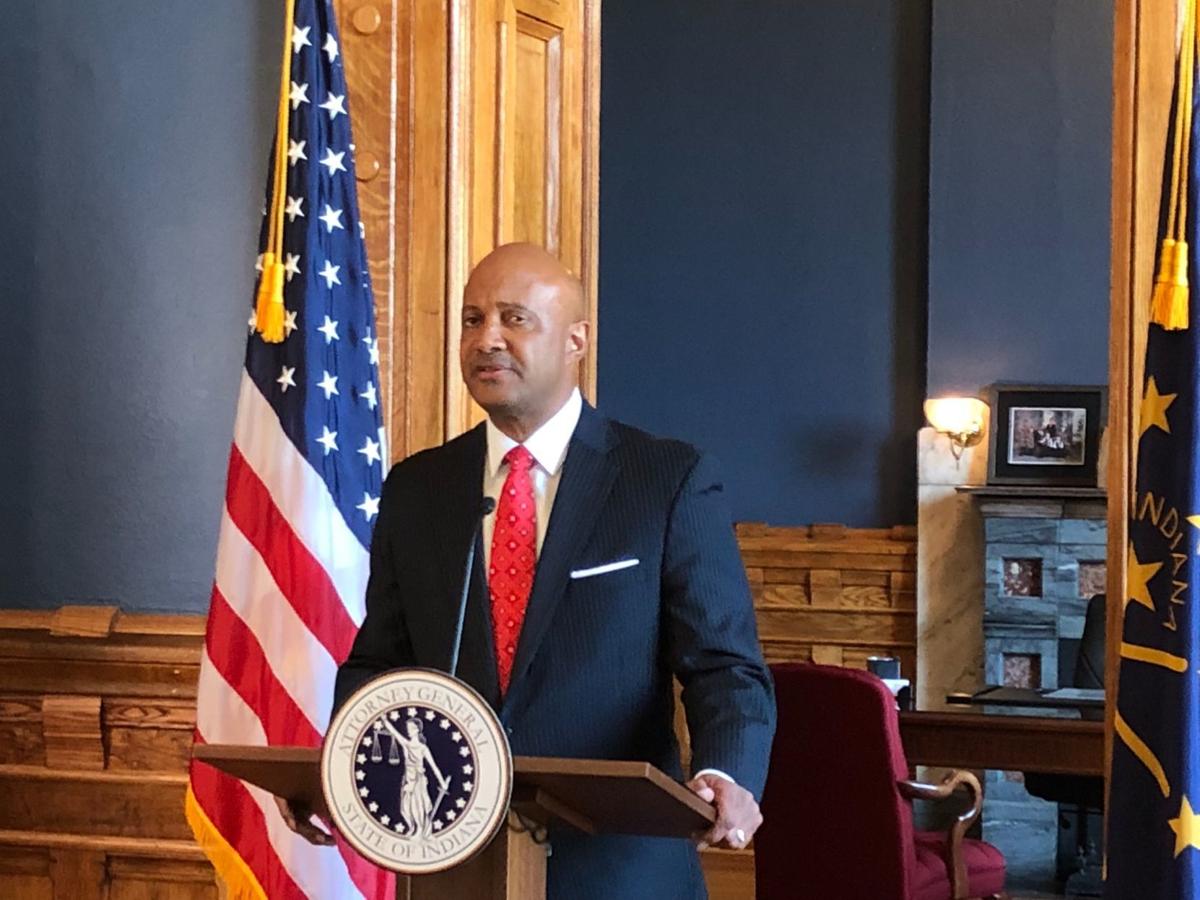 INDIANAPOLIS — Attorney General Curtis Hill insisted Monday he is the victim of a smear campaign against his good name, and again declared that he will not resign his office in the wake of sexual misconduct allegations.
In a seven-minute address to reporters, the Republican took aim at his accusers, fellow statewide officeholders, the media and American culture generally in bemoaning the lack of justice, due process and fairness for those accused of sexual improprieties.
"These past several days have witnessed my name and reputation dragged through the gutter in ways I would never imagine," Hill said. "Apparently, in this climate, the standard is guilty — and who cares if you're innocent."
"I've never dreamed this could happen to me. And yet, here I stand. I stand before you a condemned man. Condemned without trial. Condemned without notice. Condemned without the benefit of any basic rights that ensure fairness."
Hill said it is false that he touched the backs or buttocks of four Republican and Democratic legislative employees without their consent, including state Rep. Mara Candelaria Reardon, D-Munster, at an Indianapolis bar following the early morning March 15 adjournment of the General Assembly's annual session.
He did not answer any questions about that night, including the time he arrived at A.J.'s Lounge or whether he was intoxicated. He neither admitted nor denied approaching or speaking with the women at the bar.
Hill did take issue with two apparent conflicts between Candelaria Reardon's story of that night, published Sunday in The Times, and a summary of interviews with five witnesses to his alleged behavior that was compiled by the Taft law firm in response to inquiries by legislative leaders as to whether the General Assembly was liable as an employer for sexual harassment relating to Hill's actions.
Candelaria Reardon said Hill arrived to the party alone. He said he was with Tony Samuel, a Statehouse lobbyist on judiciary issues, among others, and the 2016 vice chairman of Republican Donald Trump's presidential campaign in Indiana.
Trump, like Hill, repeatedly has claimed that he's been falsely accused by multiple women of sexual misconduct.
Hill also said a particularly inflammatory sentence in the Legislature's report, that he touched Candelaria Reardon on her buttocks under her clothes, was not true.
Moreover, he claimed that specific allegation is what prompted Republican Gov. Eric Holcomb, and numerous other Republican and Democratic officeholders across the state, to demand his resignation, without first speaking with him about the incident.
"These calls for my resignation are unwarranted, and those calls should be rescinded," he said. "Perhaps this regrettable rush to judgment is best explained by the self-preservation instinct."
In response, Candelaria Reardon said she never had an opportunity to review the Taft report for accuracy before it was leaked to the media.
She maintains that Hill grabbed her buttocks without her consent, and that still is the crime of sexual battery under state law.
"When we take the oath of office to serve the citizens of Indiana we agree to be held to a certain standard of conduct to honor the trust the public has placed in us," Candelaria Reardon said.
"Curtis Hill, through his actions, has betrayed the public trust and lied about his actions to the very citizens he serves. I will continue to cooperate with any and all investigations into this matter until such a time that Curtis Hill is held accountable for his abhorrent behavior."
Hill has requested Marion County Prosecutor Terry Curry, a Democrat, investigate the alleged incident. Indiana Inspector General Lori Torres, a Holcomb appointee, already has launched a separate review.
The attorney general said he is confident that a "proper investigation," away from what he described as the media's "appetite for scandal, fueled by social media," will find that he did nothing wrong and begin the process of restoring his reputation.
"A week ago today, I had a name. And I want my name back," Hill said. "This is America, and in America we do not overlook the presumption of innocence until proven guilty."
The governor's office did not respond to a request for comment on Hill's remarks, and no one who previously called for Hill's resignation, including Holcomb and the GOP leaders of the Indiana House and Senate, have yet to change their mind.
Senate Democratic Leader Tim Lanane, D-Anderson, who was among the first to seek Hill's resignation and whose communications director, Gabrielle McLemore, was among the women reportedly groped by Hill, said he's been "more than disappointed" in Hill's response to the allegations, particularly Hill's campaign-funded social media advertisements denying them.
"It is unfortunate that the attorney general has decided to remain in his seat as Indiana's chief law enforcement officer, instead of stepping aside," Lanane said.
"These allegations will continue to discredit this important office, and are an unnecessary distraction from the work that needs to be carried out by his office."
The Republican-controlled General Assembly does have the power to remove a state officeholder by a two-thirds vote in both the House and Senate, assuming it is called into special session by the governor.
However, the Legislature's authority to strip an elected official of his or her office in the middle of his or her term never has been used since the current Indiana Constitution was adopted in 1851.
Get Government & Politics updates in your inbox!
Stay up-to-date on the latest in local and national government and political topics with our newsletter.