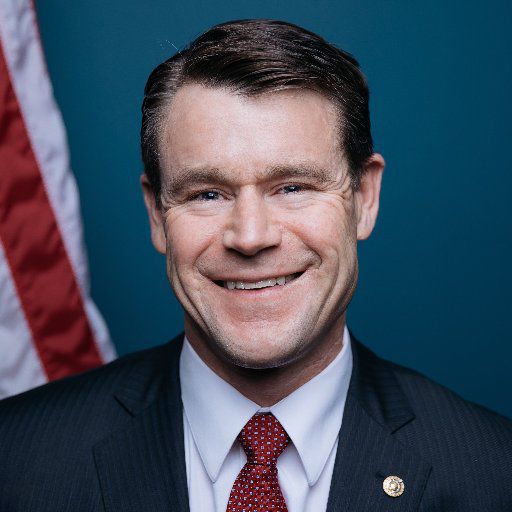 INDIANAPOLIS — U.S. Sen. Todd Young, R-Ind., said President Donald Trump "nodded affirmatively" and "was enthusiastic" as they briefly discussed federal funding for the South Shore Line expansion projects Wednesday in the presidential limousine en route to Trump's tax reform speech.
"As we approached the fairgrounds, I told him that it was really important that we pass an infrastructure package, and I emphasized how Northwestern Indiana could really benefit from that through the double tracking into the South Shore Line," Young said.
While the conversation lasted just five minutes, Young said Trump clearly indicated that infrastructure legislation will be his top priority after Congress enacts his proposed tax rate changes.
"He very much wants to press forward on infrastructure and he nodded affirmatively and he was enthusiastic," Young said. "I'm excited to work with the president on this issue and optimistic that we will get bipartisan support in Congress."
Young believes the South Shore has an above-average chance of securing federal funds to double-track the existing line between Gary and Michigan City and extend commuter rail service from Hammond to Dyer due in part to the cooperation at all levels of government in support of the projects.
"Since we're all rowing in the right direction, every member of the Indiana delegation irrespective of party, I think that certainly rebounds to our benefit," Young said. "We'll continue to drive this message and let him know how important this is to Hoosiers."
The first-term senator was joined by U.S. Sen. Joe Donnelly, D-Ind., for a follow-up conversation about the South Shore with Trump and Gary Cohn, director of the National Economic Council, on Wednesday as they flew back to Washington, D.C., on Air Force One.
Young expects to continue discussing the issue with the White House in the weeks ahead as Trump prepares his 2019 budget proposal.
"There are no guarantees in this business, and that's why it's important that we stay vigilant and continue to do everything we can to maximize our chance of success," Young said. "I don't want to overstate how far down the road we are. We still have some work to do."
At the same time, Young noted that U.S. Transportation Secretary Elaine Chao has been encouraging since visiting South Bend last month to learn more about the South Shore Line.
"She was very impressed at how our state and local authorities not only had the plan all mapped out, but they had the money lined up," he said.
The Northern Indiana Commuter Transportation District, operator of the South Shore Line, recently began the formal process of seeking funding in the next federal budget to expand capacity and speed transit times on the commuter rail line linking Northwest Indiana to Chicago.
It hopes to receive $333 million for the West Lake extension and another $156 million for double-tracking out of a potential $2.3 billion appropriation for commuter rail projects nationwide.
"It's a major ask," Young admitted. "But the bang for the buck on this project, compared to perhaps any other in the country, is pretty significant."
Matching funds already have been raised or pledged by the state and numerous local governments in the four Indiana counties that the South Shore Line passes through.
Last week, Gov. Eric Holcomb similarly pressed Vice President Mike Pence to include South Shore funding in the president's 2019 spending plan.